Scana Corp. may have dropped a $21 billion plan to build a nuclear power plant in South Carolina two months ago, but washing its hands of the project altogether won't be so easy.
On Thursday, the utility disclosed that it had received a federal subpoena for documents related to the canceled reactors. Earlier this month, South Carolina's governor made public a report suggesting Scana was aware of challenges plaguing the project since early last year. And the state legislature is carrying out a probe of how plans for the two reactors at the V.C. Summer plant fell apart.
The backlash does not bode well for Scana as the utility owner seeks to recoup billions of dollars it spent on the project from South Carolina's utility customers. The company's battle to recover costs may become a flash point in the debate over who should pay for nuclear power projects that have failed to be built across the U.S. in the past decade.
"It's become an endless supply of negative headlines," said Shahriar Pourreza, a power analyst for Guggenheim Securities who has rated Scana's stock a "sell". He warned that the outcry could make it harder for Scana to recover costs and hurt its earnings growth.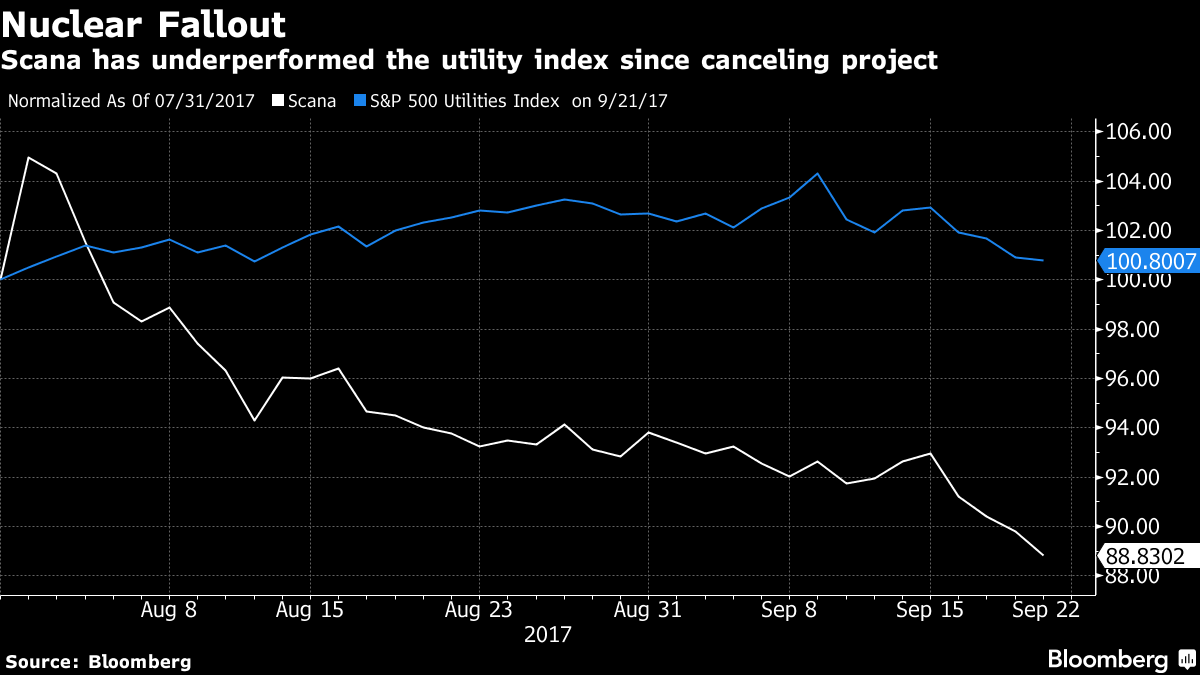 Scana spokesman Eric Boomhower said by email Thursday that there are legislative and regulatory review processes that the company must go through regarding the project. "We will not speculate on the outcomes of those processes," he said.
While South Carolina Governor Henry McMaster is still pushing to get the V.C. Summer plant finished, state legislators are already grilling Scana and project partner Santee Cooper executives in special hearings about how plans for the reactors unraveled. They've asked South Carolina's attorney general to look into whether the law that would allow Scana to recoup costs is constitutional.
"Political fallout from the V.C. Summer new nuclear construction termination has opened Pandora's box," Christopher Ellinghaus, a utilities analyst for the Williams Capital Group, in a research note Monday.
Even if regulators allow Scana to recover the reactors' costs, Pourreza said, they could end up clawing back the money in other ways, such as denying the company's future requests to recoup the expenses of other projects.
Last Project Standing
Scana's decision to halt construction has rattled both the state and the entire U.S. nuclear industry. The company called it quits after lead project contractor Westinghouse Electric Co. filed for bankruptcy and Santee Cooper pulled out. That left Southern Co. in Georgia as the only utility building a nuclear power plant in the U.S.
U.S. utility customers have ended up on the hook for more than $2.5 billion for nuclear power plants proposed and never built — excluding the costs of Scana's V.C. Summer plant. Duke Energy Corp. and Dominion Energy Inc. are among the companies that have faced backlash for charging customers for yet-to-be-built reactors.
 
Under state law, Scana may be allowed to recover $4.9 billion in expenses for its abandoned reactors so long as the spending is deemed prudent. But the report made public by McMaster's office this month could undermine its case.
'Significant Issues'
The February 2016 study drafted by contractor Bechtel found "significant issues" with the project's construction, including unrealistic schedules and a lack of project management. Regulators could use it to block Scana from recovering costs, Scott Elliott, special counsel for the state House committee investigating the project, told legislators last week.
The U.S. Attorney's office in South Carolina asked for a copy of the report from McMaster after it was made public, said Brian Symmes, a spokesman for the governor. Scana said the subpoena from the U.S. Attorney required the company to "produce a broad range of documents related to the project" and that it would cooperate with the investigation.
South Carolina Attorney General Alan Wilson is meanwhile expected to issue an opinion next week on the law that would allow Scana to recoup costs.
At stake is Scana's balance sheet, said Kit Konolige, a utility analyst for Bloomberg Intelligence. "They are dependent on having a smooth recovery of the capital they've invested in the project," he said.