Robot driven taxis and computers eliminating traffic jams may appear sooner than you think after some of the biggest technology companies picked up the pace of dealmaking to bring about "smart cities" of the future.
Thirty-five agreements were signed between technology companies and major metropolises to jointly work on projects in 2017, up from eight the previous year, according to a report from Bloomberg New Energy Finance released Wednesday. Google's parent company Alphabet Inc. and China's online retailer Alibaba Group Holding Ltd. were involved.
BNEF clients can see the full report, "Technologies for Future Smart City Transit", on the Terminal or on web.
As smartphones and computers seep deeper into the fabric of everyday life, governments are looking at how they can use technology to improve life in cities while companies seek new ways to make money. About half the world's population now lives in urban areas, a total of 4 billion people, and that proportion is likely to rise to 60 percent by 2030, according to the World Health Organization.
"There is no such thing as a smart city today," said Gordon Falconer, global director of smart cities at Schneider Electric SE. "But there are cities like Amsterdam, Barcelona and Singapore that have put together a strategy to keep improving and that are well advanced on the journey."
Expected time lines for autonomous vehicle roll-out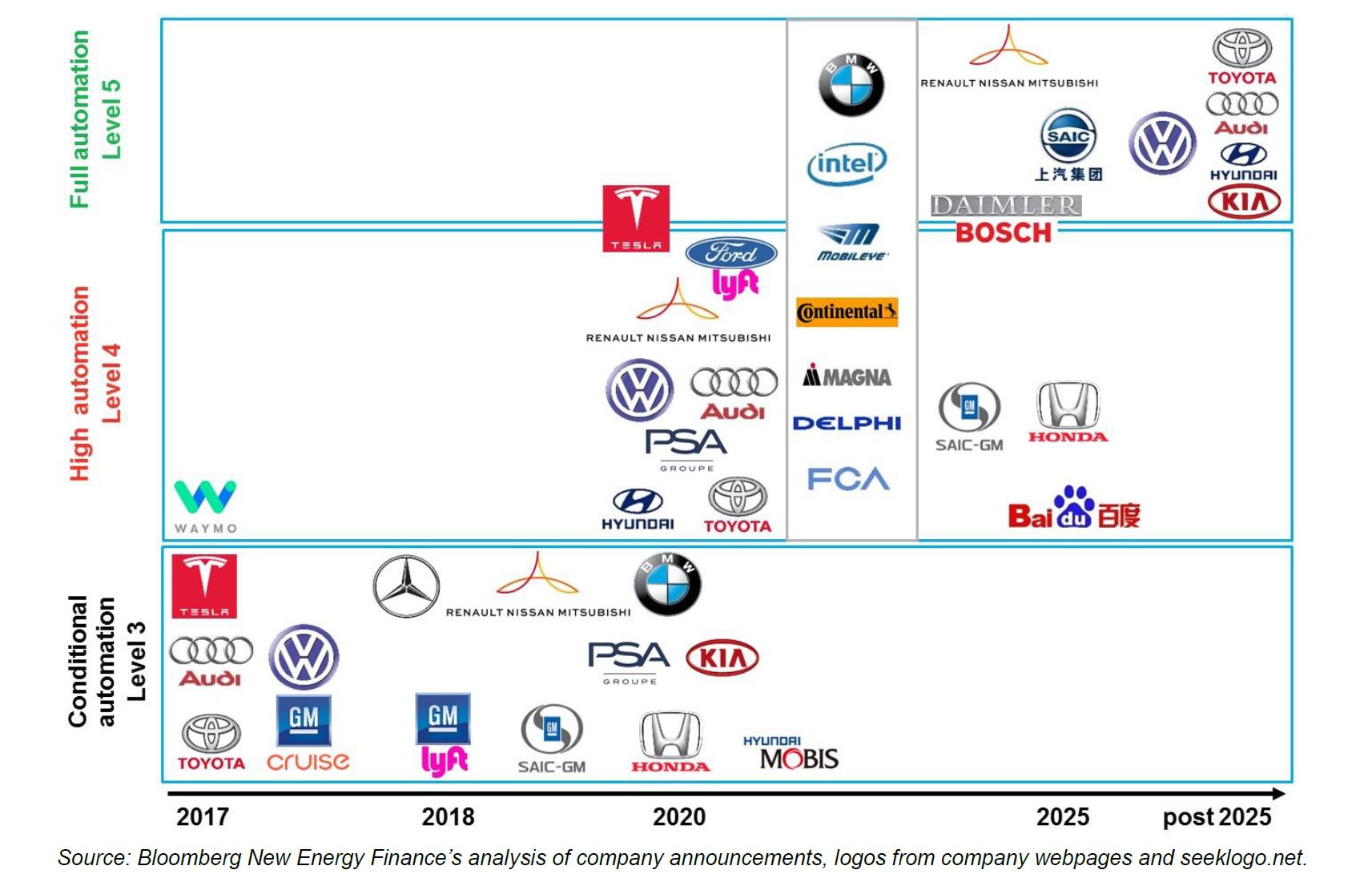 The world's largest cities have the most jobs, and as more people relocate to improve their own fortunes, they're packing into smaller spaces. Transport is emerging as a major friction point, contributing to both congestion and pollution.
"When we have congestion, when we have disruption, this interferes in the ability of cities and countries to leverage the talent they have," said Ed Manley, a lecturer at University College London's smart cities and urban analytics program. "Transport is fundamental to much of what we do."
Self-driving cars are being tested in 52 places around the world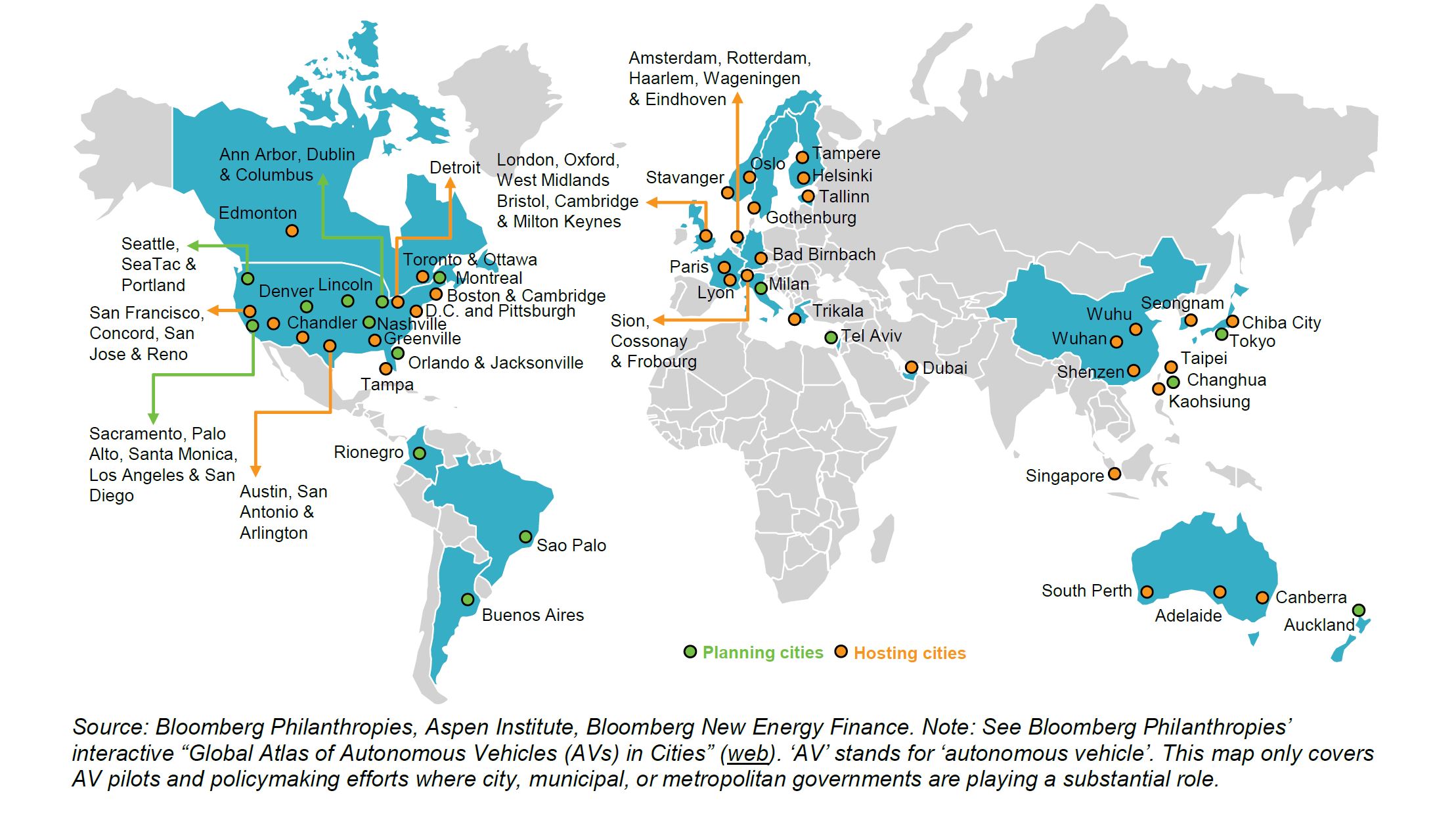 A range of solutions are emerging, from reducing the number of drivers on the roads with ride sharing to making cleaner electric vehicles.
There were 600 million users on taxi-hailing apps such as Uber Technologies Inc. and Lyft Inc. at the end of 2017, according to the report. That service didn't exist a few years ago.
The United Arab Emirates said it will buy 200 cars with autopilot software from Tesla Inc. A quarter of those will for for a self-driving taxi service.
Cisco Systems Inc. is working with nine cities on three continents, from Las Vegas to Astana, the capital of Kazakhstan. It's crunching numbers to try to reduce the gridlock that keeps millions of people stuck in traffic for hours each day. It also has developed connected roadways, which collect data on traffic for authorities working to improve flow and driving conditions.
Smart cities are frequently multi-billion-dollar ventures. Saudi Arabia recently announced a plan to build an entirely new city it will call NEOM, which it said will be fully powered by renewable energy and have self-driving vehicles and drones at a cost of $500 billion.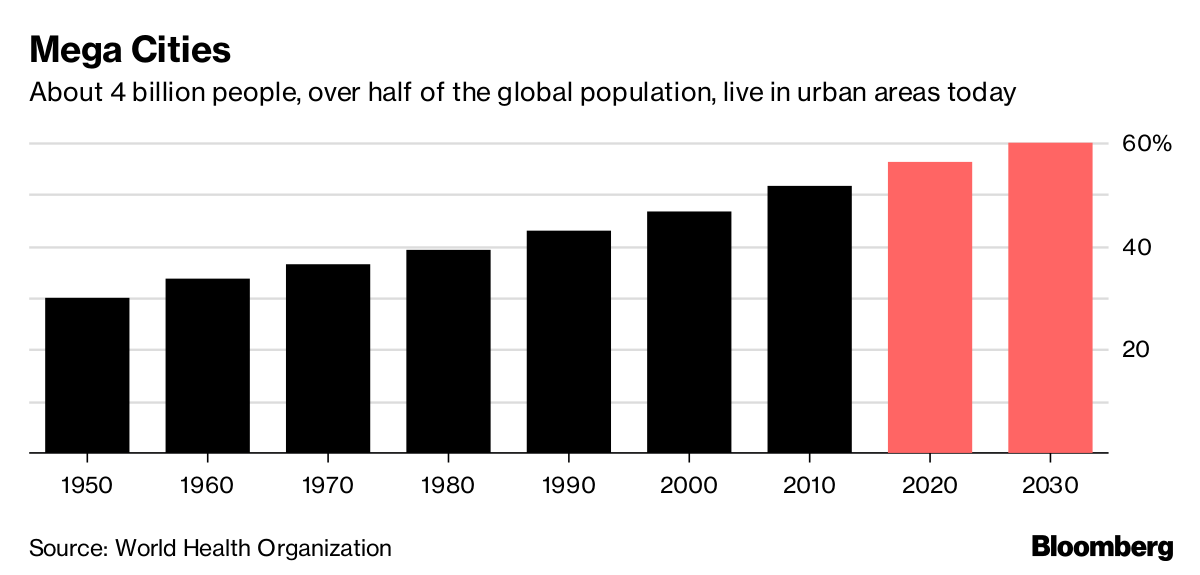 Alphabet is at the start of its work in the niche. It chose Toronto, Canada's largest city, for its pilot project in October. The company is rebuilding 12 acres of underdeveloped lakefront property into a new commercial and residential area that will also house Google's Canadian headquarters. Alphabet is currently considering what to do with the space in terms of technology and design and is preparing a plan for the project by the end of the year. It will invest C$62 million ($50 million).
Alibaba is focusing on digital infrastructure for its partnership with the government of Macau, a Chinese city known for its glitzy casinos and shopping malls. It's building a smart transportation network that will link road, water and air traffic and installing cloud computing programs for the municipal government.
Working with a city can be pricey for technology companies, according to Claire Curry, head of emerging technologies analysis at BNEF.
"A lot of the projects we've seen have been cooperative pilots or demonstrations where the tech company has had to invest a lot more in the project than if it was being sold to a private company," Curry said. "But a reason for getting involved anyway could be that cities are in charge of regulation. They can create a favorable environment for their partners, such as an area where they allow autonomous vehicles."