Written by Brian Eckhouse. This article first appeared in Bloomberg News.
House Republicans' proposed tax-reform plan would slice wind development in half, according to a forecast Friday by Bloomberg New Energy Finance.
BNEF had expected the U.S. to add 38 gigawatts of new wind power through 2020. Based on the proposal released Thursday, that figure would fall to 19 gigawatts because it slashes a key federal subsidy.
The plan would cut the federal production tax credit for wind power by about a third, from $24 per megawatt-hour in 2017 dollars to $15 per megawatt-hour. It would also change the requirements to qualify for the subsidy, which is already scheduled to be phased out.
"The wind industry was ramping up for its final push under the credit," Alex Morgan, a New York-based analyst at BNEF, said in an interview Friday. "This would diminish those boom years."
Here's how: the Republican proposal wouldn't allow projects to qualify for the full credit unless they can demonstrate "a continuous program of construction," from the end of last year through completion.
Under the current rules, developers are eligible to claim the full credit through 2020 if they spent at least 5 percent of total project costs before the end of last year — even if physical construction was months, or even years, away.
Buying turbines before the end of 2016 was a popular way to capture the credit. About 41 gigawatts qualified for the full credit through buying turbines or equipment in 2016 alone, although many weren't expected to be completed until 2020, according to Morgan. Much of that equipment has been warehoused.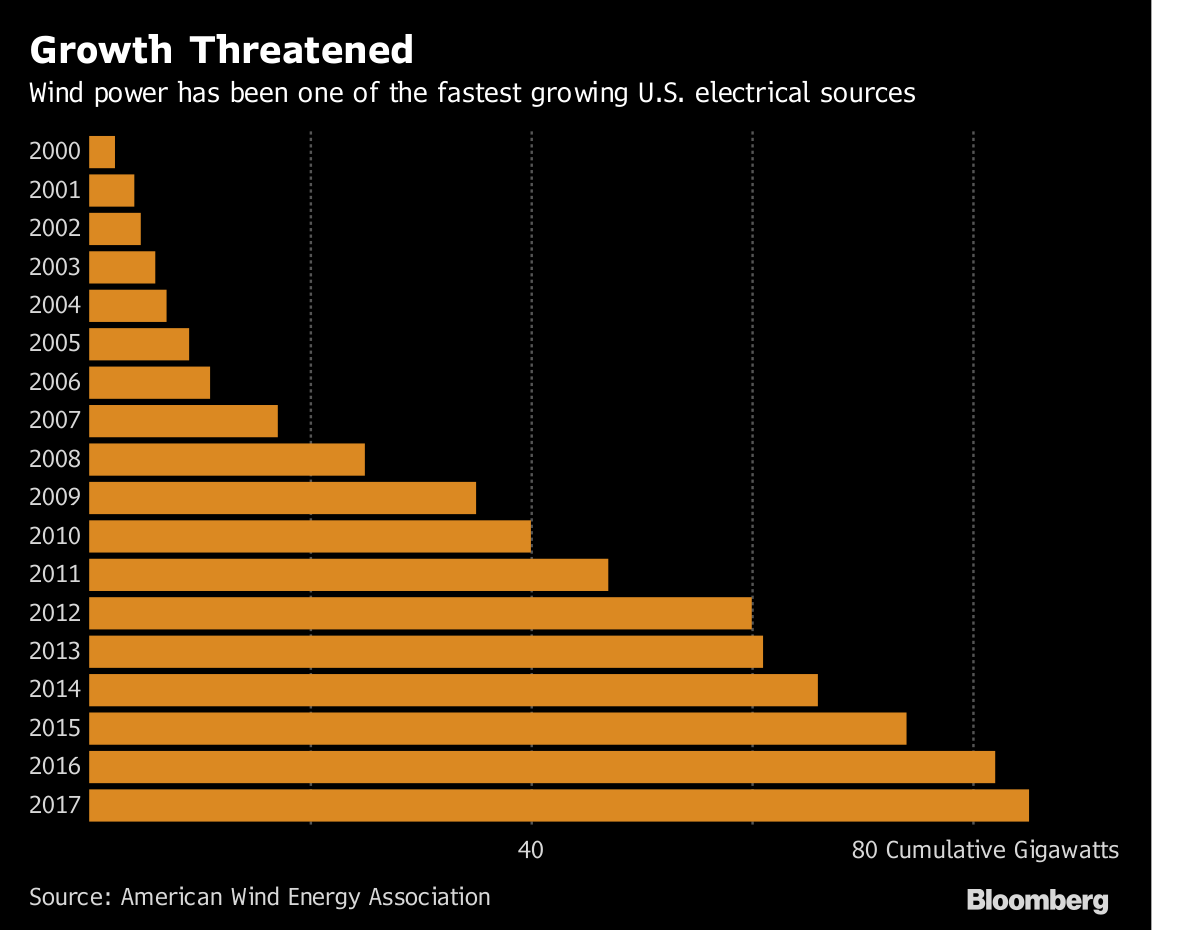 The proposal may face resistance from fellow Republicans like Chuck Grassley, the powerful senator from wind-rich Iowa, who supports the production tax credit.
"This isn't set in stone," Morgan said. "Maybe it'll be edited out by Monday."
But the proposal surprised the industry. Developers had expected the tax credit would be preserved, given the phase out agreed to just two years ago.
And then there's this: unlike solar power, wind power is most robust in Republican strongholds like Texas and the Plains.
"Some Republicans don't realize that 80 percent of benefits of wind power is going to Republican areas of the country — and to Republican voters," said Mike Garland, chief executive officer of Pattern Energy Group Inc. and Pattern Energy Group LP, which together own 2.2 gigawatts of U.S. power. "It's cruel and unusual punishment to go after one energy sector."