More than six years after three nuclear reactors melted down in Japan, the country is homing in on the lost fuel inside one of them. Japan's biggest utility and owner of the wrecked Fukushima Dai-Ichi plant, Tokyo Electric Power Co. Holdings Inc., last week released images that for the first time showed what's likely melted fuel inside the No. 3 reactor.
If confirmed, the nation will have to devise a way to remove the highly radioactive material, a mixture of melted nuclear fuel and reactor debris known as corium. The cleanup process that may last 40 years and cost 8 trillion yen ($72 billion) will require technology not yet invented.
Here are a few ways the removal could be done, including the government's preferred approach by taking it out the side: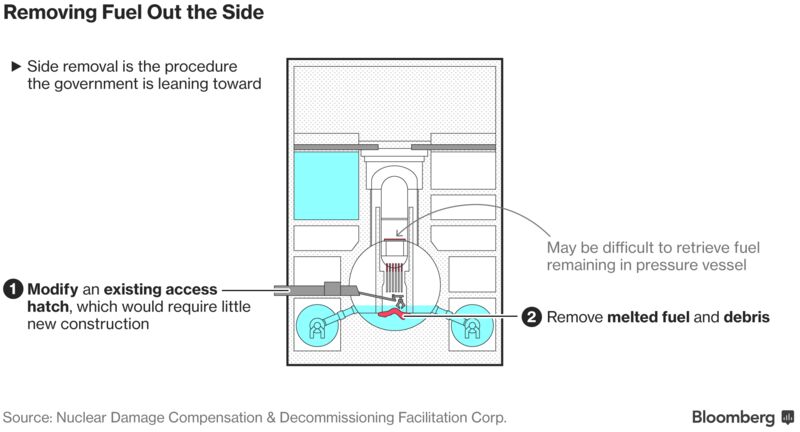 "Special tools and techniques will have to be developed to undertake such a task that has never been attempted before anywhere in the world," said Dale Klein, an adviser to Tepco, as the utility is known, and a former chairman of the U.S. Nuclear Regulatory Commission. "Once Tepco has identified the characteristics of this material, then they can develop a plan to remove this material in a safe manner."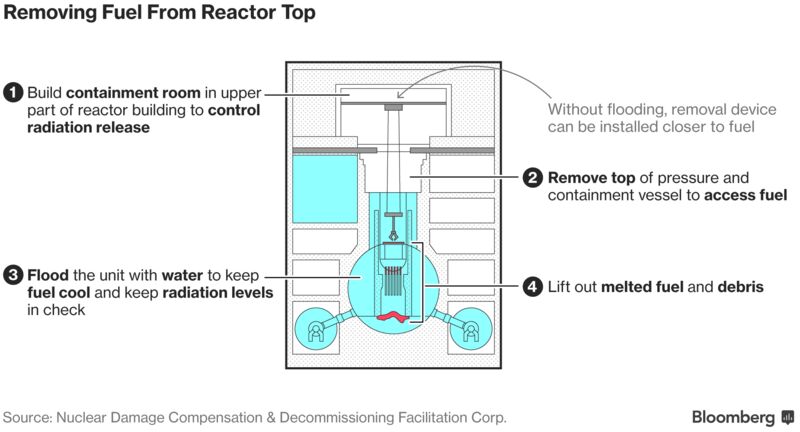 The search for the fuel has left a trail of dead experimental robots specifically designed to find and photograph the estimated combined 600 metric tons of fuel and debris in the three melted reactors. While the No. 3 reactor was the last unit to be probed, its the first to produce a strong indication of where the fuel came to rest. The removal process is slated to begin in 2021.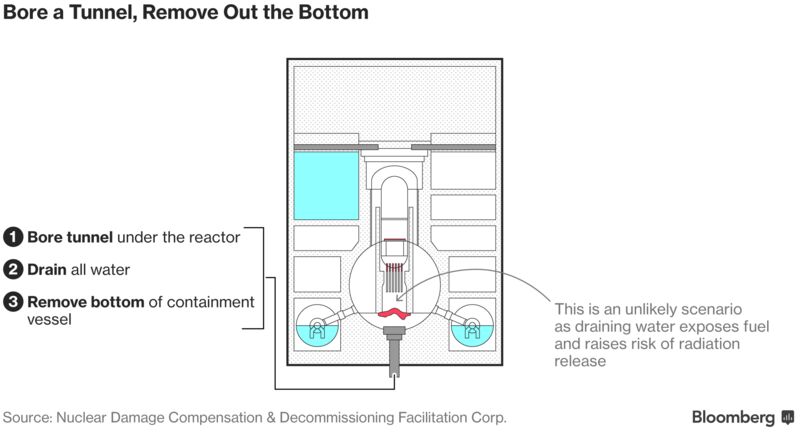 Long-handled devices guided by a television monitor system were developed to remove fuel core debris at Three Mile Island in the U.S. after its 1979 meltdown. The so-called defueling process took from 1985 to 1990 and involved removing the partially melted fuel core from inside the pressure vessel of the No. 2 reactor, which remained intact. Fukushima offers a more complex challenge since three reactors suffered total meltdowns, with melted fuel rupturing pressure vessels and falling to the bottom of the units.
No such effort is being made at Chernobyl, where a concrete sarcophagus was used to entomb the wrecked plant that melted down in 1986.
Technology research and development should focus on removing fuel through the side, the Nuclear Damage Compensation & Decommissioning Facilitation Corp., Tepco's top government shareholder, said Monday. That method is safer for workers than flooding the reactor, which would also require the management of radioactive water.
Japan will decide how it will remove the fuel by September, Industry Minister Hiroshige Seko said after the discovery last week, according to national broadcaster NHK.