Hurricane Irma remained on a collision course with southern Florida after devastating a chain of Caribbean islands, triggering the largest-ever evacuation in Miami-Dade County and threatening to become the most expensive storm in U.S. history.
The hurricane weakened slightly to Category 4 with top winds of 150 miles an hour, the U.S. National Hurricane Center said in an advisory at 8 a.m. New York time. Still, the storm remains "extremely dangerous," the NHC said. The deadly system was projected to maintain its strength until it hits Florida on Sunday, having already left at least 11 people dead and thousands homeless across the Caribbean.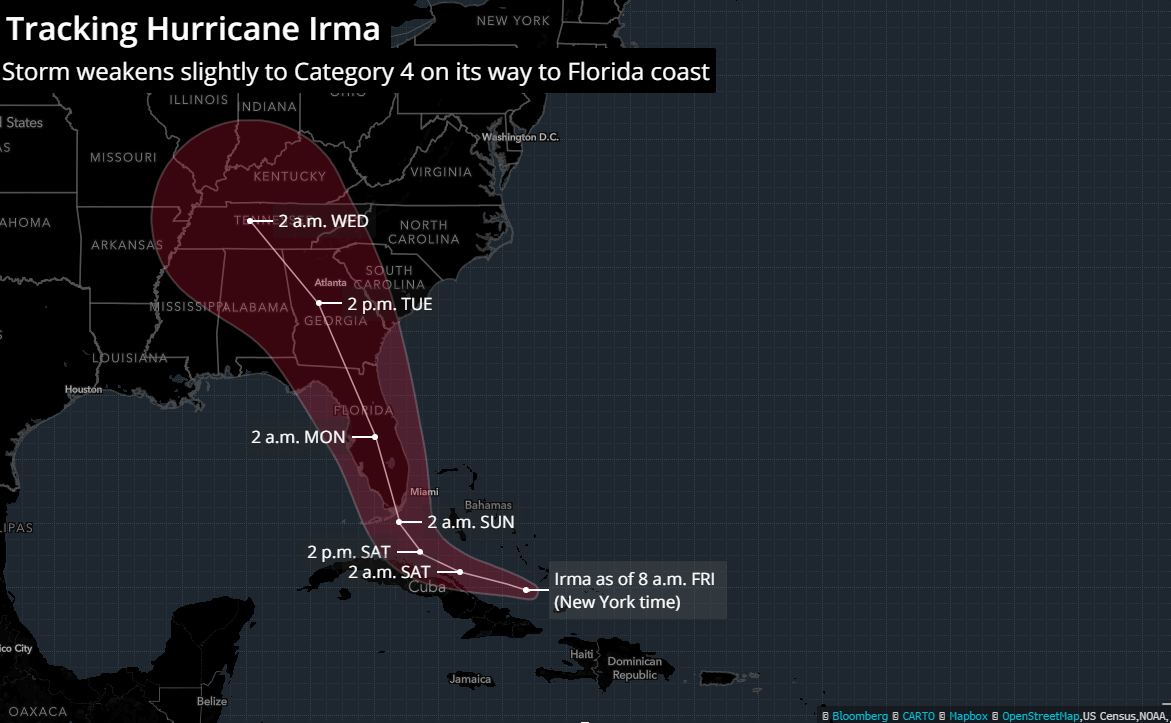 "Irma is likely to make landfall in southern Florida as a dangerous major hurricane," the NHC said. Much of the state will experience a "life-threatening storm surge and wind impacts" beginning on Saturday night.
Mandatory evacuations were issued for the Florida Keys and other areas. Around 650,000 people were told to leave Miami-Dade, the largest evacuation ever attempted in the county. President Donald Trump's Mar-a-Lago estate was ordered to be evacuated along with the rest of the exclusive town of Palm Beach following forecasts of catastrophic winds and a powerful storm surge.
Irma is one of three hurricanes churning in the Atlantic Basin. Jose, which was following Irma's path in the Atlantic, became the third major hurricane of the 2017 Atlantic season. In the Gulf, Katia strengthened as it moved slowly toward the coast of Mexico, forecast to come ashore early Saturday. The country was also struck by a powerful earthquake on Friday, shaking buildings in the capital and triggering a tsunami warning.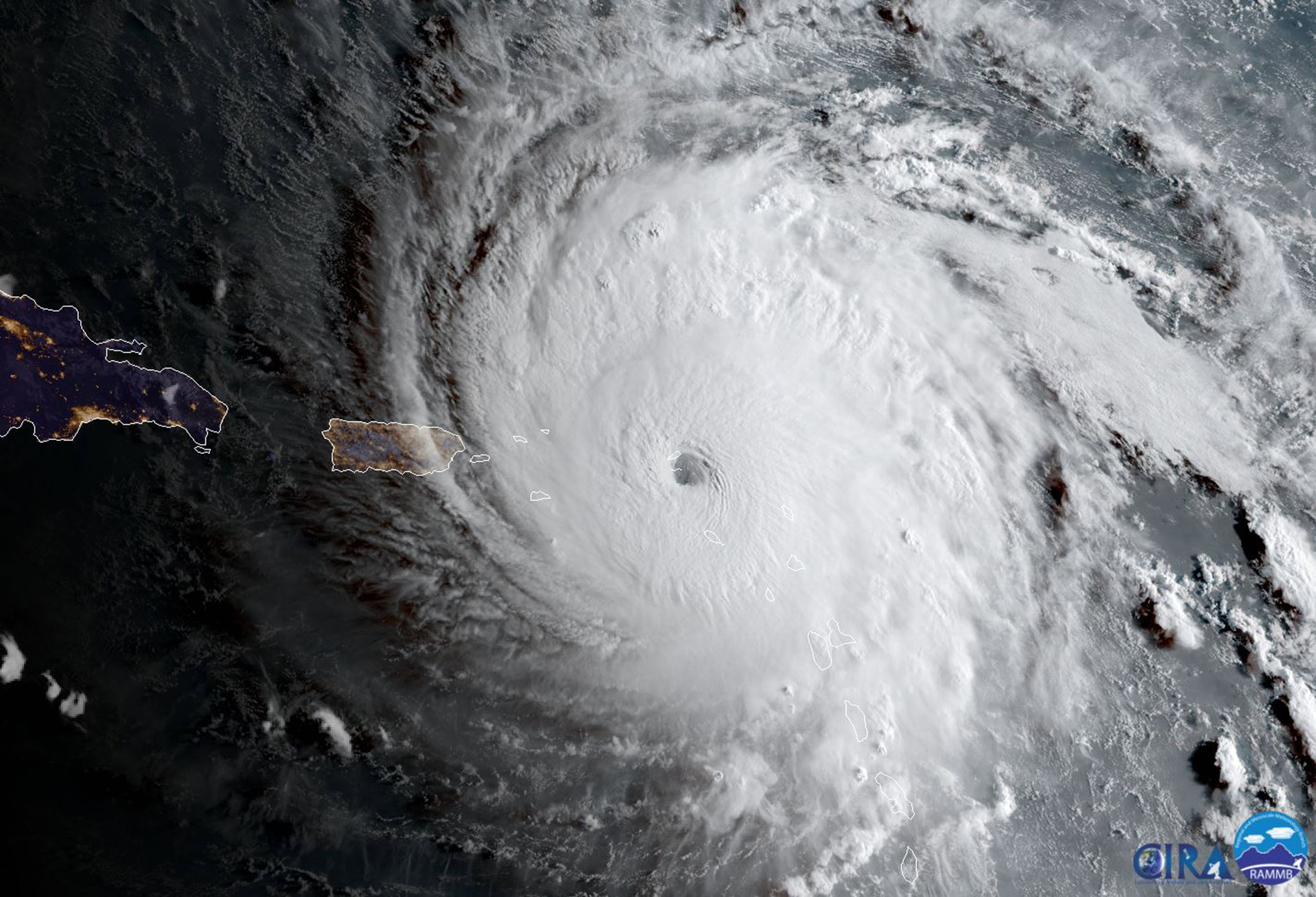 Insurers including XL Group Ltd. and Everest Re Group Ltd extended declines Thursday. The storm is also threatening to knock out power to more than 3 million homes and businesses, curb natural gas demand in one of the largest U.S. markets and threaten $1.2 billion worth of crops in Florida — the nation's top grower of fresh tomatoes, oranges, green beans, cucumbers, squash and sugarcane.
That prospect has roiled markets and Barclays Plc estimated insured losses of $130 billion in a worst-case scenario. Uninsured losses would add to that. Total losses from Katrina reached $160 billion in 2017 dollars after it slammed into New Orleans in 2005.
Forecast Path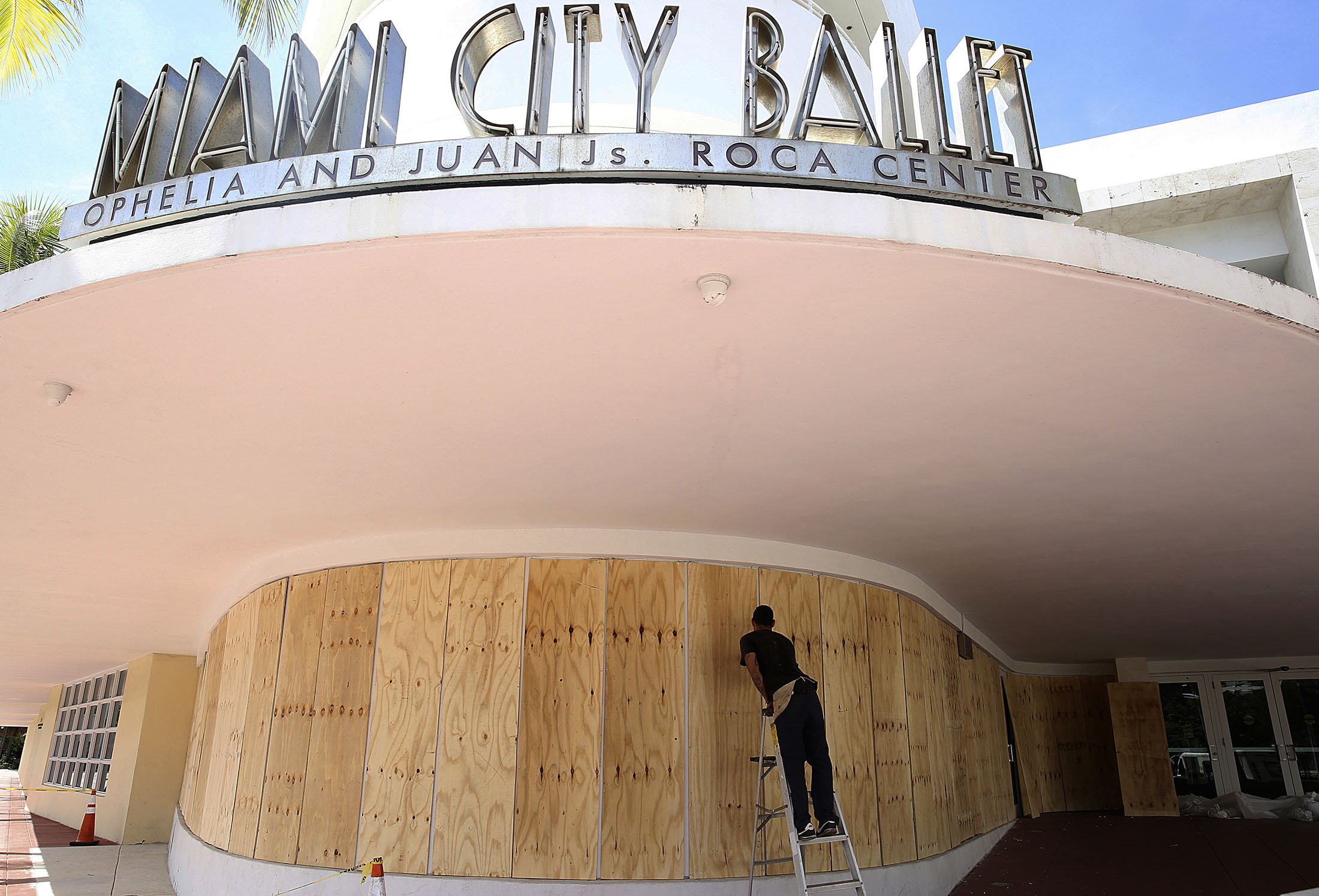 On the current forecast path, the eye of Irma will continue to move between the central Bahamas and the north coast of Cuba on Friday, the NHC said. A turn toward the northwest is expected by late Saturday, bringing the storm near the Florida Keys and the southern Florida Peninsula on Sunday morning.
There's a chance Irma heads back into the Atlantic and makes a second landfall next week in Georgia, South Carolina or North Carolina, the NHC said.
The timing of Irma's turn on Saturday "will make the difference between a multibillion dollar storm for Miami and the Gold Coast, and a major, but less devastating, weather event," said Todd Crawford, lead meteorologist at The Weather Company in Andover, Massachusetts.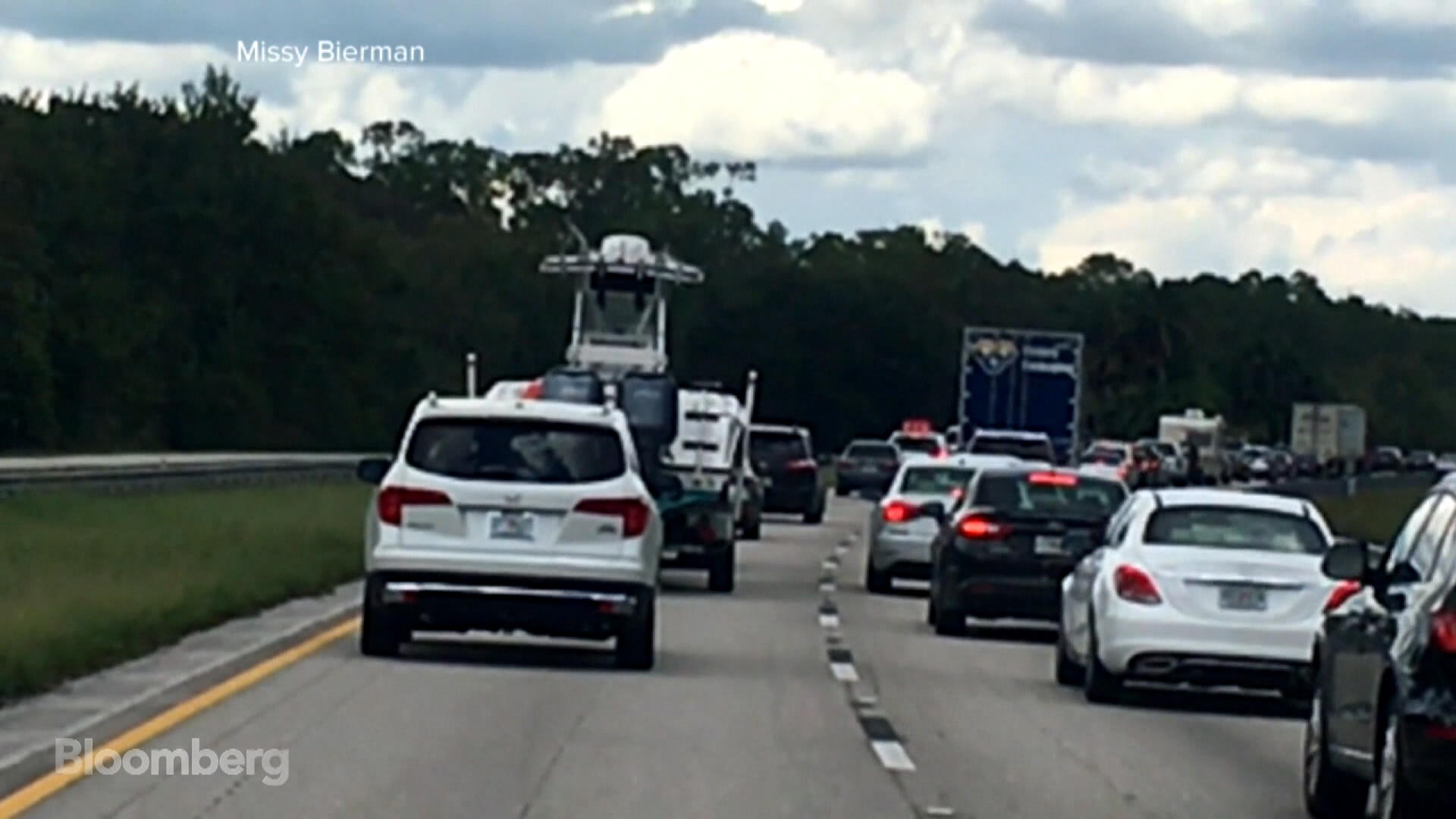 Why We Expect More Havoc From Hurricanes Like Harvey: QuickTake
The storm has already damaged or destroyed about 95 percent of homes on the small island of Barbuda and battered two French West Indies islands where at least nine people were killed, French Interior Minister Gerard Collomb said in a press conference.
Irma also caused severe damage on Anguilla and the British Virgin Islands. The U.K. made its first aid drops to Anguilla with more on the way to the British Virgin Islands, according to the U.K. Department for International Development.
Just two weeks ago, Hurricane Harvey smashed ashore in Texas, knocking offline almost a quarter of U.S. oil refining capacity and causing widespread power outages and flooding. Current models show Irma veering away from gas and oil platforms off the coast of Texas and Louisiana, sparing Houston more devastation.
In other storm news:
Orange juice futures rallied to the highest level since May.
Airlines have canceled thousands of flights.
Miami's financial district was rapidly emptying out before landfall.
Florida Power & Light, the state's biggest utility, said the storm may knock out power to customers for weeks in some parts of its service territory.
The storm threatens to turn years of strong returns for hedge funds and other catastrophe-bond buyers into losses almost overnight and may affect how much money bondholders receive on their Puerto Rico Electric Power Authority bonds.
Irma's chemical fallout could be worse than Harvey's as Florida plants are filled with potentially explosive material.