Written by Kelly Gilblom, Peter Flanagan and Brian K. Sullivan. This article first appeared in Bloomberg News.
Ophelia strengthened into a Category 2 hurricane forecast to strike Ireland, where one of the nation's strongest storms in half a century threatens everything from farms to a golf course owned by the family of U.S. President Donald Trump.
Ophelia's top winds had risen to 105 miles (169 kilometers) an hour by 10 a.m. London time on Friday, reaching the second level of the five-step Saffir-Simpson scale. The storm, about 615 miles southwest of the Azores, is forecast to weaken over the next 48 hours before approaching Ireland on Monday, the U.S. National Hurricane Center said in an advisory.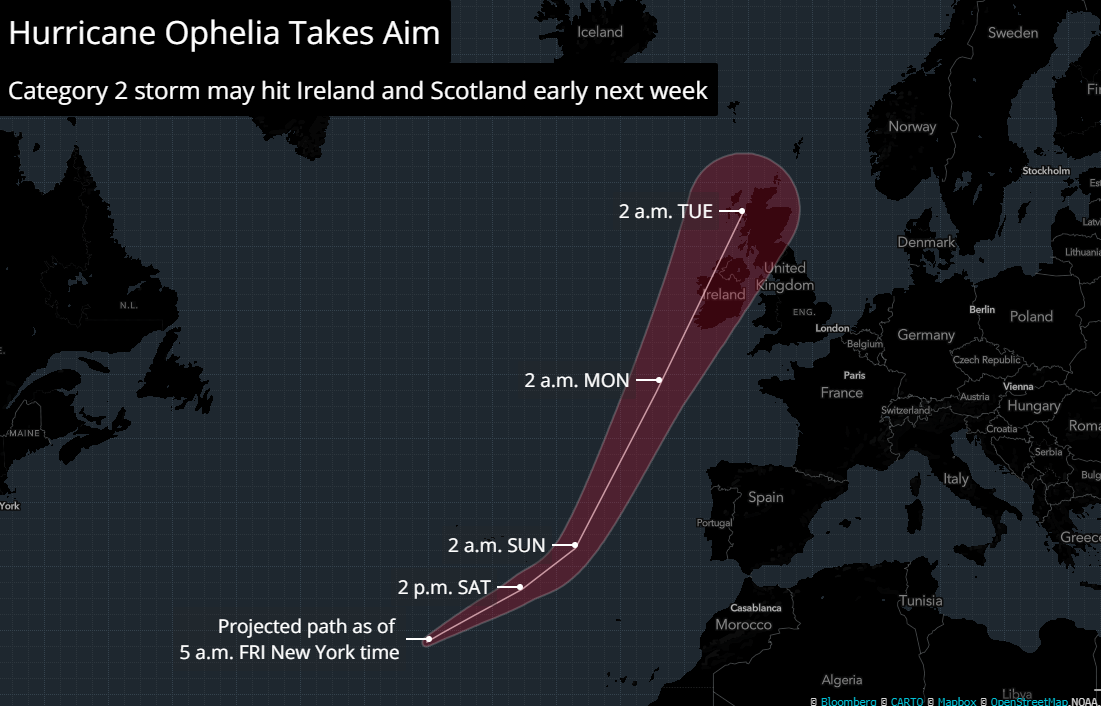 After Hurricane Irma closed Trump's Mar-A-Lago in Florida last month, Ophelia could make landfall close to the Trump family's golf resort near the village of Doonbeg. The resort, which has said it can lose as much as 10 meters of land to coastal erosion during a bad storm, is along the route expected to be hit by Ophelia's gale force winds. Trump International Golf Links & Hotel is constantly reviewing the situation, a spokesman said by email.
"At the moment, in one model the actual center in Ophelia is basically supposed to rub the west coast of Ireland," said David Reynolds, senior meteorologist at The Weather Co. In Birmingham, England. "It's really touch and go."
Deadly Debbie
Ophelia could become the strongest post-tropical system to rake Ireland since Hurricane Debbie in 1961, which killed 18 people and stripped almost 25 percent of the trees in some areas, according to Weather Underground. Sixty people died in a plane crash in the Azores caused by Debbie.
The Irish government is monitoring the situation, a spokesman said in an emailed statement. It will decide later Friday whether to convene a taskforce to co-ordinate its response to the storm.
The storm will move across the country very quickly and may bring heavy rain, if it makes landfall, Gerald Fleming, head of forecasting at the Irish weather service, said on RTE radio Friday. Ophelia could pummel the Cork and Kerry coast but it's still three or four days away.
Using the current forecast from the National Hurricane Center, damages could reach $800 million in Ireland and $300 million in the U.K., as well as tens of millions in France, Spain and Portugal, according to Chuck Watson, a disaster modeler at Enki Research in Savannah, Georgia. Using European forecasts, those numbers could be cut in half. Debbie's damages would've reached $338 million in today's dollars.
Ireland's Met Eireann weather office and the Met Office in the U.K. issued yellow warnings for Monday, meaning residents need to be aware of encroaching risks.
"Power cuts may occur, with the potential to affect other services, such as mobile phone coverage," the Met Office said in its warning. "Some damage to buildings, such as tiles blown from roofs could happen, perhaps leading to injuries and danger to life from flying debris."
It's unusual for a hurricane to head toward northwest Europe. The Atlantic hurricane season, usually a bigger threat to the U.S., Mexico and Caribbean, has produced 15 named storms, including 10 consecutive hurricanes — the most since the late 19th century. The storms have killed hundreds and caused an estimated $300 billion in damage across Central America, the Caribbean and the U.S.
Other important items to know about Ophelia:
Two well-known computer forecast models were split Thursday on whether Ophelia would strike the southwest of Ireland near counties Kerry and Cork, said Bob Henson, a meteorologist at Weather Underground in Boulder, Colorado. The U.S. Global Forecast System keeps the hurricane offshore, while the European Centre for Medium Range Weather Forecasts model takes it into Ireland sometime Monday
The U.S. has been struck by six storms, four of which were hurricanes. Europe got a taste of the stormy conditions earlier this month when the remnants of hurricanes Maria and Lee helped push U.K. wind power generation toward a record
Winds from Ophelia may also boost wind production. U.K. wind generation is forecast at 8,902 megawatts on Oct. 17, almost touching Oct. 1's record
Wind farms may be turned off if winds reach 85 miles per hours, according to Stephen Lilley, partner at Greencoat Capital LLP, which manages funds that invest in wind farms including four in Northern Ireland