Volkswagen AG, Mercedes-Benz and BMW AG will unveil a raft of sleek electric-car concepts at the Frankfurt International Auto Show this week, revving up the hype machine to cover up the air of desperation gripping the German auto industry.
The world's preeminent automakers are scrambling to recover, two years after Volkswagen's diesel-emissions cheating blindsided the champions of the now-besmirched technology. With their big vehicles, German carmakers are particularly reliant on diesel in their home market of Europe and had been banking on the fuel-efficient engines to help meet ever tougher emissions rules that will tighten further early next decade.
But in the fallout from the scandal, demand has slumped across the region, the stronghold of diesel cars thanks to years of government support. That blows a hole in the German manufacturers' environmental strategies, putting billions of euros of investment and tens of thousands of jobs at risk. And then there's fines for excess pollution. Volkswagen alone could face 1.5 billion euros ($1.8 billion) in annual penalties from the European Union, PA Consulting estimates.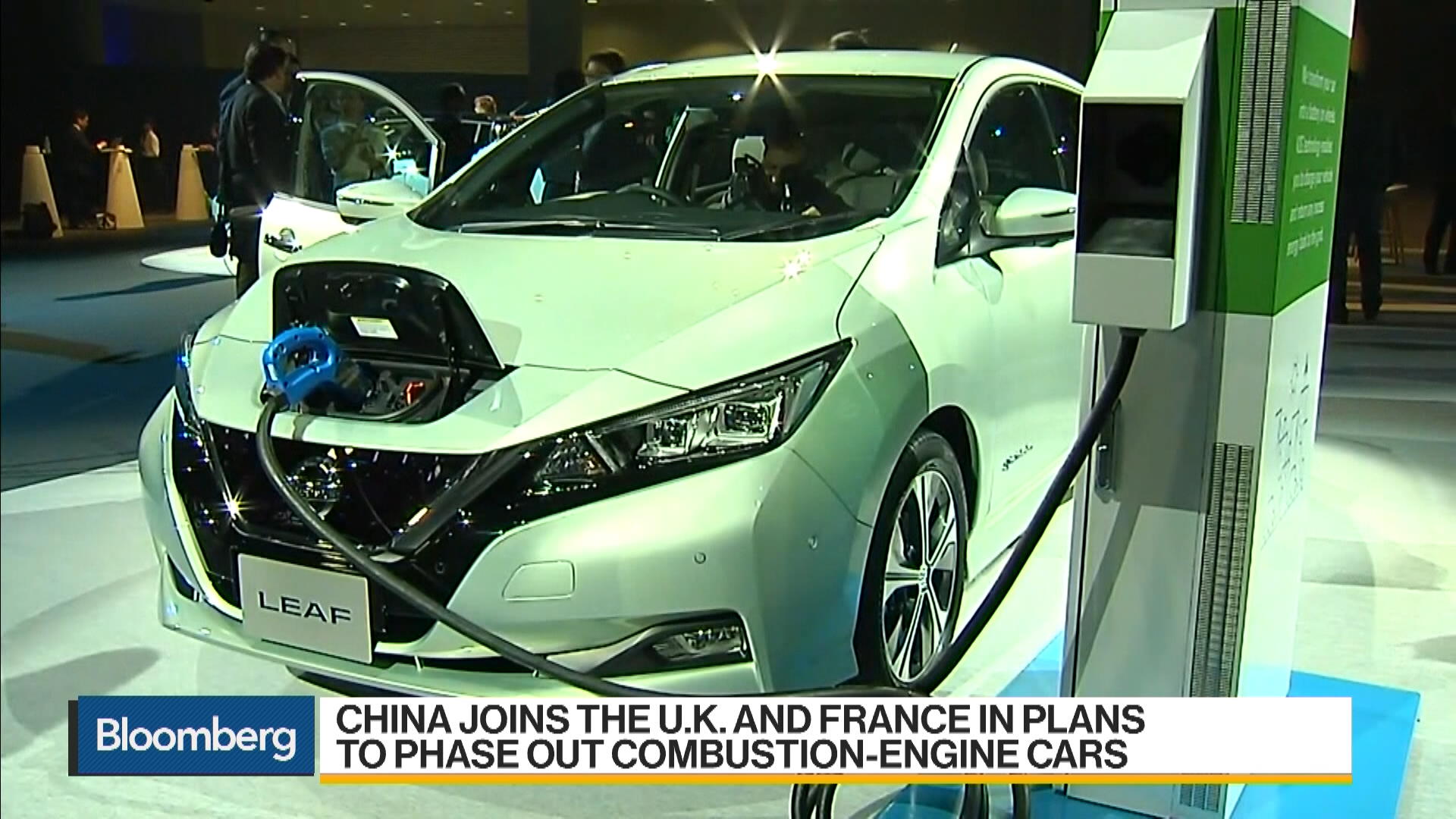 "Our impression is that not everyone in the auto industry has woken up to the coming changes yet," said Helmut Dedy, managing director of the German Federation of Cities. "A lot is still missing."
Daimler AG's Mercedes brand will debut an electric hatchback in Frankfurt and BMW will present a battery-powered Mini, while VW will show an array of concepts. All are likely to go on sale too late to significantly help the manufacturers reach the EU's stricter fleet-average emissions limit of 95 grams of carbon dioxide per kilometer by 2021.
'One Death'
"Carmakers need to pick one death," said Thomas Goettle, who heads PA Consulting's automotive team and estimates that all three German carmakers will exceed the EU limits, potentially exposing them to fines. "They cannot risk the disgrace of missing climate goals while claiming technology leadership. So they need to swallow" the higher cost of electric cars.
For years, diesel was a convenient choice for VW, Mercedes and BMW because it generated peppy acceleration while emitting about a fifth less CO2 than comparable gasoline engines. The technology also made money, unlike electric cars. Until the recent sales slowdown, diesel models comprised more than half of Europe's auto market.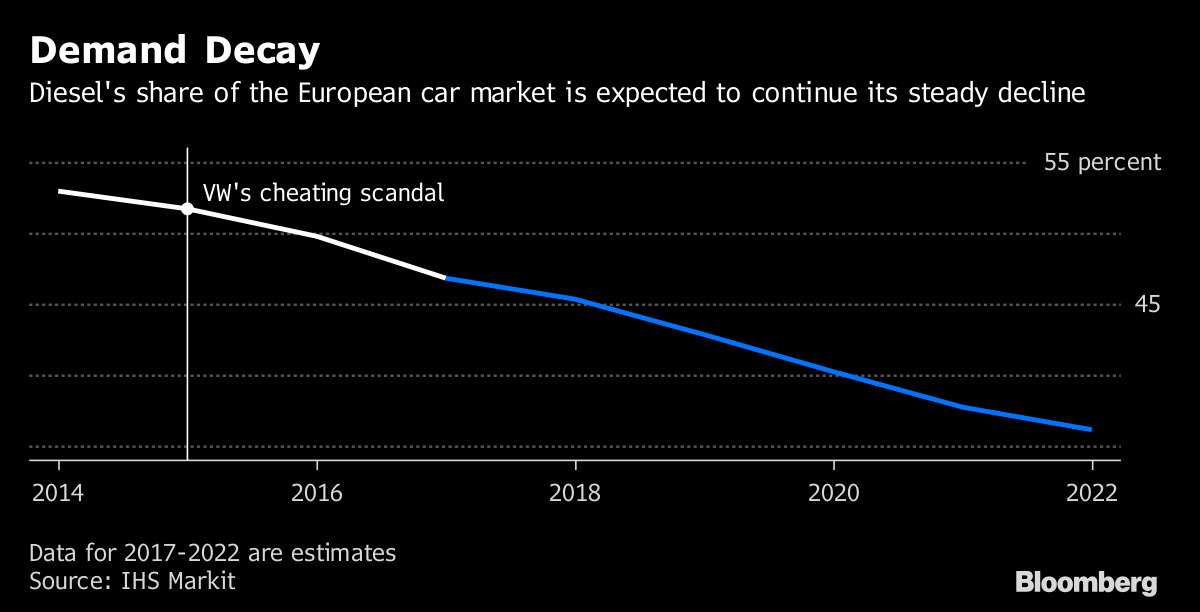 Clinging to diesel could be costly as the demand decline accelerates. The drop prompted PA Consulting this month to raise its estimate for VW's potential annual EU fine by 250 million euros, and it's increased the forecast this year for BMW's hit by 63 percent to 570 million euros. Daimler, which also owns the Smart city-car nameplate, would face penalties of 200 million euros, according to the consulting firm's projections.
The carmakers do have room to maneuver and could cut prices on plug-in hybrid models to lure consumers and lower emissions. But that would in turn prompt "significantly slimmer returns," BMW's development head Klaus Froehlich told journalists last week. 
Daimler Savings
To offset these risks, BMW is seeking to shore up profit with lucrative high-end models like the three-row X7 SUV and 8-Series coupe. Daimler plans to slash spending by 4 billion euros by 2025 to offset the higher costs of electric components.
The diesel backlash started in September 2015, after Volkswagen admitted that about 11 million vehicles worldwide were equipped to cheat on regulatory tests. Amid concerns about the risks of excess amounts of smog-inducing nitrogen oxides from the fuel, Paris, Madrid, Athens and Mexico City have said they will ban diesel vehicles from their roads by 2025.
Adding urgency to the push for electric cars, China over the weekend said it's working on a timetable to end the sale of gasoline and diesel cars. The world's biggest auto market is following moves by U.K. and France, which have outlined bans on combustion-engine models by 2040.
The threat to Germany's status in the auto industry, which employs about 800,000 people, has sparked a national crisis. The government called two so-called diesel summits in the span of a few weeks this summer, with one helmed by Chancellor Angela Merkel. The goal was to reassure consumers that diesel can be cleaned up and court-ordered bans in polluted inner cities could be avoided. 
Sidelined Taxis
If the driving prohibitions come to pass, Munich and Stuttgart — the hometowns of BMW and Daimler, respectively — could prevent older diesel models from entering their city centers as early as 2018, which could leave Mercedes taxis sidelined, while Tesla Inc.'s battery-powered Model S and Toyota Motor Corp.'s hybrid Prius roam free. 
Fritz Kuhn, the mayor of Stuttgart, which ranks as having the worst NOx pollution among German cities, blames carmakers for being too complacent. Last week at the latest diesel summit in Berlin, he complained that he couldn't find a suitable offer from the country's manufacturers when he wanted to buy 43 electric vehicles for the city's fleet.
While the meetings led to German carmakers agreeing to upgrade 5 million newer diesel models and offer scrapping incentives on older vehicles, consumers are still concerned. Diesel sales in Germany dropped 14 percent in August, and the models' market share shrank 7 percentage points to 38 percent. The figure could slump to as low as 25 percent, with the technology surviving mainly for larger engines because sophisticated exhaust systems are too expensive for use in smaller motors, according to Patrick Koller, head of French parts maker Faurecia.
Even so, with electric vehicles still a tiny share of overall demand, Germany's government is hopeful the industry can catch up.
"To keep Germany at the pinnacle of the global market, our car industry needs to swiftly offer technologies that fit environmental and consumer needs," Economy Minister Brigitte Zypries said in a response to questions from Bloomberg News. "The competition over which automotive technology wins remains open."