When it comes to batteries, the future may be solid.
In recent years, a handful of companies including Toyota Motor Corp. have joined research labs around the world working to develop batteries that are safer and hold their charge longer. Many see using a solid instead of liquid as an electrolyte as the prize.
The race for a so-called solid-state battery is gaining pace as countries such as France and the U.K. plan a shift away from cars powered by diesel and gasoline as early as 2040. China may soon join them.
Enter Mitsui Mining & Smelting Co., a supplier of lithium manganese oxide and nickel-lithium, which are both materials found in cathodes, a component of any battery. The Tokyo-based company says it's gearing up to be a major supplier of next-generation battery materials. In November, Mitsui Mining said that it aims to commercialize an electrolyte made with lithium sulfide for solid-state lithium-ion batteries as early as 2020.
"There have been expectations for all solid-state batteries to meet demand for longer-range, safer, and faster charging batteries," Kiyotaka Yasuda, director of the company's engineered materials sector R&D center near Tokyo, said in an interview. "Our goal is to supply all materials for the battery and we want to have them ready for the market in a few years."
According to Bloomberg New Energy Finance, 530 million electric vehicles could be on the road by 2040, representing 33 percent of the global car fleet. Moreover, more than half of all new car sales will be electric by that time.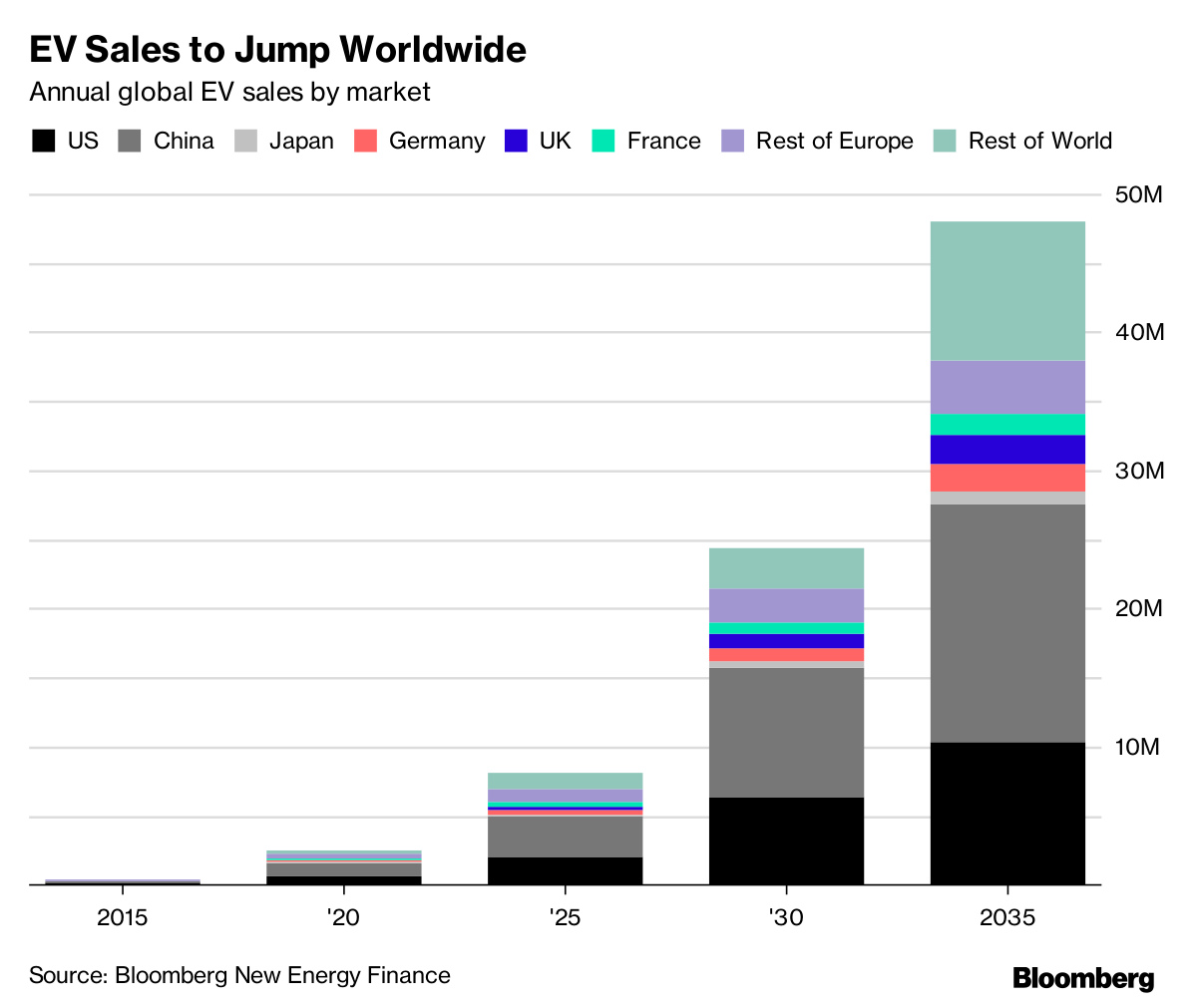 The efforts at Mitsui Mining, whose shares have almost doubled this year, come as Toyota gears up for its own development of solid-state batteries. Such products "can be made smaller and are suitable to be mounted on electric vehicles," Akiko Kita, a spokeswoman for the car maker, said by email.
"All-solid-state batteries are the closest to commercialization among various next-generation batteries and we have been working on research and development that includes technologies concerning production," she said.
Doing away with liquid for the electrolyte in next-generation batteries widens the variety of ingredients that can go into a battery, Mitsui Mining's Yasuda said, adding that the company is in the process of developing a silicon-based material for anodes.
Silicon, which can swell or corrode when it comes into contact with an liquid electrolyte, has the capacity to hold a higher charge when compared with graphite, which is currently widely used in lithium-ion batteries.
Graphite has "almost reached its maximum energy density limit so the search is on for another material to replace it," said I-Chun Hsiao, a Tokyo-based analyst for Bloomberg New Energy Finance. "Silicon is being explored because it is a well-known material and its charge capacity is about 10 times more than graphite's."
Silicon Challenges
Still, silicon also poses challenges. Silicon expands and contracts by as much as 300 percent during charge and discharge compared with graphite's 10 percent, according to Hsiao.
"This destroys the structure and integrity of a battery cell, reducing battery life," he said.
Mitsui Mining, which attributes the rise in its share price mostly to the super-thin copper foil it produces for circuit boards, is hopeful that solid-state batteries can also be deployed at clean energy power plants.
Liquid electrolytes used in batteries are susceptible to freezing in cold weather and can dissolve under heat, meaning next-generation batteries of the solid variety would be able to better withstand extreme temperatures, according to Hitohiko Ide, manager of Mitsui Mining's battery materials project team.