Written by Anna Hirtenstein. This article first appeared in Bloomberg News. 
The world's first floating offshore wind farm started delivering electricity to the grid in the north of Scotland.
The Hywind project, built by Norwegian oil company Statoil ASA and Masdar Abu Dhabi Future Energy Co., has five turbines floating 25 kilometers (16 miles) off the coast of Peterhead, near Aberdeen. The project has a capacity of 30 megawatts and cost about 200 million pounds ($263 million) to construct.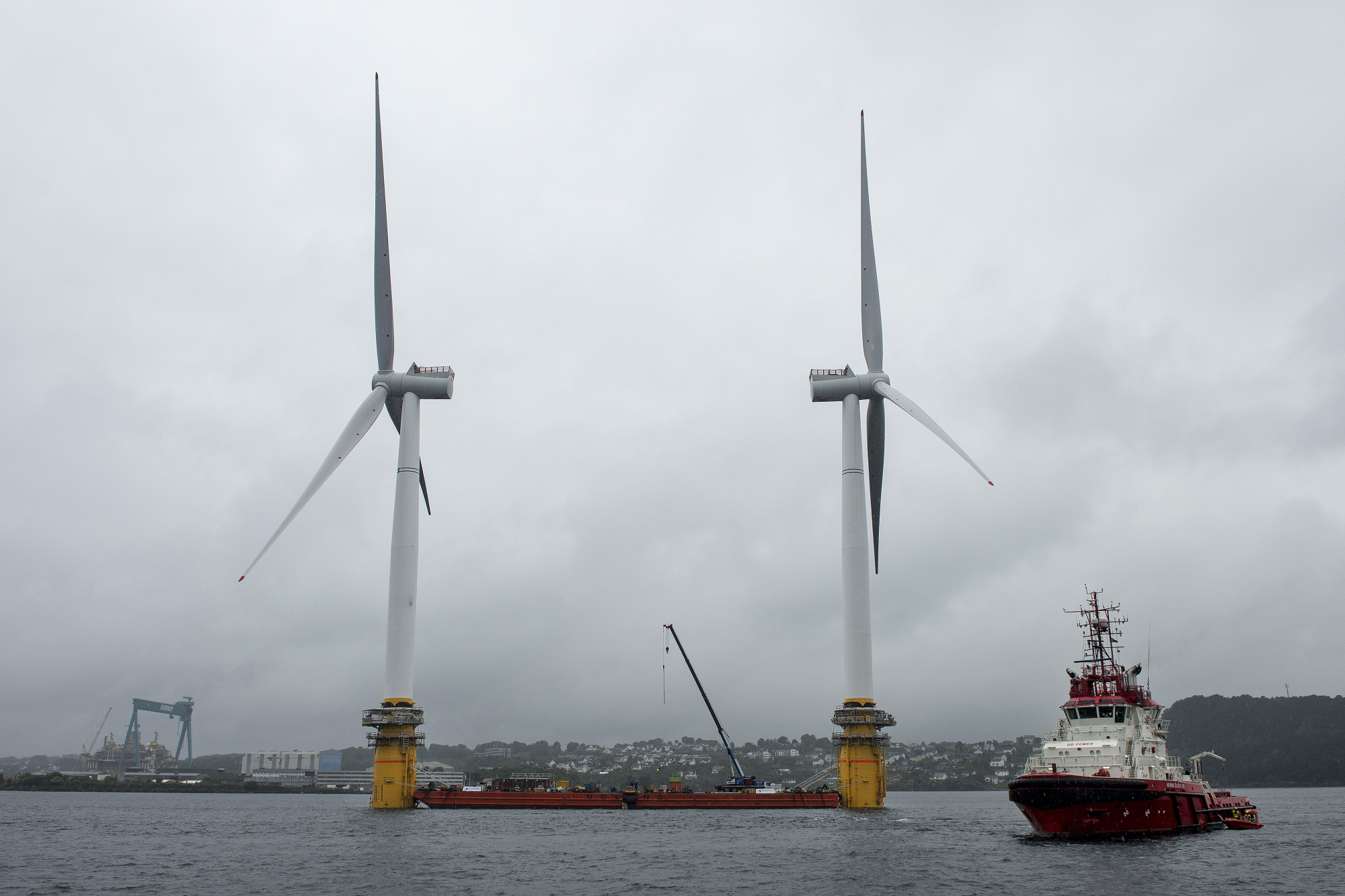 "This marks an exciting development for renewable energy in Scotland," said First Minister Nicola Sturgeon. "Hywind will provide clean energy to over twenty thousand homes and will help us meet our ambitious climate change targets."
Wind turbines have been installed on seabeds since the 1990s. Taking them offshore typically increases wind speeds and reduces complaints from neighbors, but it has also been limited to relatively shallow seas. Floating turbines are expected to open the industry up to new markets like Japan, the U.S. west coast and Mediterranean, where seabeds drop off steeply from the coast.
"Hywind can be used for water depths up to 800 meters, thus opening up areas that so far have been inaccessible for offshore wind," said Irene Rummelhoff, executive vice president of the New Energy Solutions business area at Statoil.
Batteries
Some of the energy generated by the turbines in the sea will be stored in batteries. Statoil has installed one of its Batwind lithium devices, which can store 1 megawatt-hour of power. This will help steady the flow of power generated by the wind farm.
The cost of conventional offshore wind farms has been plummeting in recent years. The U.K.'s latest renewable energy auction saw prices drop to 57.50 pounds per megawatt-hour, less than a third the cost of new nuclear in the U.K. Rummelhoff expects floating offshore wind to follow a similar trajectory.
"Statoil has an ambition to reduce the costs of energy from the Hywind floating wind farm to 40 to 60 euros per megawatt-hour by 2030," she said in a statement. "Knowing that up to 80 percent of the offshore wind resources are in deep waters where traditional bottom fixed installations are not suitable, floating offshore wind is expected to play a significant role in the growth of offshore wind going forward."
The Hywind project receives government support in the form of renewable obligation certificates. It gets 3.5 ROCs, which currently adds up to about 140 pounds per megawatt-hour, according to Statoil spokeswoman Elin Isaksen. This is on top of the U.K.'s wholesale power price which has averaged 48.75 pounds per megawatt-hour over the past year.