About
What is BNEF Pioneers?
For more than a decade, the BNEF Pioneers program has identified a group of game-changing technologies or innovations annually – each with the potential to accelerate global decarbonization and halt climate change. Pioneers can be innovators serving the energy, transport, materials, manufacturing, consumer and agriculture sectors, or providers of solutions and technologies that help increase understanding of the climate, scale carbon capture, utilization and storage, and promote climate adaption.
Applicants are shortlisted by the BNEF Pioneers team and finalists are judged by a panel of BNEF experts. Winners must prove they offer a novel, substantial, scalable and competitive solution.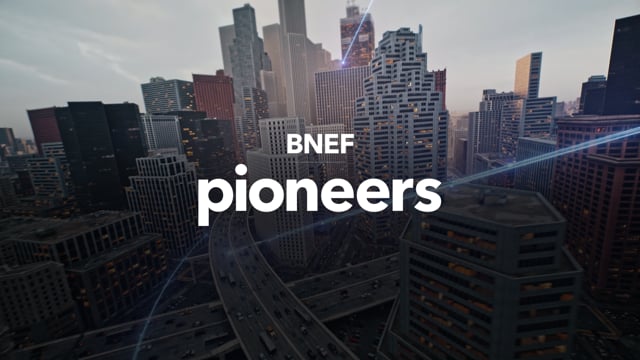 2024 Pioneers
In 2024, the program will focus on three global net-zero challenges and will award the Pioneers prize to innovators with scalable, impactful and equitable solutions to these challenges.
BNEF will also select one or more wildcard winners, unrelated to the chosen challenges. These wildcard applicants can address any issue that helps the world address climate change, and we encourage submissions for all climate-tech solutions that lie outside of the three challenges outlined below.
Applications for the competition are now closed. The winners will be announced in early April 2024.
Contact us at pioneers@bloomberg.net for any questions. For a full list of past winners, view the catalog below.
2024 challenges
While we welcomed applications that demonstrate climate-tech innovations of all types, we have chosen three specific challenges to focus on in 2024.
Challenge 1: Relieving bottlenecks in the deployment of clean power
The power sector has a clear path towards decarbonization with the deployment of renewables – particularly solar and wind. While renewables are being deployed at record levels, annual solar installations and wind installations will need to increase three-fold by 2031 and six-fold by 2050 to reach net-zero emissions. Deployment is now less hindered by costs than by slow grid build-out, grid connection backlogs, permitting challenges and supply chain constraints. Nearly 600 gigawatts of solar and wind projects are waiting in grid interconnection queues in the top five European renewable energy markets, and more than 1,250 gigawatts wait in the US. This Pioneers challenge is looking for innovations such as better tools for grid planning, new types of grid equipment, or new ways of securing supply chains and workforces.
Challenge 2: Decarbonizing the construction and operation of buildings
The CO2 emissions associated with buildings account for 33% of global emissions, but the sector is making little decarbonization progress because key technologies, such as heat pumps, have yet to scale. Residential building cooling demand is set to increase by 115% by 2050 in BNEF's Net Zero Scenario, and heating demand will be more than double that of cooling. For the embodied emissions, 26% of the world's steel and 45% of the world's cement goes into the construction of buildings, and there are currently no commercial routes to eliminating fossil fuels from their production. This Pioneers challenge is looking for innovations that address any of the difficulties in decarbonizing the embodied or operational emissions associated with buildings. This could include new kinds of heat pumps, new building materials, new building designs, platforms for accelerating the deployment of clean thermal conditioning systems or demand-side innovations.
Challenge 3: Creating the next generation of net-zero fuels
The fuel burnt by airplanes, ships and long-haul trucks accounts for 7% of CO2 emissions. While other forms of transportation, such as passenger vehicles, are set to electrify, heavy-duty transport requires an energy-dense liquid or gaseous fuel. Next-generation fuels need to offer sufficient performance, scalability, economics, sustainability and not increase land use. Non-food feedstock 'drop-in' biofuels, synthetic fuels and others are evolving to meet these needs. This Pioneers challenge is looking for innovations in clean fuels that broaden the range of available feedstock, reduce costs, improve supply chains and reduce sustainability and land-use concerns.
Wildcards
Beyond these three challenges, we select a group of wildcard Pioneers. We encouraged submissions for all climate-tech solutions outside of the three challenges outlined above and choose entries addressing multiple issues that will help the world decarbonize.
Criteria
Applicants can be any one of the below:
Early-stage companies: Climate-tech companies that can be for-profit or non-profit, private, public or subsidiaries.
Pilot projects and joint ventures: Any innovative pilot projects or joint ventures working on net-zero challenges.
NGOs, laboratories and innovation communities: NGOs, university or state-sponsored labs, and any other innovation groups creating net-zero products or technologies with commercial implications.
What we're looking for
Applicants are judged on three fundamental criteria:
Potential impact
What is the scale of the opportunity being addressed? To what extent can this solution address the net-zero challenge? Can you quantify the greenhouse gas emissions your technology could eliminate? Is your business local or can it be rolled out in multiple geographical markets? Will it spawn an entire ecosystem of new supporting businesses? Might there be negative unforeseen impacts of the technology when it scales?
Innovation
How original is your technology or business model? Is it a ground-breaking modification of what others are doing, or is it something completely new? Is it patented or otherwise proven? Are there barriers to its adoption or success and can these be overcome? What complementary policies or business structures already exist?
Likelihood of adoption
Over what timeframe could your innovation scale? What partnerships, clients and investors do you have? How do you plan to take your product to market? What is your level of cost competitiveness? What would the carbon price have to be? Can your business model or technology attract the necessary amount of investment?
Being a Pioneer
Winning BNEF Pioneers benefit from a number of opportunities:
Be recognized as a BNEF Pioneer 2024, a leading innovator with a product or service capable of driving the low-carbon transition forward.
Receive one year of access to our BNEF Web product and all our insights.
Join the prestigious group of Pioneer alumni.
Get the opportunity to attend and a chance to speak at our six global BNEF Summits and participate in startup pitching events hosted by BNEF.
Appear in BNEF public reports, research and videos.
Previous winners of BNEF Pioneers have an excellent track record of going on to affect change in their industries and become major players in the global energy transition.
Previous Pioneers
Our 2023 winners were announced in April 2023 and were focused on three challenges around hydrogen, metals and food. For more information on our winners, see Climate-Tech Startups to Watch in 2023: BNEF Pioneers Winners.
Our whitepapers detailing the 2022 BNEF Pioneers winners and innovations for the 2022 challenges on clean power, aviation and carbon removal can be found below:
Climate-Tech Startups to Watch in 2022: BNEF Pioneers Winners
Climate-Tech Innovation: 24/7 Clean Power
Climate-Tech Innovation: Scaling Carbon Removal
Climate-Tech Innovation: Decarbonizing Aviation
Our whitepapers detailing the 2021 BNEF Pioneers winners and innovations for the 2021 challenges on commercial freight, sustainable materials and understanding the planet:
Climate-Tech Innovation: Optimizing commercial freight
Climate-Tech Innovation: Advancing sustainable materials

Climate-Tech Innovation: Monitoring and understanding our changing planet
Apply
BNEF is no longer accepting applications for the 2024 Pioneers competition. Winners will be announced in April 2024. Thank you to all who have applied.
Direct any questions to pioneers@bloomberg.net
Winners
2023
2022
2021
2020
2019
2018
2017
2016
2015
2014
2013
2012
2011
2010
Advantix Systems, a global clean energy company based in Sunrise, FL, has harnessed a breakthrough, patented technology using salt water that reduces HVAC (heating, ventilation and air conditioning) energy consumption by 30 to 50 percent.

BuildingIQ is a leading provider of advanced energy management software that actively predicts and manages HVAC (heating, ventilation and air conditioning) loads in commercial buildings. As the only supplier of patent-pending Predictive Energy Optimizationtm technology, BuildingIQ's cloud-based solution is powering energy savings in buildings across the globe with reductions in HVAC energy costs by up to 25 percent.

d.light is a for-profit social enterprise whose purpose is to create new freedoms for customers without access to reliable power so they can enjoy a brighter future. Improving the lives of 15 million people in the developing world since its founding in 2007, d.light will transform the lives of at least 100 million people by 2020. d.light serves over 40 countries, with more than 10,000 retail outlets, 10 field offices and regional hubs in the U.S., China, India and Africa.

Draker's proprietary Clarity DC hardware and Intelligent Array software provide PV system owners and operators tools to increase energy yield and lower operating and maintenance costs through pinpoint troubleshooting and ROI-based O&M decision-making.

EcoNation is the inventor of smart daylight technology and smart daylight business. Through proprietary technology and a customised financial model, EcoNation invests in clients' roofs and in their energy savings.

Ecosphere Technologies (OTCQB: ESPH) is a water engineering, technology licensing and innovative US manufacturing company that develops non-chemical water treatment solutions for industrial markets.

Harvest Power diverts discarded organic materials from landfills and produces renewable energy and soils, mulches and natural fertilizers through anaerobic digestion and composting.

Joule capitalizes on global abundance of waste CO2 to economically produce renewable fuels and chemicals from sunlight. The company's Sunflow™ products drop into conventional fuel blendstock in high percentages, displacing more oil than biofuels and allowing seamless adoption. Manufactured without feedstock constraints or complex processing, Sunflow fuels achieve high volumes and low costs with no dependence on subsidies or precious natural resources.

Opower's engagement platform and solution suite enables utilities to involve their customers in programmes that support energy efficiency goals, smart grid and new rate structures, brand loyalty and lowering the cost of service.

Whitewater technologies is the inventor of a platform-based software solution for smart water network management and a self-learning water analytics software tool that supplements SCADA's ability to analyse continuous data streams in real time.
Clean Power Finance is the online marketplace for residential solar financing and leading provider of solar sales software. The company connects the capital and solar markets by managing financing on behalf of institutional investors looking for stable, high-yield investments and marketing that financing as non-exclusive residential solar finance products–power purchase agreements (PPAs) and leases–to qualified solar professionals to brand as their own and sell to consumers.

ECOtality, Inc. is a leader in clean electric transportation and storage technologies. Through innovation, acquisitions, and strategic partnerships, ECOtality accelerates the market applicability of advanced electric technologies to replace carbon-based fuels.

Emefcy is fundamentally changing the energy economics of wastewater treatment with its Electrogenic Bioreactor it is transforming wastewater treatment plants from cost centers to profit centers. Emefcy addresses needs of both municipal and industrial wastewater markets.

Lanzatech has developed a proprietary microbe technology that converts waste gases to fuels and chemicals, from any source of carbon monoxide with no impact on the food value chain.

Maxwell Technologies is a developer and manufacturer of ultracapacitors . An energy storage technology used to optimise energy efficiency, performance, reliability and life cycle of a variety of systems such as automotive, heavy transportation, renewable energy, backup power, wireless communications and industrial and consumer electronics applications as well as for radiation-hardened microelectronic components and systems for satellites and spacecraft.

Silver Spring Networks provides a networking platform and solutions that enable utilities to transform the power grid infrastructure into the smart grid. The smart grid intelligently connects millions of devices that generate, control, monitor and consume power, providing timely information and control to both utilities and consumers.

Smarter Grid Solutions delivers innovative software applications and industry-leading expertise to help power companies manage the grid more intelligently. Its real-time grid management solutions offer a highly cost-effective way to get ready for a 'new energy' future by creating greater grid capacity for low carbon technologies such as renewable generation.

Tendril is the developer of connected home platforms that enable smart home applications, such as customer engagement, energy monitoring and management, and demand response. The software platform interacts with hardware devices in the home, such as displays, smart thermostats, smart appliances and EV chargers.

va-Q-tec is revolutionizing the markets for high performance thermal insulation materials by creating innovative vacuum insulation panels (VIPs) which insulate ten times better than conventional materials.

Xtreme Power provides scalable, real-time digital power management and energy storage system product and service solutions that decouple the rigid electric grid, enabling a more sustainable, reliable and cost-effective electric grid network. It is able to combine customized milli-second controls and high-efficiency power electronics with the energy storage capabilities of the company's proprietary PowerCell™ technology.
BrightSource Energy designs, develops, builds and sells large-scale solar thermal power systems that deliver reliable, clean energy to utilities and industrial companies worldwide.

eMeter's data management software delivers a fast, cost effective path to smart metering. The platform allows utilities and their customers to manage energy consumption, balance loads, and increase efficiency across the grid.

Epuramat provides systems for the treatment of municipal wastewater and industrial process water. The patented ExSep® technology enables industrial companies to re-process and re-use water with limited energy and chemical demand. This reduces fresh water needs and wastewater fees. Epuramat is currently performing oil water separation tests in a demonstration plant, and expects a boost in demand following recent tests conducted on behalf on its clients.

Green Biologics has developed an advanced fermentation process to convert readily available waste and agricultural by-product feedstocks into high value chemicals and biofuels. GBL focuses on the production of butanol, a widely used chemical and advanced next-generation biofuel with superior fuel and sustainability characteristics. Green Biologics' technology likewise aims to produce biochemicals and biofuels from sustainable feedstocks at a lower cost than their petroleum equivalents.

Metabolix has pioneered the creation of Polyhydroxyalkanoate (PHA)-based plastics and chemicals, which will enable the displacement of petroleum-based feedstocks. At Metabolix, PHAs are produced via fermentation of sugars, or expressed directly in crops. Fermentation feedstocks can be sugars derived from corn, or lignocellulosic sugars derived from energy crops. In a technical breakthrough, the company has successfully expressed PHAs in both biomass and industrial oil seed crops.

On-Ramp Wireless has developed the Ultra-Link Processing™ (ULP) system to address a broad spectrum of device communications applications from Smart Grid and other energy efficiency applications, to process automation and homeland security. Deployment of the ULP system can significantly help monitor and lower energy consumption across utilities and energy intensive industries.

Redwood Systems is re-inventing smart lighting by powering, communicating and controlling LEDs over networks, for maximum energy savings and improved building performance. Their solution fundamentally changes the way we wire, power, and intelligently control commercial lighting.

SAGE Electrochromics – SAGE is the world's leading developer of dynamic window glass that optimizes daylight, improves the human experience within buildings and reduces energy consumption.

TaKaDu helps water utilities worldwide take control of their networks by giving real-time knowledge and alerts about leaks and other problems in their water distribution infrastructure. TaKaDu's Software-as-a-Service solution is quick to set up and easy to use. It requires no changes to existing equipment or upfront investment.

Winafrique is an end-to-end renewable energy solutions integrator. The company is commercializing off-grid power systems through small-scale hybrid renewable energy storage using flow batteries.
British Gas have acquired AlertMe to create the UK's leading connected homes provider. This exciting move brings together British Gas' ability to innovate for customers with AlertMe's next generation Internet of Things technology and expertise. The acquisition has created a highly experienced and fully integrated team which will now accelerate the development of new connected home services in the UK and worldwide.

Dyesol Limited is a renewable energy supplier and leader in Perovskite Solar Cell (PSC) technology – 3rd Generation photovoltaic technology. The Company's vision is to create a viable low cost source of electricity with the potential to disrupt the global energy supply chain and energy balance.

Magnomatics is a high technology company that is developing and manufacturing products for global industries based on its proprietary ground-breaking magnetic gear technology. Production gears are now in operation in a critical down borehole oil and gas application where the torque fuse inherent in a magnetic gear improves system life.

Novacem, the carbon negative cement company, began as a spin-off from Imperial College London in 2007, and its investors and other backers include Imperial Innovations, the Royal Society Enterprise Fund, the London Technology Fund and the Carbon Trust. The company was listed twice in the Global Cleantech 100. The company's Technology and Intellectual Property was sold to Calix Limited, a natural resources company headquartered in Australia.

Topell Energy is a privately funded Dutch clean technology company that has developed a cutting edge patent-protected process for the production of high value solid biofuel from woody biomass. Their technology is proven at commercial scale and can be demonstrated at their own plant in The Netherlands, and is now being commercialized internationally. Their technology process is generally known as torrefaction and the solid biofuel is referred to as torrefied biomass, black pellets, or biocoal.