While President Donald Trump is rooting for more car plants in the rust-belt states of Michigan and Ohio and more coal mines in Appalachia, California has a different idea for creating jobs: electric-vehicle factories.
California Governor Jerry Brown, scheduled to attend Proterra Inc.'s opening of an electric-bus factory in Southern California on Wednesday, described the plant as an example of how the state is still creating jobs while cleaning the air. The complex, which was backed by a $3 million state grant, will employ almost 100 workers by the end of next year and is capable of making as many as 400 zero-emission buses annually, according to Proterra.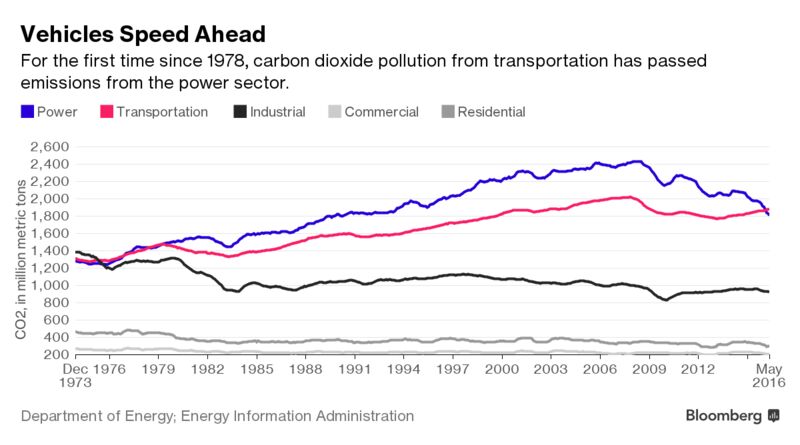 The factory is just the latest way in which Brown has positioned himself as the de facto U.S. leader in the fight against global warming, standing in stark contrast to a president who has questioned the causes of climate change. A day earlier, Brown signed legislation that extended California's efforts to curb carbon-dioxide emissions, knocking Trump for his decision to pull out of an international pact to cut greenhouse gases.
The White House declined to comment. Proterra said the company didn't invite federal officials to attend its plant opening given the emphasis on state energy and transportation goals. Brown and former Michigan Governor Jennifer Granholm were listed as speakers at the event.
To learn more about how electric cars are set to outsell fossil fuel-powered vehicles, read this Bloomberg New Energy Finance outlook.
The transportation sector is meanwhile increasingly becoming the focus of carbon-cutting efforts. For the first time in almost four decades, cars, trucks and buses now account for more emissions in the U.S. than electricity generation. And while Trump is working to roll back federal efforts to curb pollution, states including New York and California have vowed to continue to accelerate the adoption of electric vehicles and renewable energy resources.
"People are just sick of diesel emissions in urban areas," Proterra Chief Executive Officer Ryan Popple said in an interview.
According to Bloomberg New Energy Finance's EV outlook, electric vehicles will account for more than half of new car sales worldwide by 2040.
Proterra said its California factory will supply buses for transit agencies along the West Coast. The Burlingame, California, company has orders to fill from cities serving California's Central Valley to Seattle. It already has a plant in Greenville, South Carolina.
Popple said by phone that Proterra will probably generate revenue of less than $100 million this year. He said he expects the company will be ready to file for an initial public offering by early next year, depending on a number of factors including the state of public markets.