Abdul Latif Jameel Co., a Saudi Arabian industrial group involved in everything from auto imports to real estate, is turning its attention to Latin America's clean-energy market.
The company is focusing on government-organized auctions, where developers vie for long-term contracts to sell power, according to Roberto de Diego Arozamena, chief executive officer at Abdul Latif Jameel's energy unit. Mexico, Chile and Peru offer strong potential for growth in renewable energy, and governments in the region are courting international investors to help diversify the electricity mix.
The Saudi company acquired in 2015 the Spanish solar developer Fotowatio Renewable Ventures, which came with about 3.8 gigawatts of projects in emerging solar markets including the Middle East, Australia, Africa and Latin America. Abdul Latif Jameel Energy is currently developing about 5 gigawatts of renewable energy projects globally, with 30 percent in Latin America.
"Latin America is an important market, where costs of renewables are declining and governments are giving support," Arozamena said in a telephone interview from Dubai. "We are eager to grow in the region."
The Saudi company's renewable-energy push comes as the kingdom seeks to meet a target set in 2016 of producing 70 percent of its power from natural gas and 30 percent from renewables and other sources by 2030. OPEC's biggest producer is among crude exporters struggling with budget deficits after oil prices declined.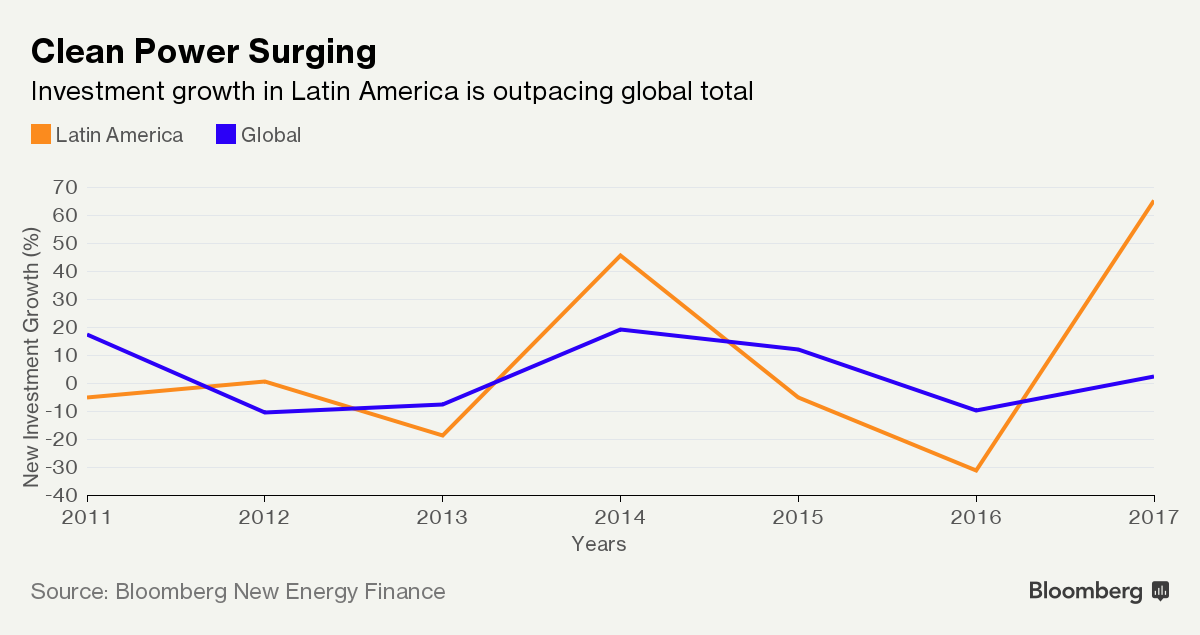 Gas and oil supplied all of the country's energy in 2015, according to Bloomberg New Energy Finance. The government is now developing a program to provide subsidies for rooftop solar, and an auction last year held as part of the National Renewable Energy Program drew headlines for a record low bid for solar power –- $17.9 per megawatt-hour.
Investments in Latin America's clean power market jumped 65 percent to $17.2 billion last year, much higher than the global average of 3 percent, according to Bloomberg New Energy Finance. That compares to a 26 percent decline in Europe and less than 1 percent growth in the U.S.
BNEF clients can see the full report, "Clean Energy Investment Trends 2017", on the Terminal or on web.
"We are seeing more and more large, international European power companies in Latin America," said Ethan Zindler, an analyst at Bloomberg New Energy Finance.
Mexico's booming clean-energy projects have put the country neck-and-neck with the regional leader Brazil in the race for investments. Spending in Mexico jumped more than sixfold to $6.17 billion last year amid a national push to open the country's power, gas and oil markets that spurred competition after decades of state monopoly.
Abdul Latif Jameel Energy said on Tuesday it secured financing to start construction of a 342-megawatt solar project in Mexico this year, its first in the country. In Chile, it was awarded a hybrid project that will power about 224,000 Chilean homes with 100 megawatts of solar capacity and 100 megawatts of wind.
The company is wary about Brazil, because of the fluctuating currency and the lack of dollar-denominated contracts, and Argentina, which is still views as risky, Arozamena said.
"We have a strong pipeline in Latin America and will focus on solar and wind," said Arozamena.