By Samson Ellis and Chinmei Sung
A late-summer heat wave, storm-damaged power lines and closed nuclear plants may force Taiwan to ration power for the first time in 15 years.
State-owned Taiwan Power Co. has issued a red alert as electricity consumption hit an all-time high Tuesday and the operating reserve margin, the difference between the amount of power produced and the amount consumed, fell to the second lowest on record. The reserve margin fell to 623,000 kilowatts, or 1.72 percent of the total electricity produced. Power rationing will be implemented if the margin falls below 500,000 kilowatts.
The power squeeze comes as the hottest temperatures of the year collide with President Tsai Ing-wen's promise to make Taiwan a nuclear-free island. Taiwan has mothballed one of its four nuclear power stations. Of the six remaining reactors available, three are currently shut down for maintenance. Two storms in late July exacerbated the problem by bringing down a key transmission tower in eastern Taiwan, further limiting supply.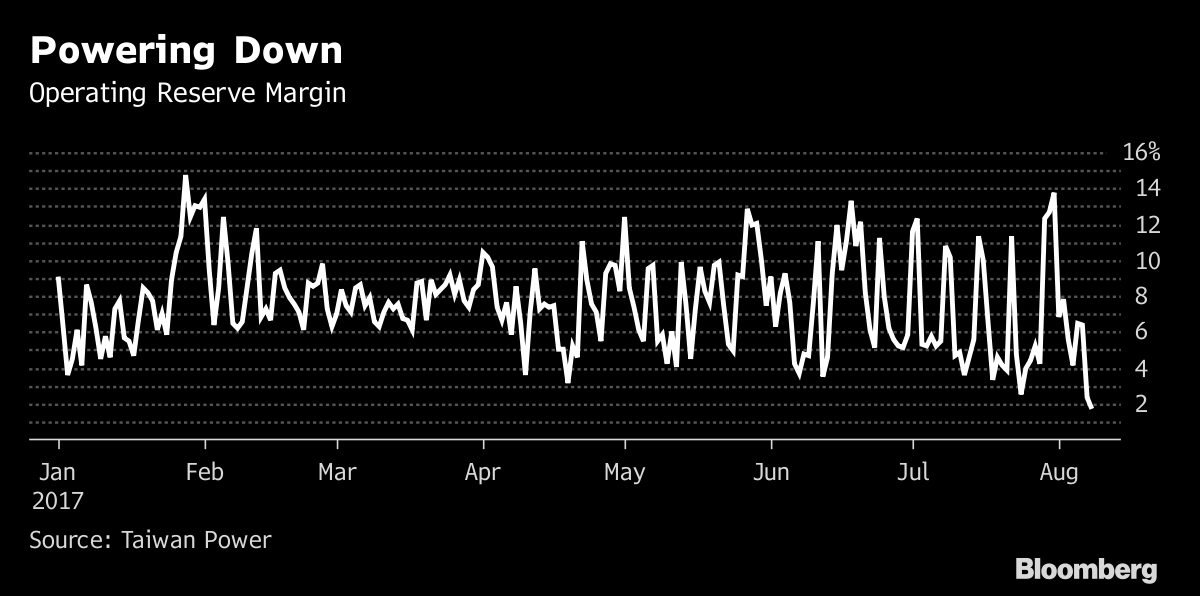 Energy Bureau spokesman Lee Chun-li said by phone that the tower will be repaired and coal-power capacity will be added by the weekend to alleviate the problem.
If power rationing is implemented, Taipower will first limit electricity to companies using more than 5,000 kilowatts by up to 15 percent. It would be the first time Taiwan has enforced power rationing since 2002. With temperatures in Taipei City expected to hit daily highs of 37 degrees Celsius by the end of the week, Taipower says the supply red alert will remain through Friday.