Chris Reiter and Elisabeth Behrmann
More than two years after Volkswagen AG was thrown into chaos by the diesel-emissions scandal, the German auto giant is still choking.
The latest reminder that the crisis is far from over came Friday when Volkswagen announced it will take a charge of 2.5 billion euros ($3 billion) because plans to buy back or retrofit tainted U.S. diesel cars proved more complex than expected. That brings total damages to about $30 billion and raises questions about whether Chief Executive Officer Matthias Mueller has the situation under control.
"This is yet another unexpected and unwelcome announcement from VW, not only from an earnings and cash-flow perspective but also with respect to the credibility of management," Arndt Ellinghorst, a London-based analyst with Evercore ISI, said in an email. "No surprise, investors are skeptical and cynical."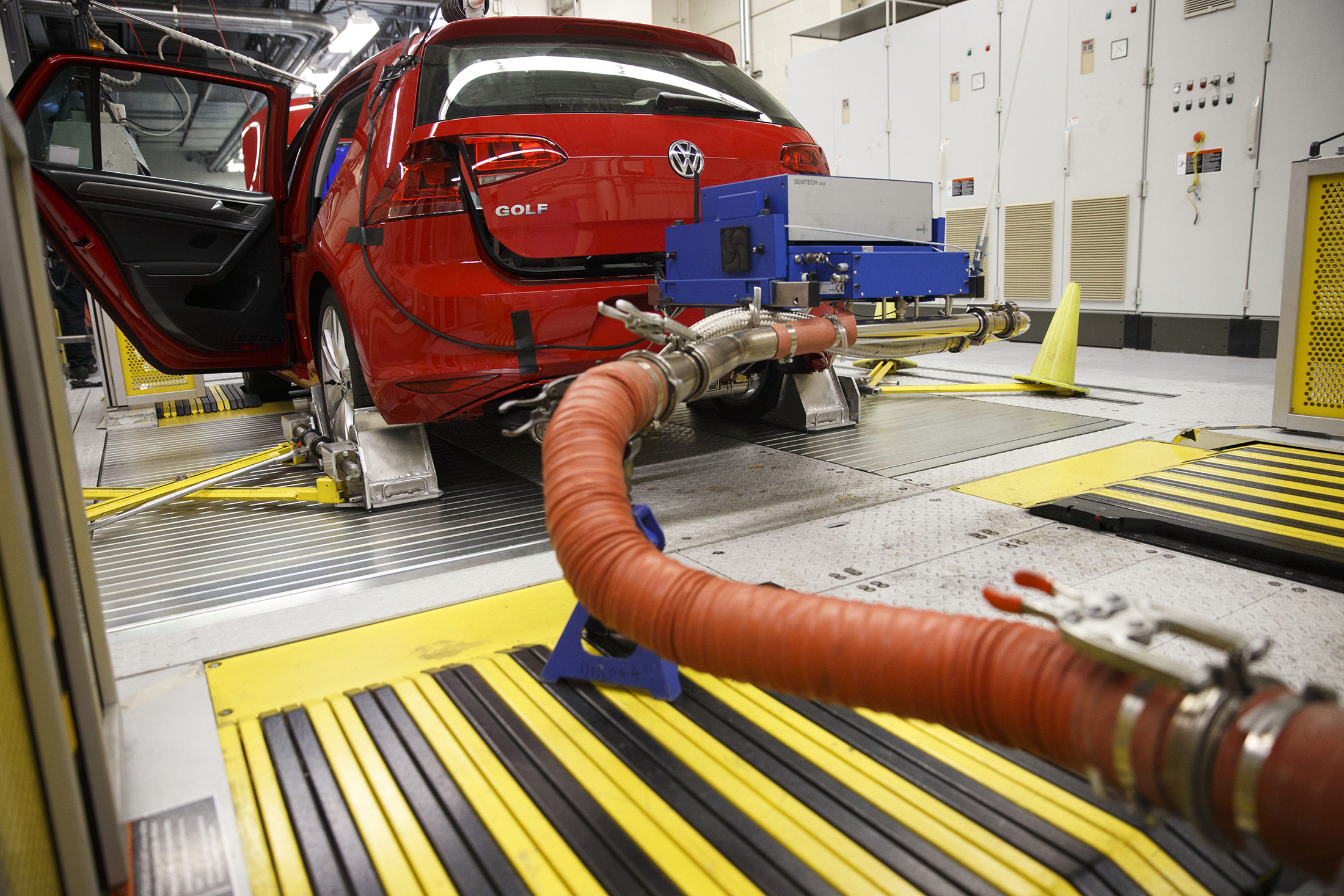 VW Golf TDI waiting to be tested. Photographer: Patrick T. Fallon/Bloomberg
To put the latest charge into perspective, it comes a full 15 months after the company reached a settlement with U.S. authorities to buy back or fix around 500,000 tainted vehicles, including Golf, Jetta and Audi A3 models. So after more than a year of working through the issues, Volkswagen suddenly discovered that the plans were technically tougher than anticipated. The complications, which the company didn't describe in detail, amount to more than 5,000 euros per car.
Volkswagen shares fell as much as 4 percent, making the prospect of returning to pre-crisis levels even more remote. Since September 2015, the stock has lost about 15 percent of its value.
While the charge was the clearest evidence the crisis is still smoldering, it wasn't the only sign this week. On Wednesday, Munich prosecutors arrested former Volkswagen engineer Wolfgang Hatz, the second person detained in the widening probe into cheating at the automaker's Audi division. Hatz, who ran Volkswagen's motor development from 2007 to 2011, left the automaker in May 2016 after being suspended in the aftermath of the company's admission that it rigged diesel cars to cheat on regulatory tests.
And then there was the unrelated issue of the Scania truck unit being fined about $1 billion by European Union authorities over price fixing.
"What's clear is that the emissions scandal isn't off the table," said Stefan Bratzel, director of the Center of Automotive Management in Bergisch Gladbach, Germany. "Today's announcement shows they miscalculated."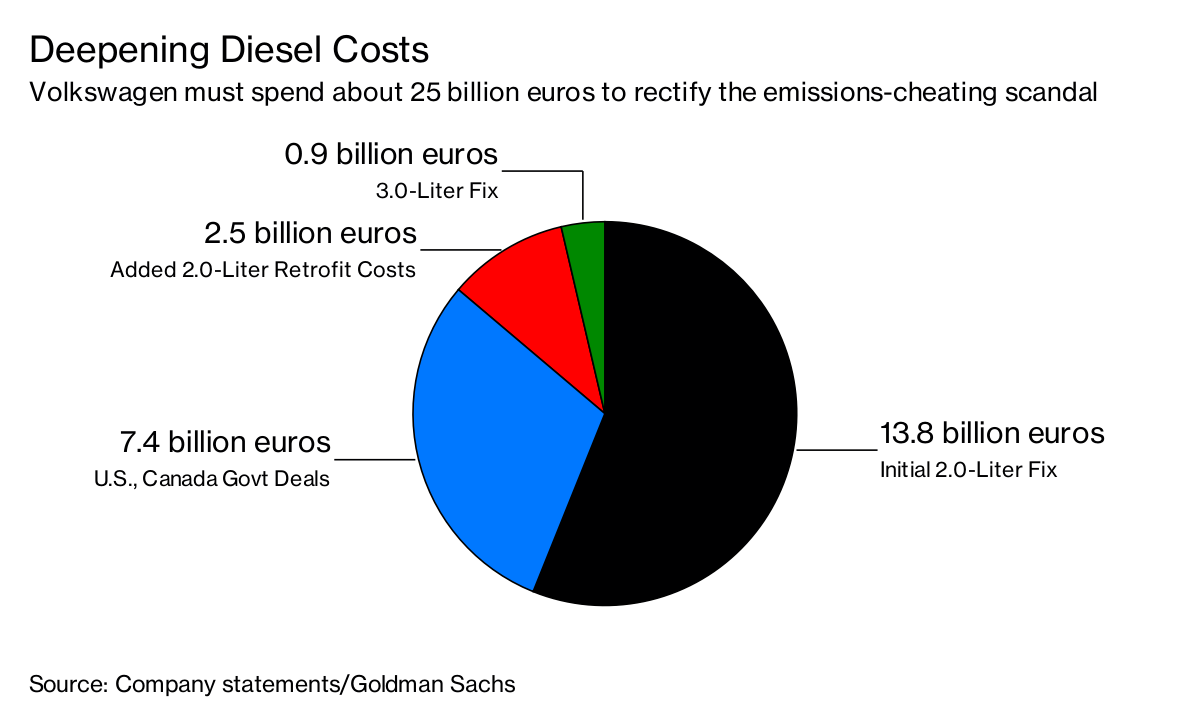 Mueller has sought to push past the crisis, with only limited success. At the Frankfurt auto show earlier this month, he played the role of visionary, arriving at a presentation in the German financial capital in a self-driving bus, dubbed Sedric. Before hundreds of guests, he vowed to turn Volkswagen into an electric-car leader, as he remakes the company from within, with the Moia ride-hailing brand and de-centralized decision-making.
"We have got the message and we will deliver," Mueller said at the show. "'Business as usual' is no longer enough."
Yet there are plenty of signs that the old Volkswagen is alive and well. In addition to the long-running diesel saga, unions are flexing their muscles and resisting disposals of ill-fitting remnants from past empire-building such as the Ducati motorbike brand and divisions that make power plants and ship engines.
Electric Future
The affected diesel vehicles in North America are only a small part of the nearly 11 million rigged cars globally. In the U.S., Volkswagen is required to update the emissions software and make changes to engine hardware, a more rigorous fix than the repairs required in Europe.
The continuing fallout compounds pressures facing Volkswagen as it grapples with a disruptive shift in automotive technology, including the prospect of new, nimble competitors like vacuum cleaner pioneer Dyson Ltd. Keeping ahead of the shift to an era of self-driving electric cars requires significant resources, and Volkswagen is planning to invest about 20 billion euros by 2030 to develop a fleet of electric cars and another 50 billion euros to buy the batteries needed to power the vehicles.
The scandal set off a backlash that has led consumers to turn away from diesel technology amid concerns about pollution and driving bans. That creates problems for Volkswagen as it relies on diesel cars to boost profit and lower carbon-dioxide emissions to reach tightening environmental targets. Still, the world's largest automaker had net liquidity of 23.7 billion euros at the end June to help it finance the investments.
"Volkswagen remains very liquid in terms of its financial position and the risk of a capital increase is low," said Juergen Pieper, a Frankfurt-based analyst with Bankhaus Metzler. "However, given the uncertainty in Europe about diesel cars and the future investments that need to be made for electric cars, that risk is rising" in the aftermath of the "surprisingly large" hit from the scandal.