By Anna Shiryaevskaya and Kelly Gilblom
As southern France emerges from months of searing heat, the country is scrambling to avert getting caught out by a winter cold snap again.
Natural gas that should be going into storage is being used to offset reduced hydropower output and to cool people down, meaning the nation may not have enough fuel to warm everyone up come winter. Storage levels are near a five-year low, while an infrastructure bottleneck that propelled the country's gas prices to the highest in the world last winter hasn't been resolved.
To make matters worse, the nuclear fleet, France's main source of electricity for heating, is mired in uncertainty and will be subject to inspections that could halt reactors for indefinite periods. Earlier this year, unexpected nuclear closures caused gas demand to skyrocket, creating shortages. While the government this summer requested grid operator GRTgaz SA to intervene and buy fuel to replenish supply, the uncertainty is roiling trading.
"French gas storage levels remain dangerously low," said Elchin Mammadov, an analyst at Bloomberg Intelligence in London. "We are likely to see major gas price volatility, particularly in the southern hub area" that lacks interconnecting links.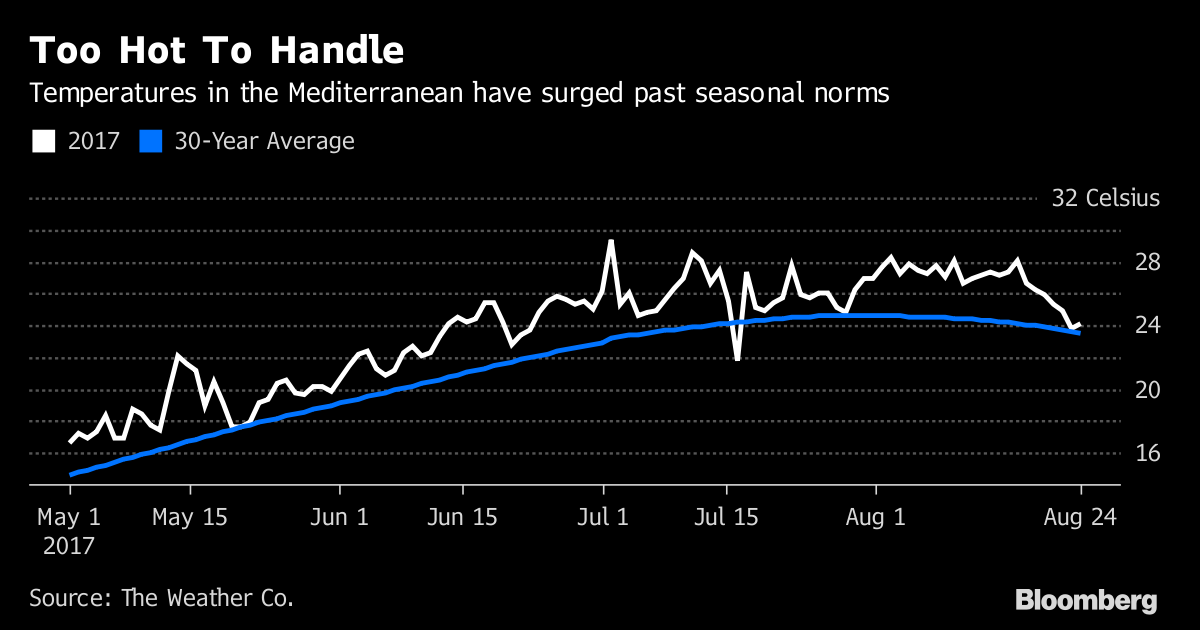 To meet increased summer demand, traders are bringing in more liquefied natural gas. Supplies from two import terminals near Marseille reached the highest level for the July 1- Aug. 15 period since 2011, according to cargo-tracker PanEurasian Enterprises Inc.
But gas in a storage site that serves the south, which last winter became almost half-empty even before a cold snap squeezed supplies in January, is still below a five-year average. Storage facilities across France were 68 percent full as of Aug. 27, Gas Infrastructure Europe data show. Stockpiles in southern France are 77 percent full, the lowest for the time of year since 2013.
A bottleneck is highly likely in the southeast when LNG supply at the two Fos terminals is low, grid operators GRTgaz and Transport et Infrastructures Gaz France SA said in a winter outlook in May. In the event of a 10-day cold spell not anticipated by the market, French consumers will suffer shortages without quick deliveries of LNG, potentially "in volumes never seen before," the operators said.
GRTgaz is building up the stocks as planned, the company said. The Energy Ministry didn't respond to requests for comments.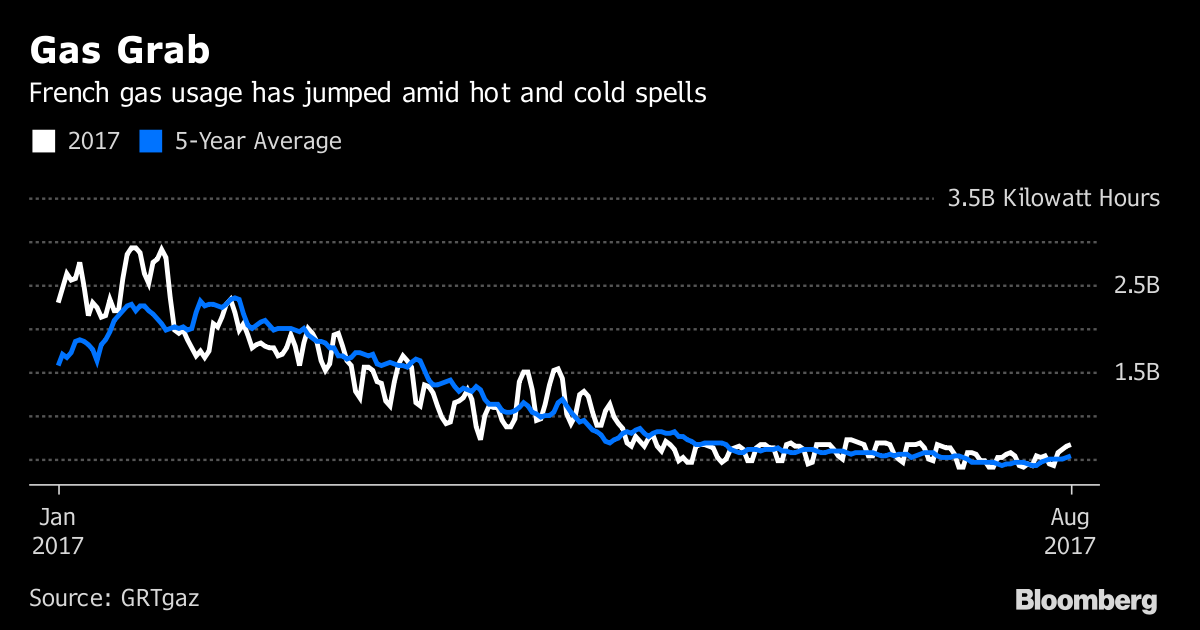 Storage sites are typically refilled through October, leaving a few more weeks to top them up as the heatwave recedes and cooler days arrive.
"We still have time," Melissa Stark, managing director for energy at Accenture Plc, said by phone. "There is a lot of LNG on the market."
Last January, LNG arrivals at Fos were three times lower than initially planned, sending gas prices above those paid by Japan, the world's biggest buyer.
To promote LNG imports, Fosmax LNG SAS, operator of the Fos Cavaou terminal, said in June it cut tariffs to unload cargoes from Oct. 1. And the market already anticipates an LNG wave as the global glut swells.
"The elephant in the room is the onset of LNG into northwest Europe as further projects come onstream," said Nick Campbell, an energy risk manager at Inspired Energy Solutions. French gas suppliers may think "the better risk management option would be to utilize LNG, not storage."
Lower gas stocks will bite if a cold snap coincides with nuclear outages.
French electricity for the fourth quarter of this year jumped to a record on Aug. 17 after nuclear regulator ASN said that Electricite de France SA must review all nuclear components made by an Areva SA foundry by the end of next year. Benchmark next-month gas for northern France gained for a sixth week through Aug. 25. Although EDF said output won't be impacted, markets feared a repeat of last year's squeeze.
"Last year gas shortages were driven by really cold weather in the south – and there has not been much in the way of infrastructure changes to rectify constraints that only really bite during extreme weather," said Trevor Sikorski, head of natural gas, coal and carbon at Energy Aspects Ltd. "The same extreme weather would likely lead to the same extreme prices if it was to happen again."