Royal Dutch Shell Plc, Europe's most valuable oil company, expects its expertise in managing risk will make it a market leader in developing the clean-energy industry.
Offshore wind projects are attracting billions of dollars of investment and will become "the energy backbone" for European countries from Germany to the U.K., said Mark Gainsborough, Royal Dutch Shell Plc's head of new energies.
Oil companies have a natural advantage in that business, since they have spent decades learning how to manage financial, political and project-development risks, he said. That gives them an edge over renewable energy developers, who prefer to pin down long-term power-purchase agreements or government support before moving forward. As the renewables industry shifts to more subsidy-free projects, it may be the established oil companies that can handle the gambles that come with competing at market prices.
"We know that we have to change and be real players in the energy transition," Gainsborough said in London. "The potentially interesting transformation for this industry and most renewables is the transition out of the subsidy-driven world into a world where you're taking merchant risk, which we're very used to doing in oil and gas."
The offshore wind industry is preparing to take a gigantic leap, both in terms of its contribution to the power grid and shear scale of its projects. Global installations of the technology will rise almost threefold, to 39.7 gigawatts, by 2020, according to Bloomberg New Energy Finance. At the same time, new turbine technologies increasing the size and efficiency of windmills are moving the industry toward subsidy-free competition.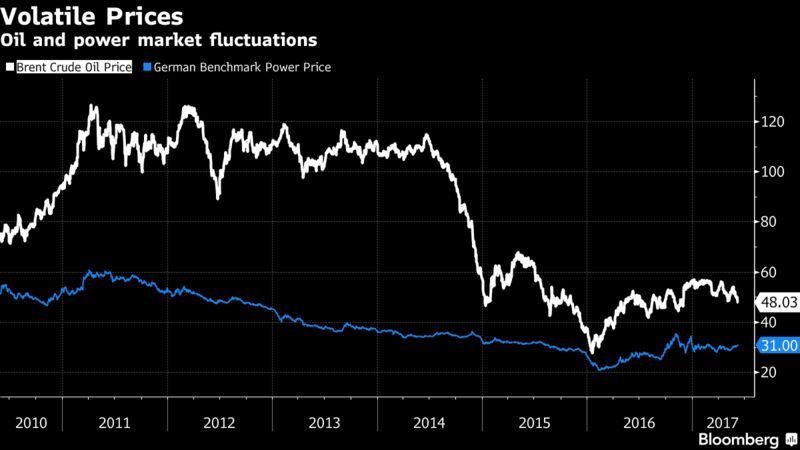 "Bigger offshore wind projects and zones offer the ticket size that oil and gas companies are looking for," said Keegan Kruger, a wind analyst for Bloomberg New Energy Finance. "Smaller-scale renewables weren't really seen as worth their time and effort. Also, they are able to leverage their offshore marine technical expertise."
Bigger Projects
Shell already has taken a 50 percent stake in a 680-megawatt offshore wind farm in Dutch waters and is seeking to expand that footprint, according to Gainsborough. Shell envisions farms that are more than 15 times bigger in order to increase the technology's competitiveness and reduce costs, he said.
"The route to do this would be fewer, larger integrated projects, each one up to 10 gigawatts with an anchor who takes the biggest risk for about half the project,'' he said. "What we've learned from oil and gas is that scale really does matter. You've got to have a much bigger balance sheet than many of the players that play today."
Green-power developers are adapting to the idea that they'll need to work with more fossil fuel companies in the future, according to John Pires, head of M&A and project finance at Northland Power Inc., a Toronto-based firm that owns the majority stake of the Gemini offshore wind project in the Netherlands.
Subsidy Free
"They are used to managing a revenue profile that has been much more volatile relative to what fixed-price subsidy renewable energy producers are used to receiving," Pires said. "This makes them potentially very well positioned to adapt to a zero-subsidy market-based price environment."
Offshore wind crossed a threshold in April when developers led by Energie Baden-Wuerttemberg AG and Dong Energy A/S won tenders to supply subsidy-free power from 1,490 megawatts of planned North Sea wind farms. Until that auction, developers had still largely been propped up by subsidized prices for their power.
"Wind farms have to be less supported and more industrial, without making consumers pay the bill," said Marie-Christine Marghem, energy minister of Belgium.