The U.S. is poised to experience its first annual decline in solar-panel installations, as a drop in rooftop demand slows growth in the world's second-biggest market.
Developers added a total of almost 2.4 gigawatts in the second quarter, putting the industry on pace to reach 12.4 gigawatts this year, according to a report Monday from GTM Research and the Solar Energy Industries Association. That's down about 17 percent from a record 2016, and the research company expects another decline in 2018.
The solar industry is girding for a slowdown after a decade of double-digit expansion. Utilities are reaching state-mandated goals and rooftop suppliers are slowing growth in some of the largest markets, dragging down demand this year. And that's before a trade complaint that may prompt President Donald Trump to impose tariffs on imported panels, a move that the industry warns would dramatically exacerbate the slump.
Imposing tariffs would mean "installations would significantly drop," according to the report. "Downside risk looms over the long-term outlook for U.S. solar due to the trade dispute."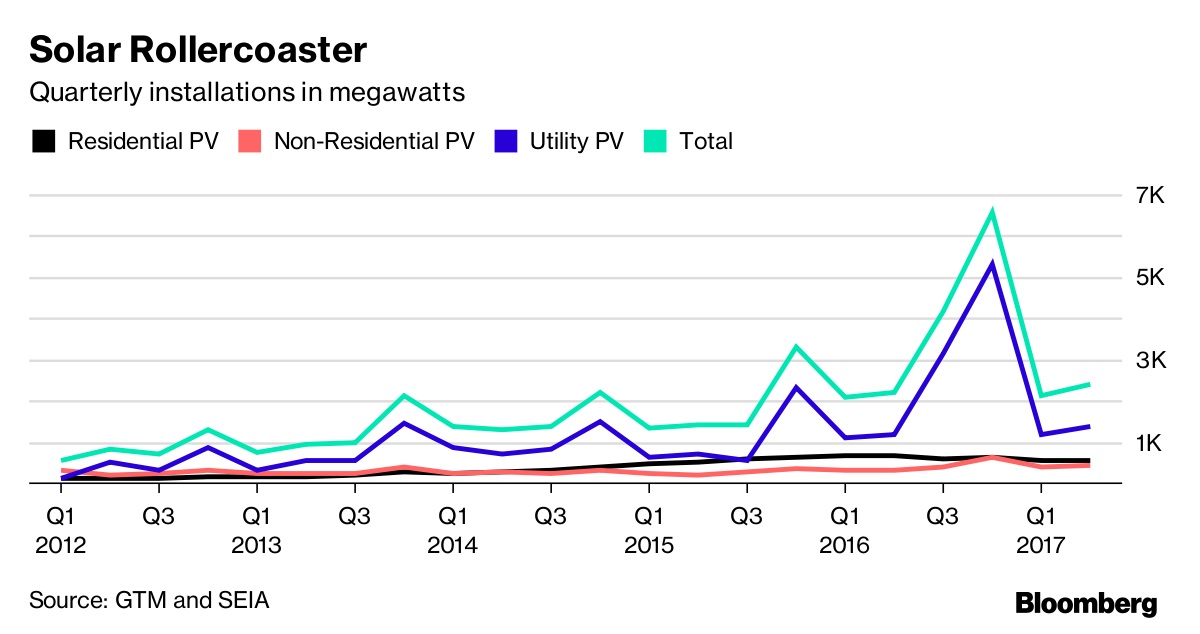 Total installations in the second quarter increased 8 percent from a year earlier. The industry was anchored by giant, utility-scale solar farms, which increased 17 percent to 1,387 megawatts. That accounted for more than half of all installations and offset a 17 percent decline in the residential market. Homeowners added just 563 megawatts as developers like Sunrun Inc. and Vivint Solar Inc. push for profitability over growth.
Bloomberg New Energy Finance expects the U.S. market, second only to China, to contract even more, forecasting a 23 percent decline this year to 10.4 gigawatts.
The analysts continue to expect installed capacity will triple over the next five years — unless Trump imposes tariffs under the trade case currently before the U.S. International Trade Commission. That "would result in a substantial downside revision to our forecast," GTM said in the statement.