By Francine Lacqua and Paul Wallace
Africa's richest man, Aliko Dangote, plans to invest $20 billion to $50 billion in the U.S. and Europe by 2025, in industries including renewable energy and petrochemicals.
The 60-year-old Nigerian cement tycoon aims to move into these territories for the first time in 2020 after completing almost $5 billion of agricultural projects and an $11 billion oil refinery in his home country, he said in an interview with Bloomberg Markets Magazine this month.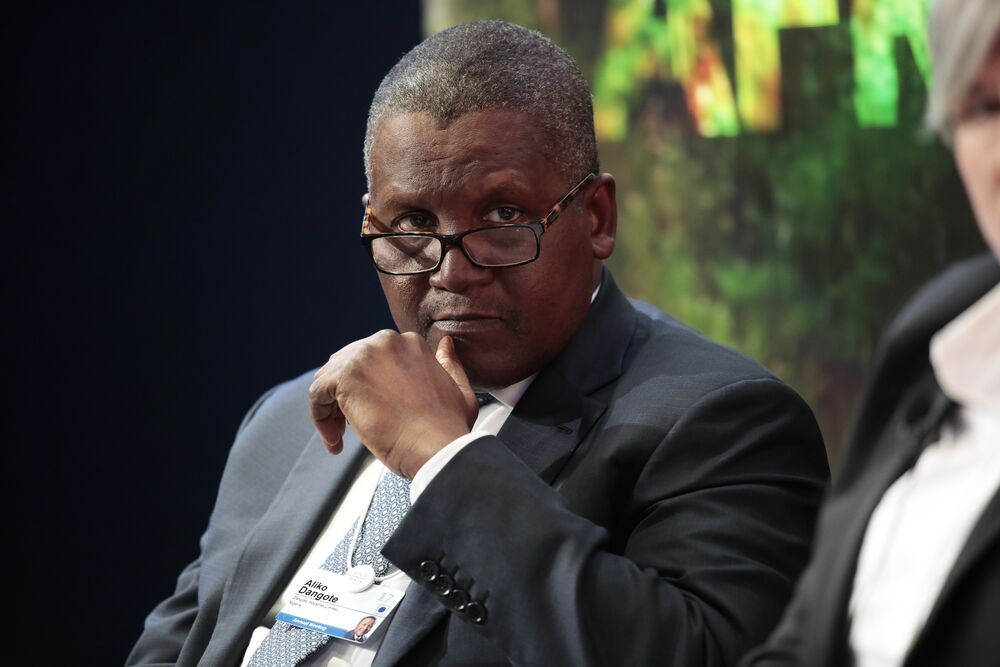 "Beginning in 2020, 60 percent of our future investments will be outside Africa, so we can have a balance," said Dangote, worth $11.6 billion, according to Bloomberg's Billionaires Index. Dangote Group's major investment will be in the U.S. and Europe, he said. "I think renewables is the way to go forward, and the future. We are looking at petrochemicals but can also invest in other companies."
Dangote has diversified rapidly in the last five years, both geographically and into new industries. He's expanded Dangote Cement Plc, which accounts for almost 80 percent of his wealth, into nine African countries aside from Nigeria. In 2015, he began building a 650,000 barrel-a-day refinery near Lagos, Nigeria's main commercial hub, and he's constructing gas pipelines to the city from Nigeria's oil region with U.S. private equity firms Carlyle Group LP and Blackstone Group LP. He said in July he'd invest $4.6 billion in the next three years in sugar, rice and dairy production.
Shares in Dangote Cement fell 4.9 percent to 214 naira in Lagos Wednesday, paring the advance this year to 23 percent.
Telecoms Unappealing
"When you look at it — not just in Nigeria but in the rest of Africa — the majority of countries here depend on imported food," he said. "There is no way you can have a population of 320 million in West Africa and no self-sufficiency. So the first thing to do is food security. I believe Dangote Group is in the right position to drive this trajectory."
Dangote, who mostly lives in Lagos and counts Bill Gates among his friends, said he was a passionate industrialist and ruled out moving into newer sectors such as telecommunications or technology.
"When I look at telecoms, for instance, I think that would be very tough for us," he said. "Some players have been in this market for 17 years already. There's no way you can go and jump over somebody after 17 years of their hard work. So I think we would pass when it comes to telecoms today. There are other businesses that we understand better."
Dangote also said he wasn't planning to enter Nigerian politics.
"I'm not interested," he said. "I enjoy a lot of what I am doing, and I also love my freedom — and I don't have too much. The little I have, politics would take away. There are businessmen who are interested in politics. I'm not one of them."