Hydro One Ltd. has agreed to buy U.S. power supplier Avista Corp. for $3.4 billion, becoming the latest Canadian energy company to snap up assets south of the border in a search for higher returns.
The merger will establish one of North America's largest regulated utilities with assets totaling $25.4 billion (C$32 billion) and customers from Ontario to Montana, the companies said in a statement Wednesday. Avista stockholders will receive $53 a share in cash, 24 percent above the market close Tuesday. Hydro One plans to issue $1.1 billion of common equity and $2.6 billion of debt to finance the deal, marking its first foray into the U.S. debt market.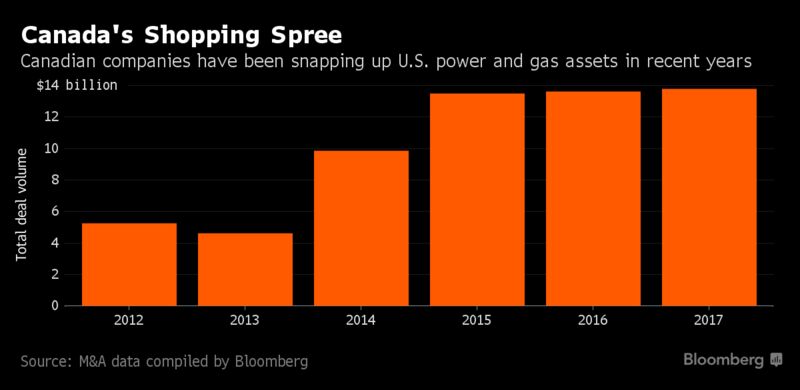 The takeover is another testament to Canada's hunger for U.S. energy assets as companies north of the border search for higher, steady returns. Enbridge Inc. and TransCanada Corp. have both struck multibillion-dollar deals for U.S. pipeline owners, and Fortis Inc. bought American power-line operator ITC Holdings Corp. for almost $7 billion. In January, Calgary-based AltaGas Ltd. agreed to take over WGL Holdings Inc. for $4.6 billion.
"It's yet another example of Canadian appetite for U.S. utility properties," said Paul Patterson, an analyst at Glenrock Associates LLC, adding that the deal involves a "considerable issuance of debt."
Hydro One rose 0.1 percent to C$22.53 in Toronto on Wednesday. Avista gained 1.4 percent to close at $43.33, and climbed to as high as $51.99 in after-markets trading. Including debt, the enterprise value of the merger totals $5.3 billion.
"This marks a proud moment for Canadian champions as we grow our business into a North American leader," Hydro One Chief Executive Officer Mayo Schmidt said in the statement.
The Avista purchase is the largest deal for Hydro One since the Toronto-based utility went public in 2015, selling shares at C$20.50 a piece as part of the largest initial public offering in 15 years.
The Ontario government, then the largest shareholder, sold stock to raise money for infrastructure projects and to pay down debt. The government most recently disclosed a share sale in May, reducing its stake in Hydro One to just under 50 percent.
The government's stake may fall further after Hydro One completes a sale of $1.1 billion in convertible debentures to help finance the Avista deal. These debt securities can be converted into stock. The company has agreed to sell the debentures to a syndicate of underwriters co-led by RBC Capital Markets, CIBC Capital Markets and BMO Capital Markets on a "bought deal" basis.
Using this much debt is "typical" in cross-border deals "where you have a much larger company that can use their balance sheet to borrow and make a cash acquisition," said Kit Konolige, a utilities analyst for Bloomberg Intelligence. "There are a only a handful of Canadian utilities, so if you want to grow, then U.S. utilities are one major arena where you would look to go."
Hydro One's Schmidt said in a call with investors Wednesday that the company expects Standard & Poor's to confirm an investment-grade credit rating. The rating may be lowered one notch to A-, the fourth level above junk status, primarily because the company is entering a new market, he said.
The deal will require the approval of several agencies, including utility commissions in Washington, Oregon, Idaho, Alaska and Montana and the U.S. Federal Energy Regulatory Commission. The companies said they expect to complete the merger by the end of the second quarter of next year. They also said they don't expect to cut jobs as a result of the transaction.
Moelis & Co. LLC is the exclusive financial advisor to Hydro One. BofA Merrill Lynch is Avista's. Bracewell LLP is serving as Hydro One's legal advisor. Kirkland & Ellis is Avista's.