Ballard Power Systems Inc., a supplier of fuel-cell power systems, surged to a three-year high after announcing a technology breakthrough that replaces most of the high-cost platinum used in earlier design.
Ballard gained 24 percent to $4.59 at 3:08 p.m. in New York, the most intraday in more than a year and the highest since April 2014. Nisshinbo Holdings Inc., which has been working with Ballard on the project since 2013, rose a record 26 percent to 1,475 yen ($13.34) at the close in Tokyo.
High-cost precious metals in fuel cells have hindered broader adoption of the technology and Ballard has been working to eliminate as much platinum as possible from its products. The Non Precious Metal Catalyst design, to be offered by the end of this year, reduces the amount of platinum by more than 80 percent, Kevin Colbow, vice president of technology and product development, said in a statement late Tuesday.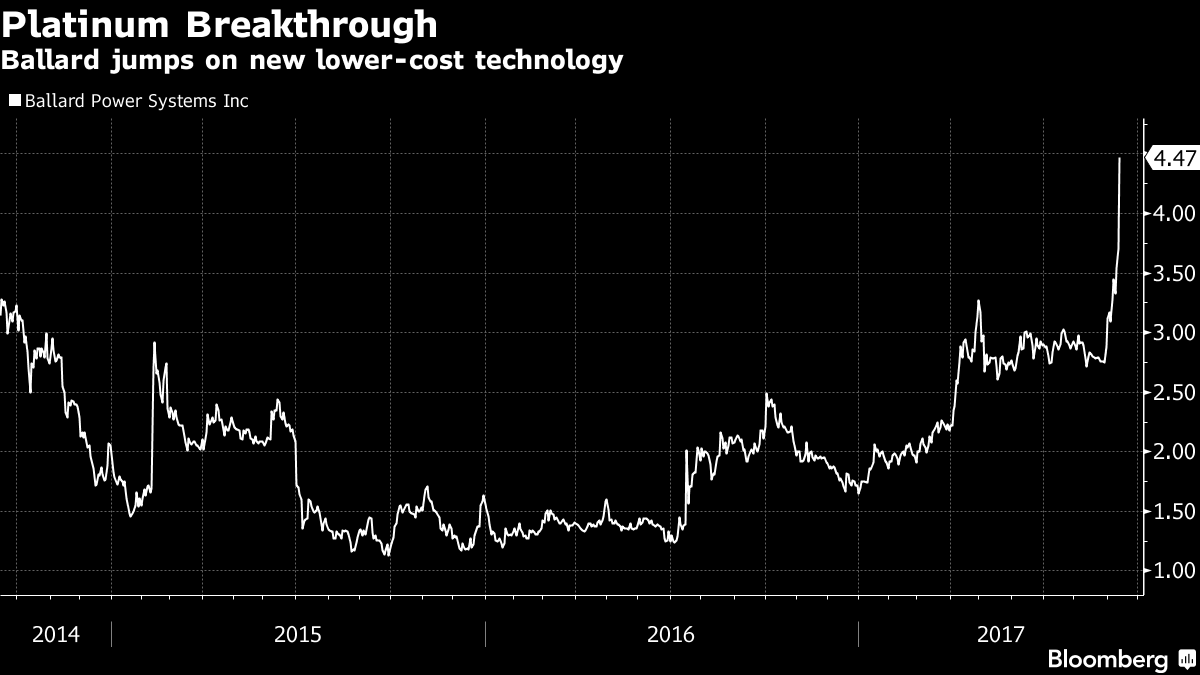 "Since platinum contributes 10 percent to 15 percent of the cost of a fuel cell stack today, we are very excited about the potential cost savings," Colbow said in the statement.
Fuel cells convert hydrogen into electricity through a chemical reaction that relies on a catalyst, often platinum. Ballard's is reducing the amount of platinum and using a lower-cost carbon alloy material. It will initially be used for small applications like portable military electronics that will help reduce the battery weight that soldiers often carry, said Chief Executive Officer Randy Macewen. In a few years the technology may be added to larger equipment.
"Absolutely the drone and forklifts markets are priority markets for this new technology," Macewen said in an interview. "What we've been doing is reducing platinum and also looking at non-precious metal alternatives."