A bankrupt Georgia company is pushing to revive U.S. solar manufacturing with a trade case that's headed for the president's desk. The simmering dispute from Suniva Inc. stands a good chance of leading to import tariffs, but don't expect that to bring the jobs back.
While at least six Asian solar companies say the prospect of trade barriers has them weighing the idea of opening factories in the U.S., they're likely considering highly automated facilities that won't need armies of workers.
Advanced manufacturing techniques and surging production, especially in China, have dragged down prices for solar modules and helped spur a global boom in clean power. The same factors are now making it harder for U.S. companies like Suniva to compete, and have transformed the employment landscape. It's a pattern that's been seen before, in auto factories, steel mills, coal mines and other industries, as increasingly automated production systems increase output with fewer workers.
"Lower costs in China have destroyed U.S. solar-industry jobs — that's true," Angelo Zino, a New York-based analyst at CFRA, said in an interview. "But while tariffs might compel Chinese manufacturers to open plants here, does that create an enormous amount of domestic jobs? Probably not."
Factories aren't where most U.S. solar jobs are being created. The industry employed about 260,000 people last year, including about 38,000 manufacturing positions, according to the Solar Energy Industries Association. Only 2,000 people were making solar cells and modules at the start of 2017, and that's now slipped to less than 1,000 after layoffs at Suniva and its co-plaintiff in the trade suit, the U.S. unit of bankrupt German panel maker SolarWorld AG. Most jobs are in construction — developing and installing solar panels — and other downstream tasks, including finance.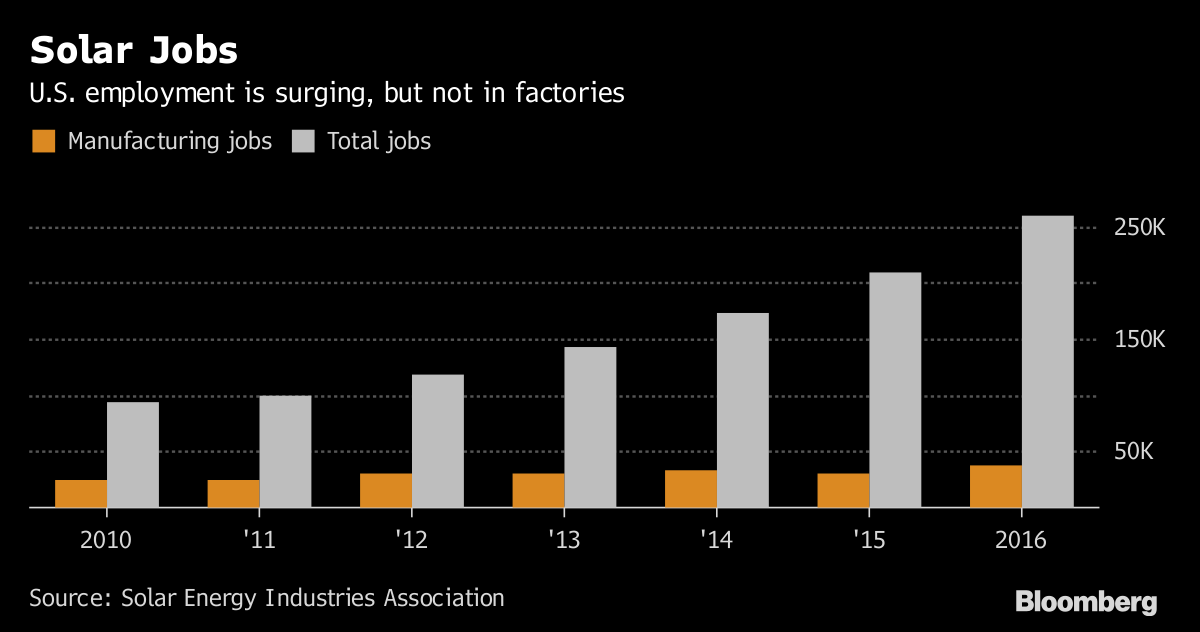 Imposing tariffs on solar components will boost U.S. manufacturing, according to Suniva and SolarWorld. Their suit asserts that cheap imported panels and cells have harmed the U.S. industry, and trade barriers are needed to help restore it. Suniva brought the suit "to re-open and re-hire its workers, and to grow a U.S. manufacturing base," Mark Paustenbach, a spokesman for the manufacturer, said by email.
The global average price for solar modules has declined by more than half in the past five years, to about 31.5 cents a watt. The two companies asked for tariffs of 32 cents a watt on imported panels, and 25 cents on cells. Suniva also proposed a floor price for imports and SolarWorld sought a quota. Those policies would boost U.S. cell production 70 percent and panel manufacturing by 60 percent, leading to more than 30,000 new direct and supplier jobs, according to SolarWorld.
Tariff Decision
Those estimates may be too big. For starters, the U.S. International Trade Commission recommended last month more modest tariffs, less than half what Suniva and SolarWorld had requested. President Donald Trump has until mid-January to decide whether to impose tariffs, and how much.
Plus, modern cell plants don't need as many workers as they once did. A gigawatt of solar-cell production added today would need about 800 new jobs, about half the number of workers that would have been needed back in 2011, said Xiaoting Wang, a San Francisco-based analyst at Bloomberg New Energy Finance. A gigawatt of panels would cover about 8,000 acres.
Some factories are even more efficient. Longi Green Energy Technology Co. is considering a U.S. cell and panel plant, a decision that hinges in part on the final tariff decision. The company says it would need 300 to 400 workers for 1 gigawatt of cell production, and 350 to 400 people for 1 gigawatt of panel manufacturing. Longi is one of six Asian companies mulling U.S. facilities, with a total of about 5 gigawatts of capacity, according to Bloomberg New Energy Finance.
Automation
Similar trends have reduced coal-mining jobs, as arduous physical tasks were shifted from people to machines. While U.S. coal production peaked in 2008, the number of workers had slumped 90 percent from the 1920s.
Cells are the most complex photovoltaic component, and typically dozens are wired together to comprise a module. Making them has become increasingly automated, with robots feeding silicon wafers into machines that etch complicated circuitry onto them. As demand for clean energy exploded in the past decade, a growing number of companies began offering machines to make the process more efficient, including robots that move components through the factory instead of relying on workers and more efficient systems that turn them out faster.
"The cell level is where most of the automation is," said Jeff Osborne, a New York-based analyst at Cowen & Co. "The module part is labor-intensive."