By Mark Burton and Javier Blas
An investment firm founded by Russian billionaire Vladimir Iorich is following its winning bet on cobalt this year by creating a $150 million fund to buy into metals used in electric cars.
Pala New Energy Metals will invest in cobalt, lithium, vanadium, rare earths, nickel and tin. Pala Investments Ltd. started the fund with its own money and cash from other investors. The firm previously snapped up cobalt, anticipating surging demand from automakers that more than doubled prices in the past year.
"We have been focused on the evolution of the battery chemistries and this has allowed us to invest early in different components of the battery," Stephen Gill, managing partner at Zug, Switzerland-based Pala Investments, said in an interview. "We hope to continue to be ahead of the curve as technologies evolve."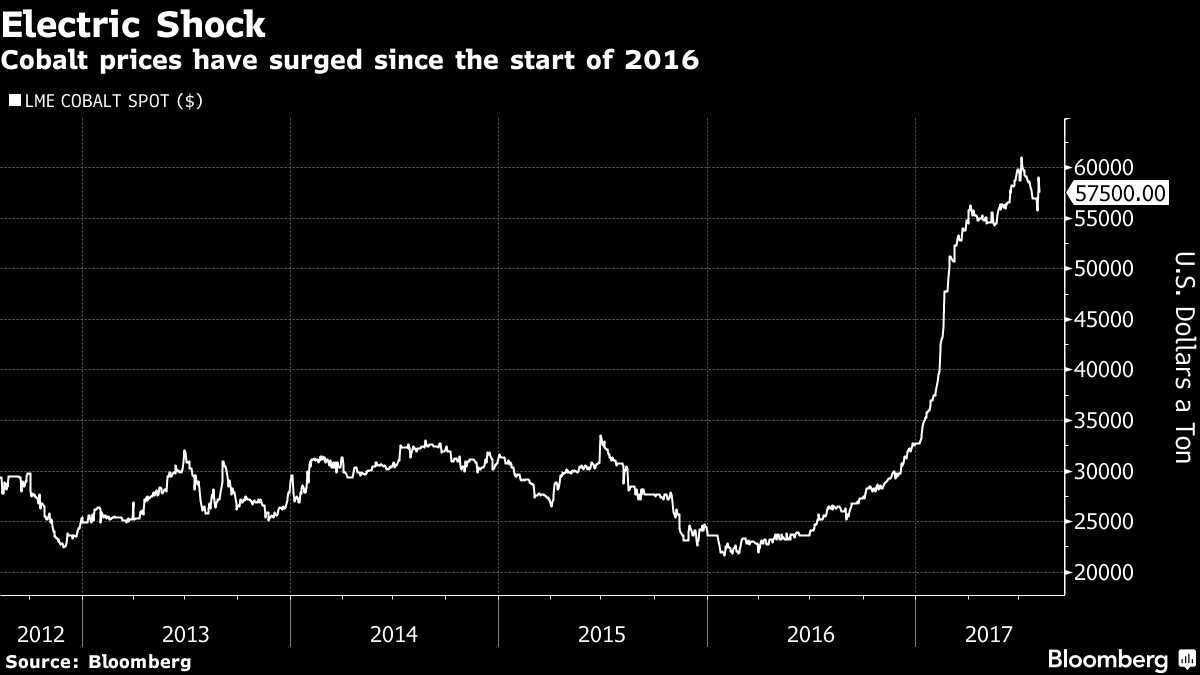 The company was among investors to buy up physical cobalt before selling it for cash and shares in Cobalt 27 Capital Corp., listed in Canada this year to offer equity investors a way to take a stake in the market. In June, Pala said it had swapped 626 metric tons of cobalt for shares in Cobalt 27, making it the largest shareholder with 19.5 percent.
In total, the Toronto-listed firm, run by Pala Managing Director Anthony Milewski, bought 2,158.6 tons of cobalt for cash and shares, or about 2.5 percent of annual global demand. Spot prices have jumped almost 120 percent in the past year to $57,500 a ton.
Pala is betting demand for specific base metals will surge in coming years as more and larger batteries are built. Supply of metals such as cobalt won't be "sufficient to meet projected needs over the next decade," Gill said.
Tesla, Apple
Cobalt is essential for lithium-ion batteries powering anything from Tesla Inc.'s cars to Apple Inc.'s iPhones and iPads. Heath Jansen, a mining analyst at Citigroup Inc., recently called cobalt a "wonder metal" riding the boom in electric vehicles. The metal, mined in places like the Democratic Republic of Congo, is more efficient than the minerals used in earlier-generation batteries.
Pala may invest through debt and equity stakes in mining projects or buy and store physical metal to benefit from rising prices.
Plans to hoard base metals, including a scheme promoted by JPMorgan Chase & Co. for copper in 2012, have previously prompted concerns among consumers that prices would be pushed artificially high. The cobalt market was mired in surplus for years after the global financial crisis before battery demand tightened the market.
Pala is looking beyond its early focus on cobalt, with battery technology starting to shift toward other metals. "What's cobalt today may also be nickel tomorrow," Gill said.