By Vanessa Dezem and Mario Sergio Lima
Brazil anticipates power demand will stage a comeback next year in tandem with improving economic fortunes.
After pulling the plug on the only power auction geared at wind and solar power for 2016, the country's energy ministry is making plans to hold two sales in December and a similar number in 2018.
"We see signs of economic recovery from 2018," Paulo Pedrosa, Brazil's vice energy minister, said in an interview in Brasilia. "The room for power generation expansion is now open, and it will be fulfilled by renewable energy and natural gas projects."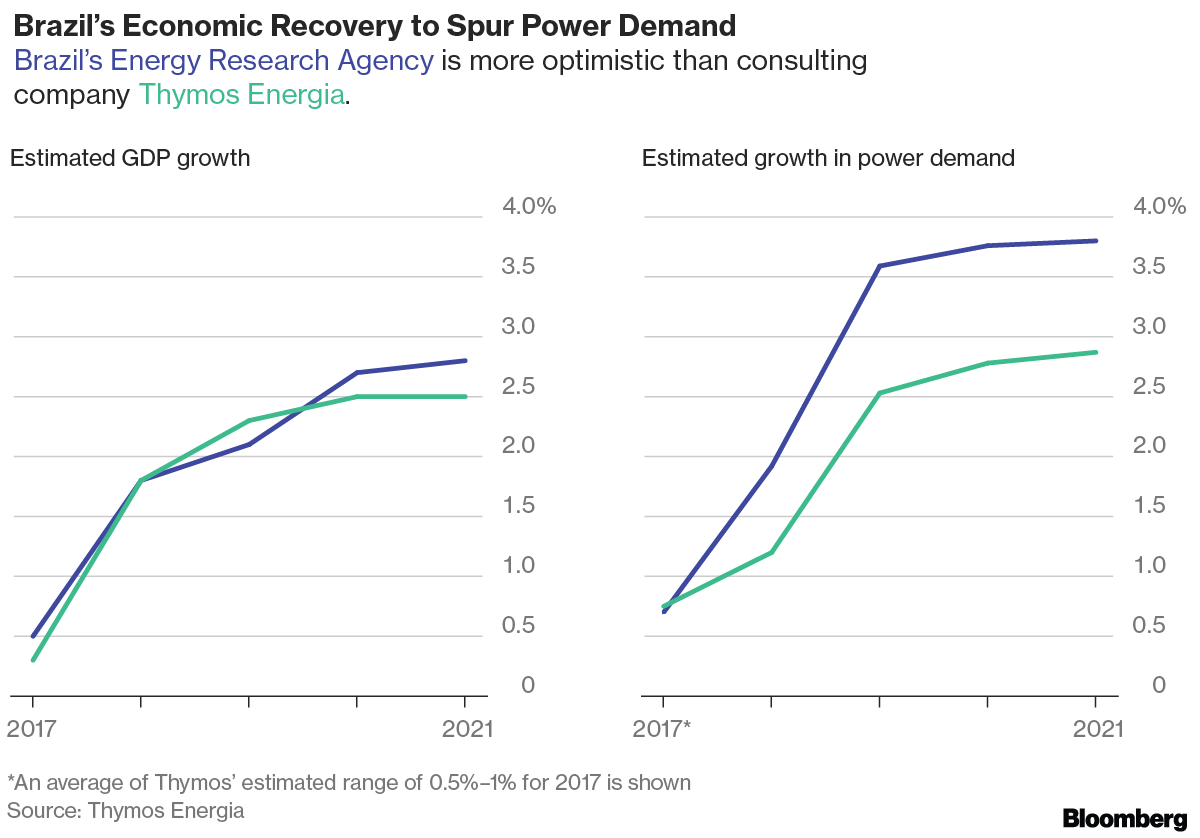 The decision to cancel last year's auction for wind and solar power came amid a growing electricity surplus as Brazil grappled with the worst recession in a century. A reverse auction is being held this month where over-stretched developers can return their contracts. Still, the prospect of an economic recovery is spurring the energy ministry to plan ahead.
"The government is more optimistic with Brazil's economic growth, while the market is more conservative," said Ricardo Savoia, director at energy consultant Thymos Energia. "But there are signs of the growing need for new capacity from 2022."
Power consumption in Latin America's largest economy shrank 0.9 percent last year, largely as a result of weak industrial demand, according to Brazil's Energy Research Agency, known as EPE. With expectations for an energy surplus of 9 gigawatts by 2020, it wasn't the right time to boost capacity, the government said when canceling the 2016 auction.
Rising interest rates, exchange rate fluctuations and tighter bank lending all took a toll on the ability of developers to make good on projects they were committed to. There are about 1.5 gigawatts of stalled projects in the pipeline, according to Thymos Energia.
"We will be able to wipe the excessive supply," said Pedrosa. "Now we have new auctions for new projects."
The government announced on Monday it will hold its first power auctions for the year in December. The auctions will be for output from new plants operating in 2021 and 2023. Only renewable sources will be able to bid in the first sale, while the second will accept bids from various power sources. Developers have until Sept. 6 to register their interest, according to a statement in the official gazette.
Two auctions are also scheduled for 2018, with one penciled in for the start of the year and the second by the end.
Big hydroelectric projects — traditional in Brazil's previous power expansion plans — aren't on the agenda this time, according to Pedrosa, as cheap financing from Brazil's development bank is drying up.
"Tapajos dam is not on the horizon," he said, referring to the 8,040-megawatt Sao Luiz do Tapajos dam. The project in the Amazon has been in the works for years, and the Environment Ministry rejected it last year given its potential harm to both the environment and indigenous population.