Centrica Plc will scrap its default tariffs for new customers by the end of March as part of a set of proposals for reforming the U.K. energy retail market.
Removing the rolling plan, known as standard variable tariff, and replacing it with a choice of fixed-term contracts with a duration as long as three years will increase competition, the Windsor, England-based company said Monday in a statement. The proposal includes seven steps the utility will take, and a further seven recommendations for regulator Ofgem and the government.
The plan by Centrica, Britain's biggest supplier of power and gas to households, comes in the wake of Prime Minister Theresa May's push this year to cap SVTs and put an end to what she calls "rip-off" charges to customers. A two-year investigation by the Competition and Markets Authority into the energy sector that concluded last June found that customers over-payed by 1.4 billion pounds ($1.9 billion) in the three years to 2015.
A cap on all default tariffs would "run excessive risks of undermining the competitive process, likely resulting in worse outcomes for customers in the long run," Iain Conn, Centrica's chief executive officer, said in the statement. "Politicians, regulators and energy companies acting together can do better than simply imposing a temporary cap or freezing household energy bills."
Earlier this month, SSE Plc and German utility Innogy SE announced plans to merge their U.K. retail energy businesses to be able to compete in a tougher regulatory environment. Innogy also wrote down the value of its Npower unit by $560 million. Centrica is not considering selling off its British Gas retail unit, Conn told reporters on a call.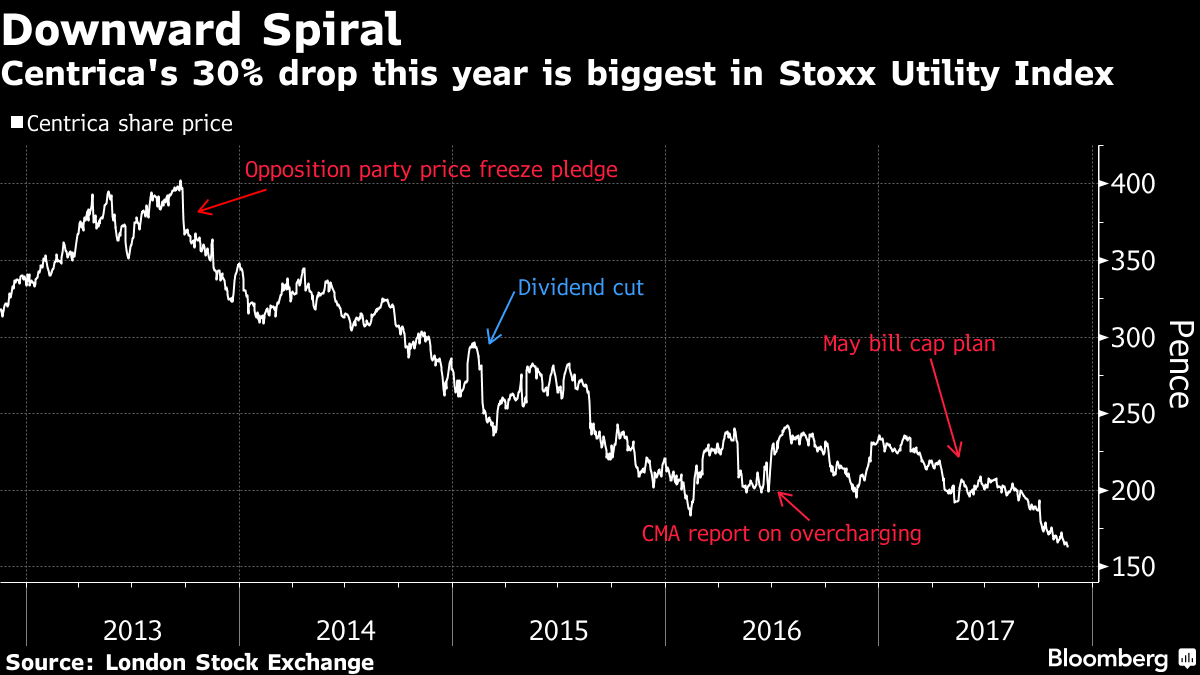 The government's plan to cap bills has created "significant uncertainty" for shareholders, the company said. Centrica has slumped 30 percent this year, making it the worst performer on the 29-member Stoxx 600 Utilities Index. Shares were little changed at 163.1 pence by 10:52 a.m. in London.
All U.K. utilities could phase out SVTs before any government cap is introduced, Conn said.
"If we are sensible then it could have an influence on the government intention to put in a price control," he said. A voluntary phase out is a much better way to deal with the "tarnished image" of SVTs than a cap, he said.
The announcement "doesn't mean the future outlook for the Big Six is suddenly now attractive," John Musk, an analyst at RBC Europe Ltd., said. There will still be "pressure on Centrica margins and investor uncertainty will remain high. In short, these measures are not a one-stop panacea for a damaged industry."
SSE said earlier this month it will reduce the number of customers on default tariffs and was considering scrapping the contracts. EON will early next year remove SVTs as the default option for its customers.
Centrica says it will:
Replace SVTs with a choice of fixed-term tariffs to encourage customers to select a new energy deal when their fixed contract ends
Introduce a 12-month default tariff for any customer who does not make an active decision when their tariff ends
Contact customers at least twice a year to encourage them to move away from the SVT
Centrica wants the government to:
Phase out SVTs for all suppliers
End exemptions for small suppliers from policy costs
Move funding of all energy policy costs from bills into taxation