India's power distributors are balking at traditional 25-year thermal-power purchase contracts, avoiding lengthy entanglements so they can benefit as costs for batteries and renewable energy slide. Now in vogue: agreements that last 10 years or even less.
"In the next five to 10 years battery storage may be coming in a big way," Deepak Amitabh, chairman of state-owned power-trading company PTC India Ltd., said in an interview at his office in New Delhi. Distributors don't want to be stuck in pricey agreements for two decades or longer, so it's better to reach deals for as little as 10 years, he said. Longer-term power contracts have all but disappeared in the past two years except in the clean-energy segment, according to Amitabh.
India invested in its first overseas battery-storage project in a deal announced earlier this month. One goal is to learn better methods of stabilizing the electricity grid back home as Prime Minister Narendra Modi targets almost tripling renewables capacity to 175 gigawatts by 2022. Unlike stable thermal electricity, green-power supply fluctuates with time of day and seasonal variations, a problem battery storage would help alleviate.
"Why would buyers of power choose to lock themselves in high-priced long-term contracts when they can be reasonably certain of softer prices in the future, either via direct procurement deals with renewable-power generators or at the power exchange?" said Vandana Gombar, global policy editor at Bloomberg New Energy Finance in New Delhi.
Solar and wind have become the cheapest sources of power in the country, with tariffs dropping to among the lowest in the world. Meantime, coal-fired power plants are struggling to find customers and ease a capacity glut.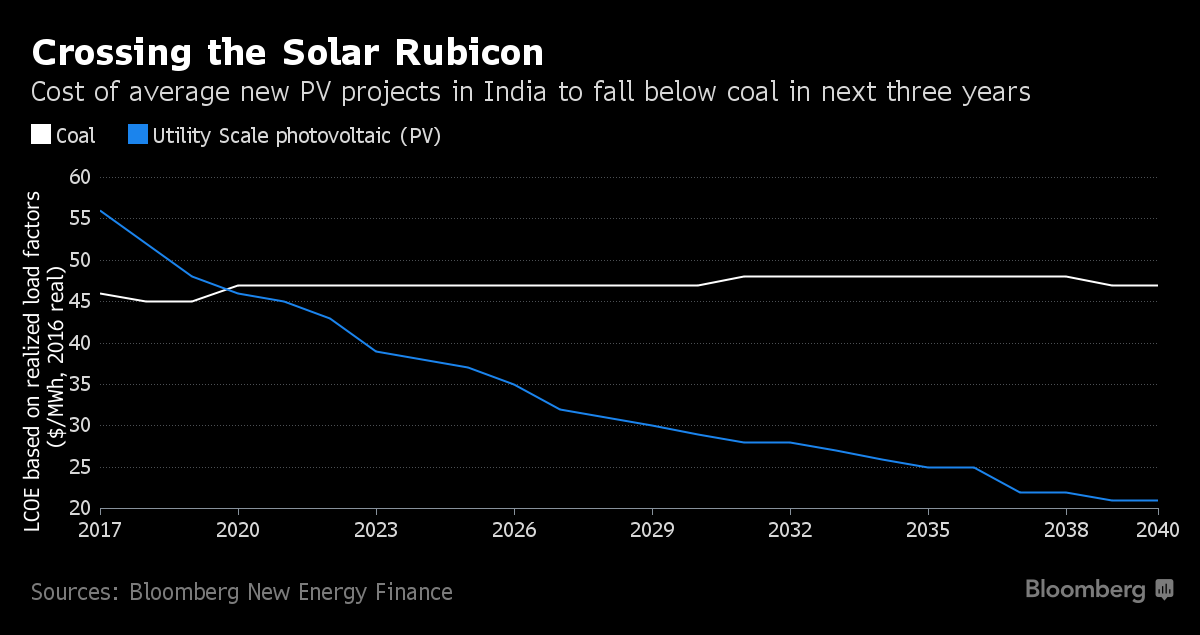 The poor financial condition of state-owned power distribution companies — the main buyers of electricity — constrains them from buying and supplying more electricity. Sluggish demand has left about 25 gigawatts of coal-fired power-generating capacity stranded and unused. That's equivalent to the entire installed capacity of neighboring Pakistan.
"With uncertainty about demand growth and accelerated growth in renewables, distribution utilities are opting for short- and medium-term power procurement plans," said Ashok Kumar Khurana, director general at the Association of Power Producers, a lobbying group of private-sector generation companies.
PTC's Amitabh said 25-year contracts have only been signed for renewable projects in the past two years, and his company is looking for more green-energy business to generate revenue over a longer period of time. Such contracts are attractive to power distributors because they lock in cheaper rates from renewable sources.
After having arranged 25-year power-purchase agreements for one gigawatt of wind projects, PTC is looking to do the same for another gigawatt auctioned last month by the government.
"We are looking to get into the solar business as well," Amitabh said. "Sooner or later no trader would want to be away from this opportunity."
Short-term trades — defined as purchase agreements of less than a year — constitute 55 percent of PTC's volume, and the firm expects most of its volume to come from those and medium-term business.
CERC Report
Of the total electricity bought in India in the fiscal year ended in March, the short-term power market comprised 10 percent, according to a report by the Central Electricity Regulatory Commission, India's power market regulator.
Volume was 3 percent higher over the past fiscal year, growth that came mainly from transactions on the power exchanges, CERC said.
"It's important to increase market depth at the exchanges, and that will be possible if we can penetrate from a day-ahead to a real-time market," Amitabh said.
That transition is expected in about five years, and PTC is prepared for when it comes, he said, adding that dynamic pricing for retail consumers — allowing them to choose which times of the day they want electricity — may also be possible in the same time-frame.
"We want to facilitate real-time trading as early as possible," said Rajesh K. Mediratta, a director at the Indian Energy Exchange Ltd. "Our current intraday market works three-hours in advance. We have requested the power regulator to grant us permission to reduce this time gap, or 'gate closure' as we call it, to one hour."