China unveiled a comprehensive set of emission rules and delayed a credit-score program tied to the production of electric cars, giving automakers more time to prepare for the phasing out of fossil-fuel powered vehicles in the world's largest auto market.
Under the so-called cap-and-trade policy, automakers must obtain a new-energy vehicle score — which is linked to the production of various types of zero- and low-emission vehicles — of at least 10 percent starting in 2019, rising to 12 percent in 2020, the Ministry of Industry and Information Technology said on its website. The rule applies to carmakers that manufacture or import more than 30,000 traditional vehicles annually, and those who fail to comply must buy credits or face fines.
"Political considerations must have weighed in on the decision to delay the commencement date by a year," said Cao He, chairman of Quanlian Auto Investment Management Co. "Local automakers will likely benefit from this as they will have more buffer time to get ready on the technology front."
China previously proposed starting to implement the policy next year, a target that was viewed by automakers as overly ambitious. China, which has vowed to cap its carbon emissions by 2030 and curb worsening air pollution, joins the U.K. and France in seeking a timetable for the elimination of vehicles using gasoline and diesel. The country needs to use alternative energy to power some 200 million vehicles that ply its roads and reduce dependence on oil imports.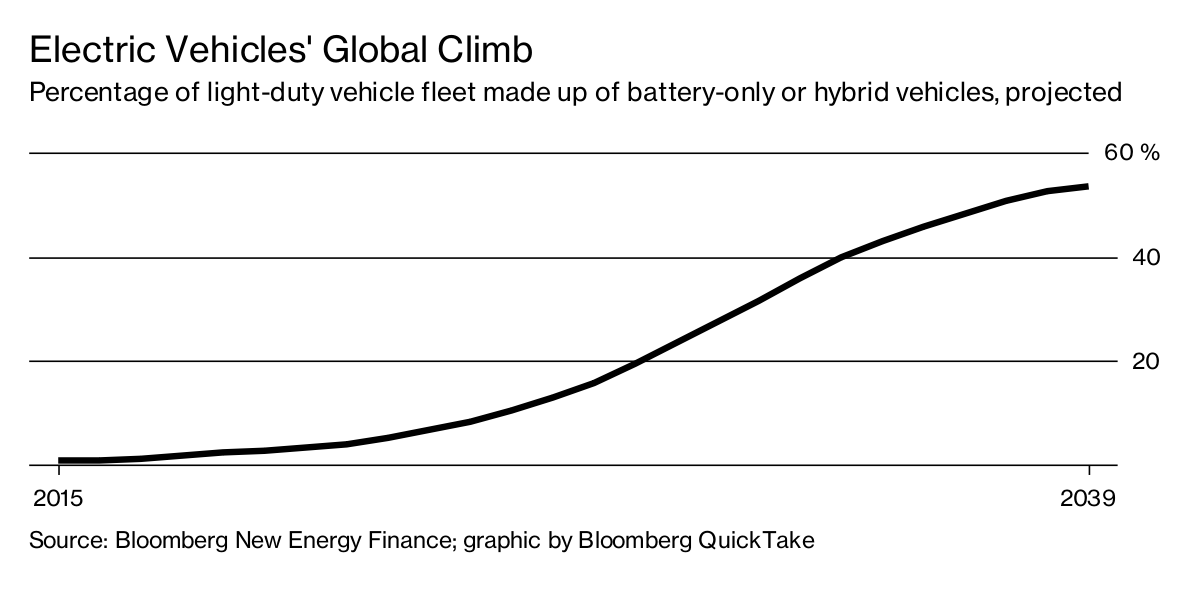 "China is sending a clear signal to large automakers that had been dragging their feet on EVs that it's time to get on board," said Colin McKerracher, a London-based analyst at Bloomberg New Energy Finance.
The targets look achievable for the industry as a whole, McKerracher said. Considering the credit structure, 12 percent in 2020 would translate to about 4 percent to 5 percent of actual vehicle sales, he said.
Honda Motor Co., which plans to sell an electric vehicle in China next year and plans to expand that business going forward, will work to achieve the credit-score target, a company spokeswoman said.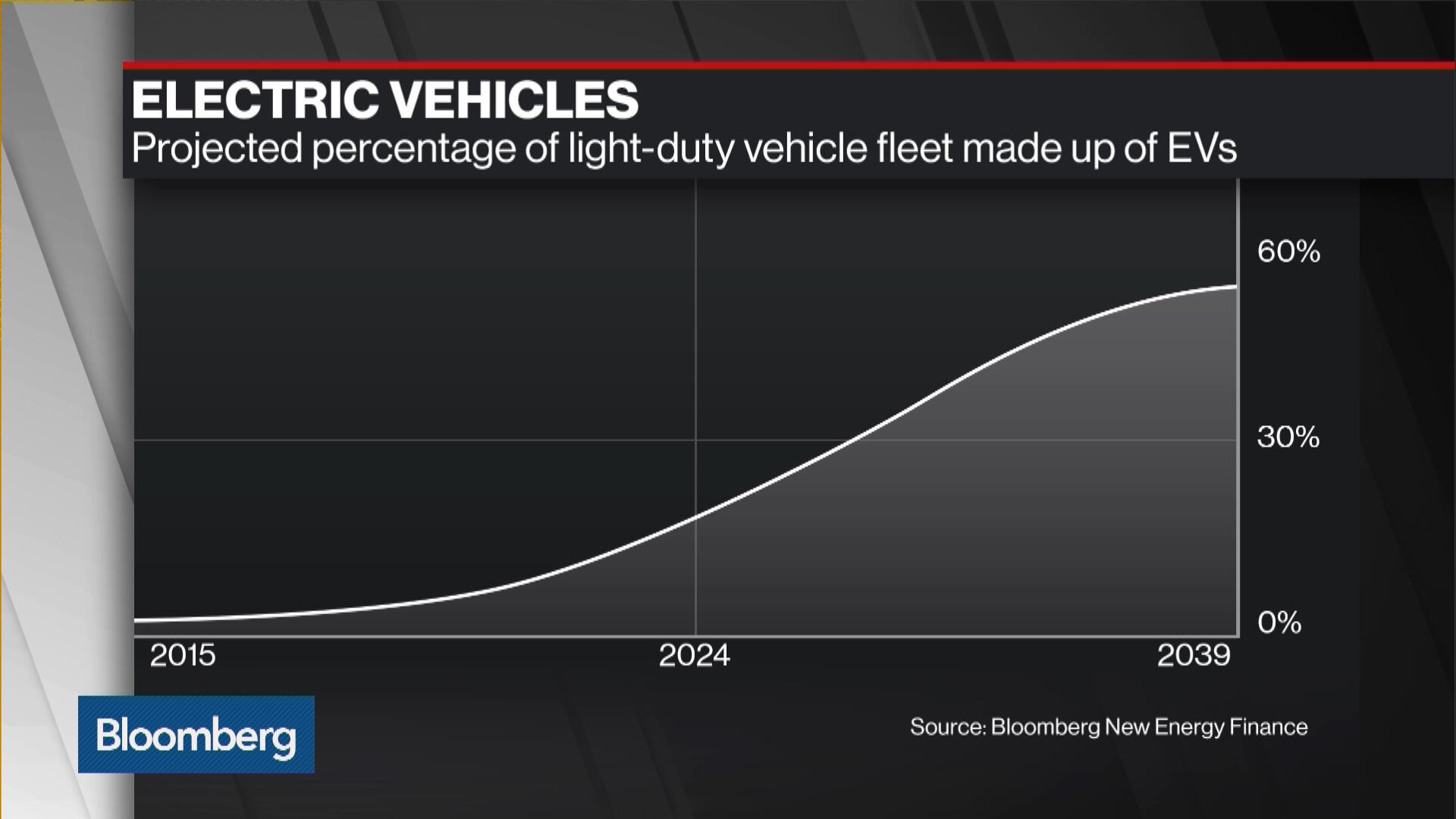 GM's Plans
"We are expanding our NEV product portfolio in China, with both plug-in hybrid electric vehicles and battery electric vehicles in the pipeline," Patrick Morrissey, a General Motors Co. spokesman said in an email Thursday. "Continued joint efforts by the government and companies are essential to build broad-based consumer acceptance for NEVs."
A spokeswoman for France's PSA Group said the delay was good news but that the company was fully prepared to meet the quotas regardless. Obtaining an energy score of at least 10 percent in 2019 can be achieved if 2.5 percent of PSA's Chinese production is electric, she said.
German automakers BMW AG and Volkswagen AG said they welcomed the introduction of the quotas. "It perfectly fits our recently announced roadmap for electric vehicles," VW spokesman Hermann Prax said in an email. Daimler and its local partner plan to produce battery-powered electric vehicles under the EQ brand before 2020.
Earlier this month, China's government said it was working on a timetable to phase out fossil-fuel powered vehicles, helping lift shares of local automakers such as BYD Co., a carmaker that's backed by Warren Buffett. Groups like BYD, Geely Automobile Holdings Ltd., Chery Automobile Co. and others will have excess credits, McKerracher said.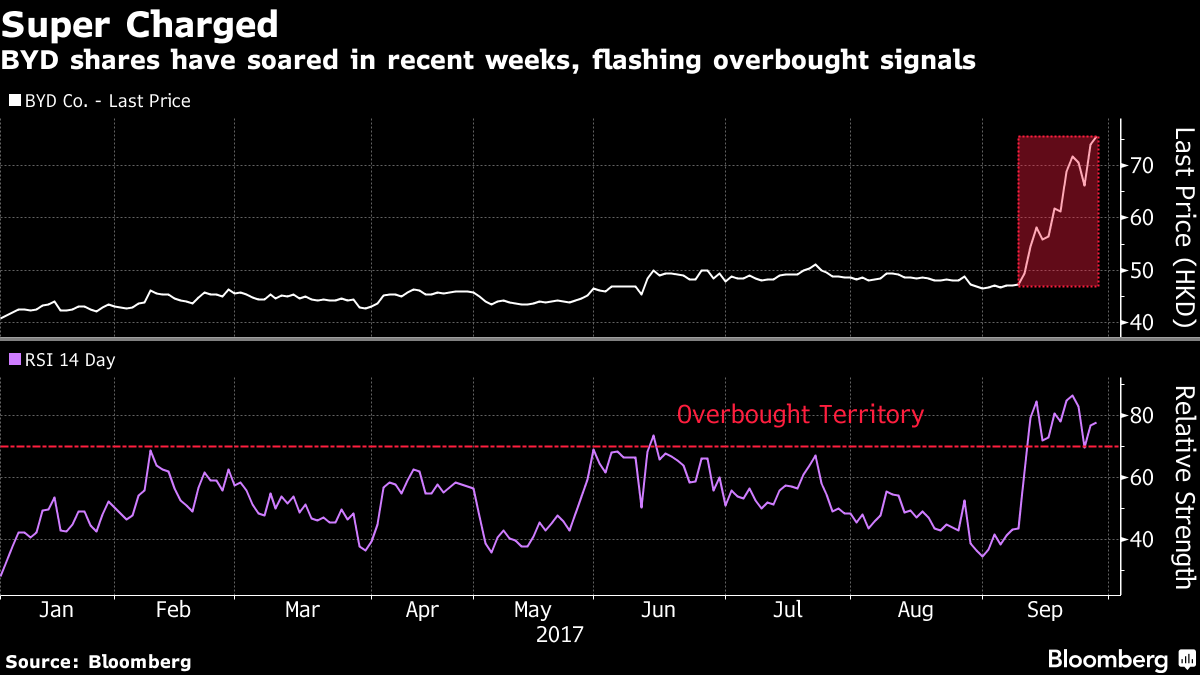 While carmakers including Tesla Inc. and Nissan Motor Co. and are racing to grab a slice of the electric-vehicle market in China, local manufacturers such as Geely have had considerable success in the market, in part thanks to generous government subsidies.
Sales Leaders
BYD topped the new energy vehicle makers in sales in the first seven months of this year, delivering 46,855 electric and plug-in hybrid vehicles, resulting in about 30,000 credit points in the first half, according to the company's calculation.
Beijing Electric Vehicle, the EV division of state-owned BAIC Motor, followed with 36,084 units. By comparison, GM has sold 738 cars that run on electricity since it launched the Velite 5 plug-in hybrid model at the Shanghai auto show this April. By 2025, GM's global brands will offer a range of electrification technology in almost all of its models in China.
As part of efforts to boost sales of electric vehicles, foreign automakers are setting up new joint ventures in China. Ford Motor Co. is exploring setting up a joint venture to produce electric vehicles in China with Anhui Zotye Automobile Co. while VW has partnered with Anhui Jianghuai Automobile Group Corp. to make electric cars.
"This is the single most important piece of EV legislation globally," BNEF's McKerracher said of China's EV plan. "Overall, it provides further support for the EV industry in China. EV sales will continue growing quickly, despite the phase-down in direct subsidies."