China's government is considering a resumption of new permits to make electric vehicles as early as the first half of 2018, a move that would clear the way for Ford Motor Co. and Tesla Inc. as well as a string of local manufacturers to start production, people with knowledge of the matter said.
The National Development and Reform Commission, which oversees new investments in the auto industry, halted a license program earlier this year to rein in capacity expansion. While Beijing remains concerned about the issue — factories under construction are slated to add a capacity of more than 2 million new energy vehicles a year — the government is revisiting the arrangement as it deals with a backlog of several dozen applicants, said the people, asking not to be identified because the deliberations are confidential.
Authorities in Beijing have announced a series of measures that would allow foreigners to step up investment in the $11 trillion economy even as U.S. President Donald Trump wrapped up his visit to China without securing concrete concessions on a yawning trade deficit. However, in a major win for American finance, China said last week it will remove foreign ownership limits on banks, while allowing firms abroad to take majority stakes in local securities ventures, fund managers and insurers.
Auto Policy
China also said last week it will carry out a trial by June that would allow overseas carmakers to set up wholly owned electric-vehicle businesses in its free-trade zones, taking the first step toward overhauling the country's decades-old auto industry policy.
The NDRC didn't immediately respond to a fax seeking comments. The regulator is working on amending the current license program and wants to raise the threshold for new entrants, the people added.
Since March 2016, China has handed out 15 EV licenses — local manufacturer Wanxiang Group and a Volkswagen AG joint venture were among the recipients — to foster competition for the predominantly state-owned auto industry. The ensuing rush saw makers of smart TVs to air conditioners drumming up plans to enter the auto industry.
On top of that, Ford and Tesla are among foreign carmakers that are preparing their China EV strategy to meet the country's stricter emission and fuel-economy rules. Ford's new venture with Anhui Zotye Automobile Co. plans to apply for a permit for a factory that can churn out 100,000 pure electric passenger vehicles every year. Tesla is said to have reached a preliminary agreement with Shanghai's government to produce locally, and Chief Executive Officer Elon Musk told investors this month that the company is still three years away from starting production in China.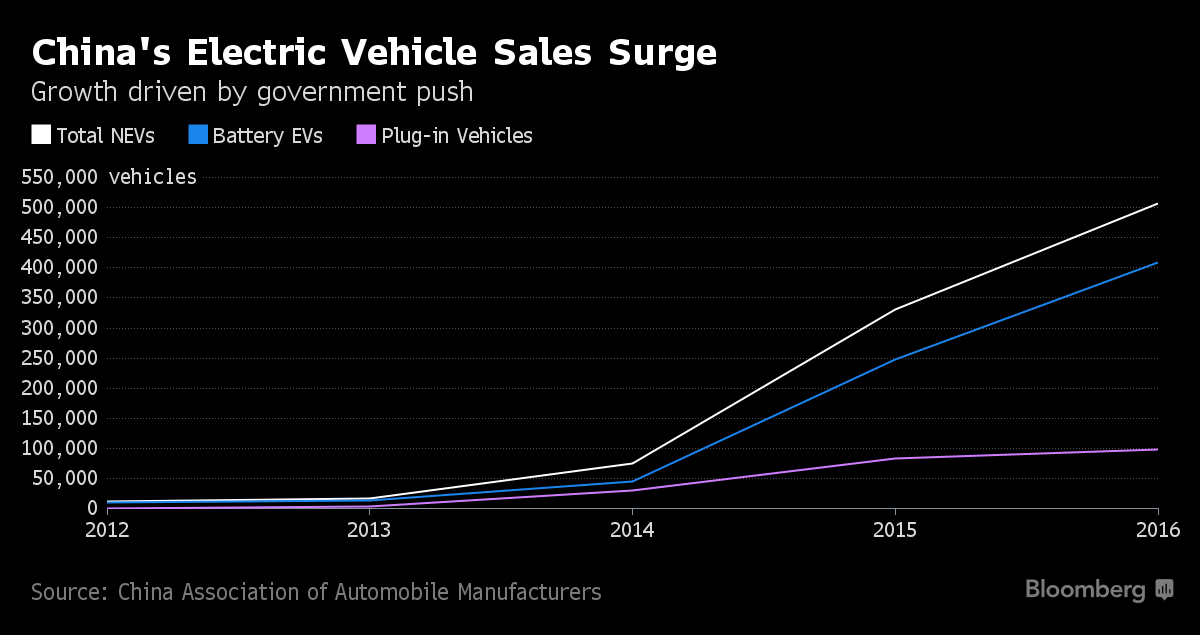 Shares of BAIC Motor Corp. extended the day's gains in Hong Kong, while Zotye pared some of the day's declines after dropping as much as 2 percent earlier in Shenzhen.
The license program is a key tool for Beijing's carrot-and-stick approach in managing the world's largest new energy vehicle market. Starting in 2019, China will require most carmakers to obtain a new energy vehicle score and those failing to meet the requirement will have to buy credits from others or pay a fine.
The state support helped China surpass the U.S. in 2015 to become the world's biggest market for new-energy vehicles — comprising electric vehicles, plug-in hybrids and fuel-cell cars. A total of 507,000 such vehicles were sold last year in the country, according to the China Association of Automobile Manufacturers. China, which has a moratorium on new capacity for making conventional gasoline-run vehicles, aims to boost annual sales of new-energy vehicles to 2 million units by 2020.