Ten years ago, Ningbo Shanshan Co. was primarily a maker of menswear turning out shirts, casual wear and business suits from its base of Ningbo, an industrial hub in China's Zhejiang province. Not anymore.
This week, the company announced that it will spend 3.81 billion yuan ($570 million) on a new energy-storage project in China's northern city of Baotou, bolstering its growing interest in the research, development and manufacture of lithium-ion batteries.
The move is the latest by the Chinese company to become a bigger player in the market for storing electricity for everything from electronic vehicles to laptop computers. It underscores an accelerating shift for a company that got almost all its sales from apparel in 2006.
Shanshan is "a serious player in the battery material business, so it's not a surprise" to see its new plan, said I-Chun Hsiao, a Tokyo-based analyst from Bloomberg New Energy Finance. "There's an oversupply in batteries in the short term."
The industry, he said, will see enough demand to boost manufacturing capacity by more than fourfold from 2021 to 2030. Chinese companies have about 57 gigawatt-hours of lithium-ion manufacturing capacity, with another 78 gigawatt-hours announced, according to Bloomberg New Energy Finance data.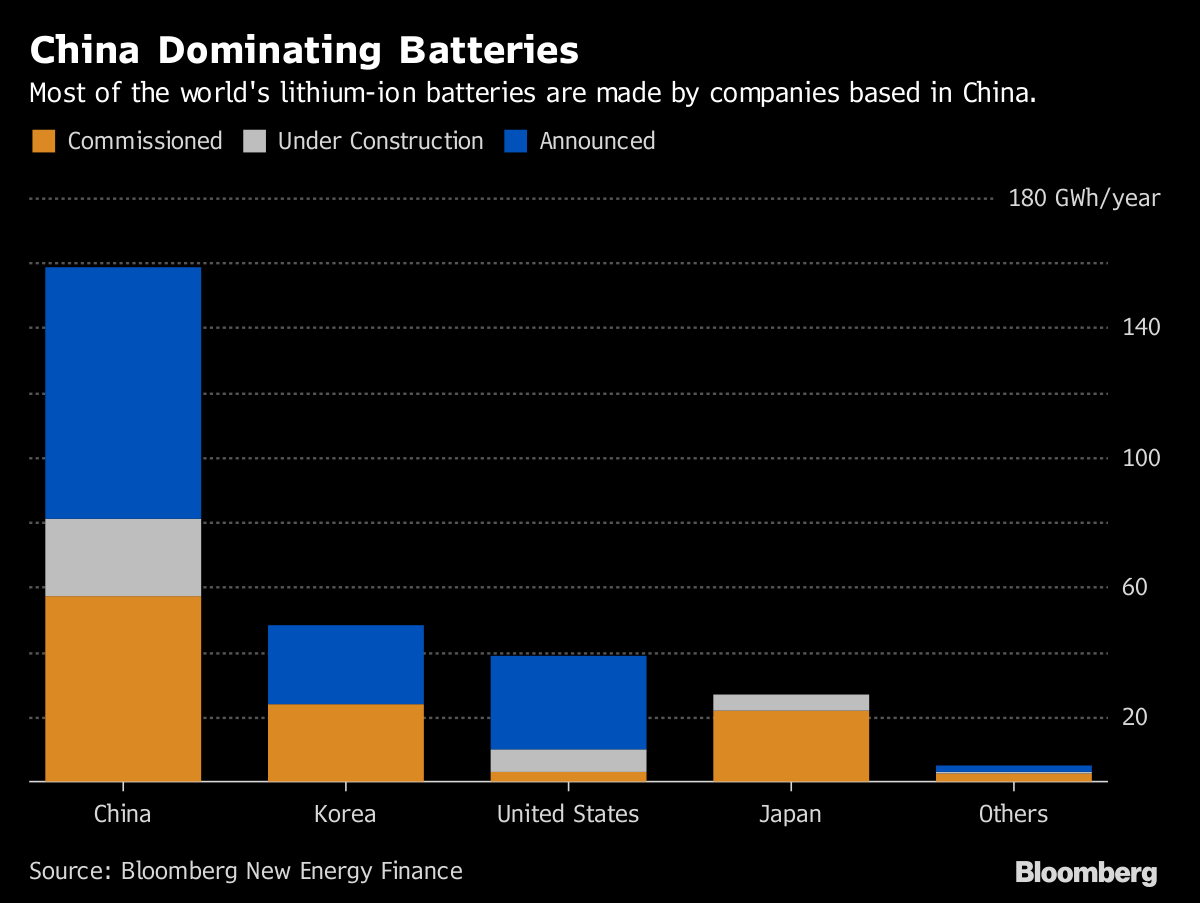 The shift has been good for Shanshan investors. Its shares have gained about 45 percent in Shanghai trading this year, outpacing the Shanghai Stock Exchange Composite Index's 5 percent increase. Citic Securities Co. initiated coverage of the stock with a buy recommendation on Wednesday, predicting Shanshan will trade at 26.5 yuan within a year, a 25 percent increase from the close on Aug. 15.
Shanshan fell as much as 1.9 percent on Thursday in Shanghai.
Shanshan's newest project each year will be able to produce 100,000 metric tons of anodes — a component in lithium-ion batteries, according to a statement on the Shanghai stock exchange on Tuesday. Construction will begin in October and is expected to be completed by June 2019.
The new investment adds to Shanshan's purchase last month of 1.8 billion yuan of shares in China Molybdenum Co. in a private placement as part of its push to secure the raw materials use to produce cathodes.
Battery materials accounted for almost 75 percent of Shanshan's revenue last year. That's up from 39 percent in 2011 and a far cry from virtually nothing in 2006 when it got 93 percent of its sales from making apparel, according to company filings.
Company Transformation
The transformation to battery material manufacturing has helped rejuvenate the company's earnings. Net income rose about 51 percent in the first half from the same period a year earlier to 339 million yuan mainly because of its battery materials business, the company said on Tuesday. Annual revenue has more than tripled in the past 10 years.
Besides anodes, Shanshan also produces other battery components such as cathodes and electrolytes. The company is expanding into more aspects of electric vehicle manufacturing, including battery system integration, vehicle design, research and development and charging pole construction.