China's drive to dominate the electric-vehicle market has claimed another overseas target.
When Japanese electric-vehicle startup GLM Co. needed more funding to put its high-end sports car into production, domestic backers couldn't muster the financing.
The search for an investor ended this week, when a Hong Kong-based investment company called O Luxe Holdings agreed to purchase the firm for 12.8 billion yen ($113 million). O Luxe will fund the deal by issuing new shares to stockholders, which include Chinese TV maker TCL Corp. With the backing of its new owner, GLM gets access to global money for research and development, founder and Chief Executive Officer Hiroyasu Koma said in an interview at his Kyoto headquarters after the sale.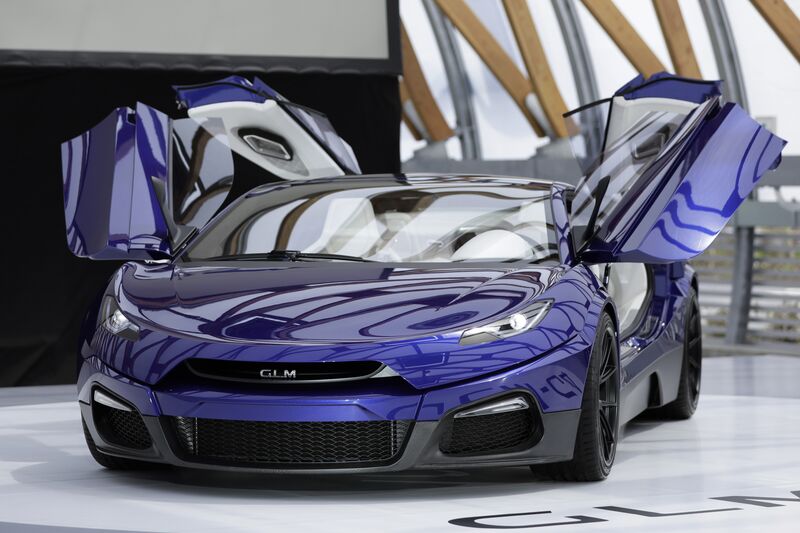 "Electric vehicles are catching on, and China is the leader," Koma said. "But Japanese technology will maintain an edge for the next five years and we want to take a share of the market."
The Chinese government is pouring subsidies into the market for new-energy vehicles and its companies are snapping up foreign battery and EV makers like GLM in order to beef up their technology.
In a filing to the Hong Kong Stock Exchange, O Luxe said the acquisition represents an opportunity to tap into the fast growing EV industry.
Mini Bus
Under its new owner, GLM plans to start production of its G4 ultra-luxury sports car, which has a planned price tag of 40 million yen, in the second half of 2019, targeting cumulative sales of 1,000 units, according to Koma. There are also plans, he said, to introduce an electric mini-bus and a seven-seater family car, adapting the G4's powertrain and other key electrical components.
Founded in 2010 by seven engineers who defected from Toyota Motor Corp. and other Japanese automakers, GLM's first model was a lightweight two-door sports car called the Tommykaira ZZ, which debuted in Japan in 2014 for about 8 million yen. Fewer than 100 have sold, according to the company.
While GLM will count on sales of its vehicles to keep the business going in the short term, Koma said the emphasis will shift toward supplying other carmakers with customized engineering solutions and components like chassis platforms, power systems and control units. The company is close to signing several contracts to supply carmakers mostly in China, he said, without naming the firms.
Wang Jianfeng, chairman of Ningbo Joyson Electronic Corp., whose U.S. subsidiary last month agreed to buy bankrupt Japanese airbag maker Takata Corp., in April said the country's auto industry can't compete globally without absorbing more foreign engineering knowhow.
Global Investments
The deal for GLM follows a series of global EV investments for Chinese firms. In the last five years, autoparts maker Wanxiang Group bought the Karma electric-car business operated by U.S. startup Fisker Automotive, along with Karma's battery supplier, A123 Systems. Jia Yueting, the founder of Chinese technology company LeEco, is an investor in Faraday Future, the Los Angeles-based maker of electric sports cars that hopes one day to compete with Tesla Inc. Chinese private equity firm GSR Capital is reportedly close to a deal to buy a battery venture owned by Nissan Motor Co.
China is the world's biggest car market and already it accounts for 40 percent of all EV sales, according to estimates from the International Energy Agency. Government support has triggered a wave of startups and venture-capital money seeking to back the next Tesla. About 200 Chinese companies are developing an estimated 4,000 EV models.
GLM's Koma said his company plans to supply some of those companies with frames that can be adapted for use in everything from expensive sports cars to mass-market compacts, saving time and money.
"Chinese startups may seem to be our competitors in terms of finished cars, but we view them also as potential customers for our engineering platforms," he said. "We want to become the Google of the auto industry, by providing the operating system for car manufacturing."