Envision Energy, one of the world's largest wind turbine manufacturers, has bigger ambitions.
Chief Executive Officer Lei Zhang laid out a vision for a global "ecosystem" of energy in which solar and wind farms, power plants, utilities, big electricity customers and all of the application and software developers that support them are connected to each other on a single, digital platform. And of course, Envision would supply the platform.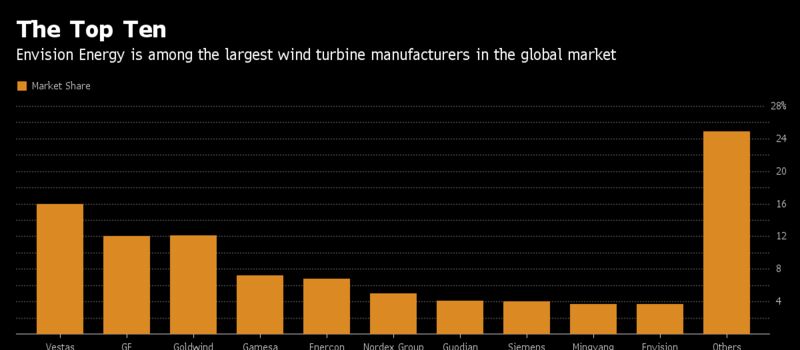 The company wants to serve as an "enabler," Zhang said in an interview in San Francisco, where he announced an alliance with companies including Microsoft Corp. and Accenture Plc that'll promote digitalization in the energy industry. The system is about "connecting so many assets around the world so that any application developer can plug in like the Apple Store," Zhang said. "We're helping them reach more customers."
It's a potential solution to a notoriously fragmented, so-called Internet of Things industry that's rapidly expanding into the energy space, allowing power suppliers and customers to track real-time data and control operations using devices. Such technologies are giving people more power over their energy demand and stand to accelerate the adoption of wind and solar resources by giving investors, lenders and insurers the data they need to make sound bets, Zhang said.
For a primer on the Industrial Internet of Things, read this Bloomberg New Energy Finance report.
While Envision's best known for its wind business, the company has offered a platform for power generators for years as part of its digital-services unit. Developers that have linked to it include Sonnen GmbH and AutoGrid. The system already manages about 100 gigawatts of power resources, with the majority of that being wind, solar and storage resources, according to Zhang.
Envision's goal now is to "go beyond renewables, go beyond generation," he said. "We are thinking about it holistically — generation, distribution, consumption."
As for the wind power business, Zhang said Envision is on track to set a record for new orders and installations this year, and to top that in 2018. "We are still in a fast-growth stage," he said. "We are quite optimistic on the offshore wind" business in China.
Zhang said he sees Mexico as a particularly attractive overseas wind market. "The returns are high" for Envision there because few competitors can offer the software, hardware and financing services the market needs, he said. He described the country's renewable energy business as a "complicated and also promising one" that's still in the early stages of being developed.