Hurricane Harvey took aim at one of the nation's most industrial regions, releasing a stream of toxic pollutants from chemical plants, refineries and Superfund sites in Texas. But when its bigger sister Irma slammed into Florida, environmental alarms rang over a different kind of discharge: raw sewage. 
Millions of gallons of poorly treated wastewater and raw sewage flowed into the bays, canals and city streets of Florida from facilities serving some of the nation's fastest-growing counties. More than 9 million gallons of releases tied to Irma have been reported as of late Tuesday as inundated plants were submerged, forced to bypass treatment or lost power.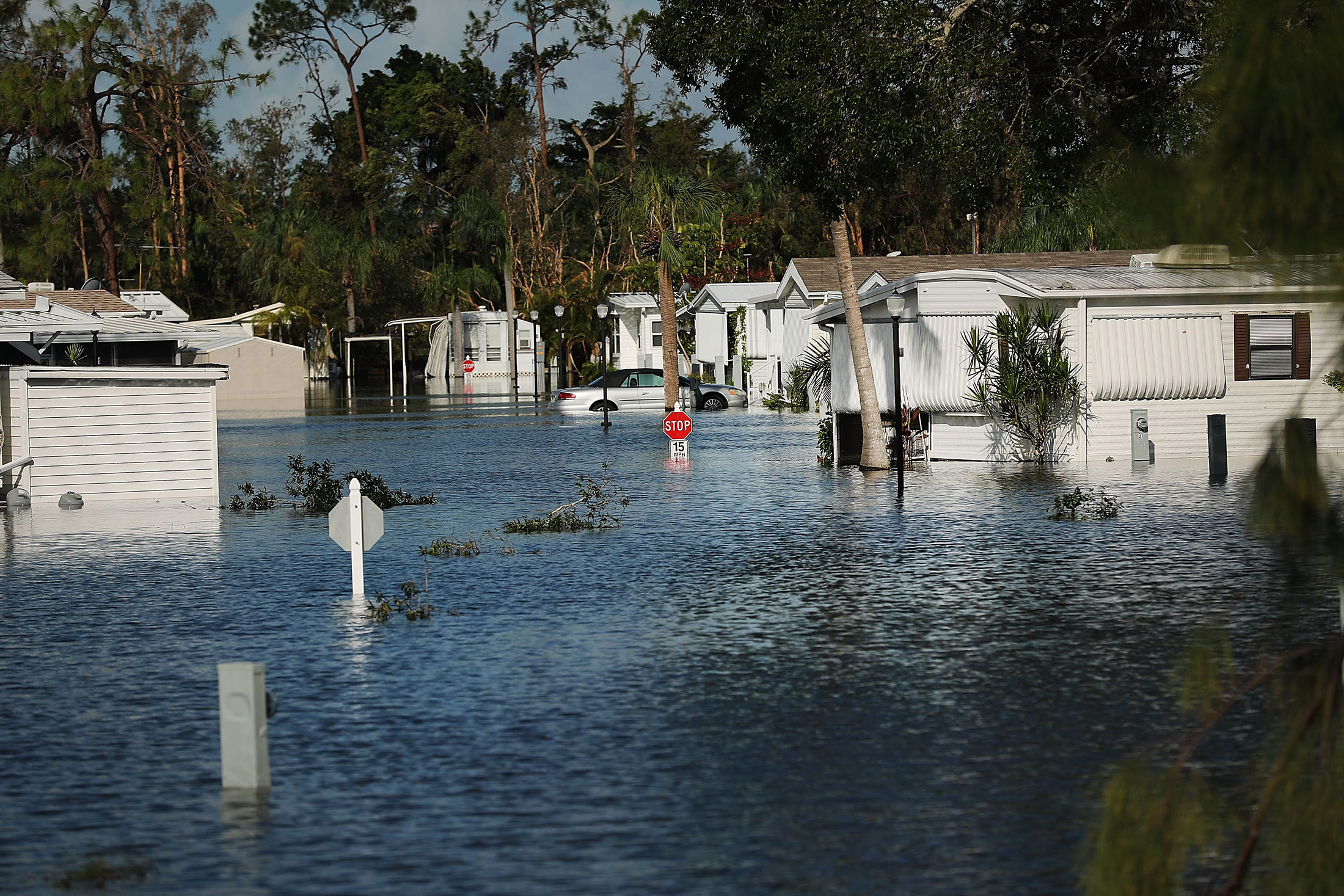 Such overflows, which can spread disease-causing pathogens, are happening more often, as population shifts and increasingly strong storms strain the capacity of plants and decades-old infrastructure. The Environmental Protection Agency estimated last year that $271 billion is needed to maintain and improve the nation's wastewater pipes, treatment plants and associated infrastructure.
"There's no sewer system in the world that can be built that's completely leak proof," said Nathan Gardner-Andrews, chief advocacy officer for the National Association of Clean Water Agencies. Plants generally are designed to handle twice their normal capacity, but "when you get some of these rain events and you're talking four to six to eight inches of rain in an hour, the engineering is such that you cannot build a system to hold that capacity."
Who Pays The Bill When Mother Nature Strikes? See This Video
A treatment facility in Clearwater, Florida discharged 1.6 million gallons of wastewater into a creek, according to filings with the state's Department of Environmental Protection. The incident, which occurred after a power line snapped, was just a trickle compared to a 30-million-gallon discharge of raw sewage after Hurricane Hermine caused a pump failure in 2016, said David Porter, the city's public utilities director.
That scene was replayed across the state this week, as electrical outages caused lift station pumps to stop running in St. Petersburg and Orlando, prompting at least 500,000 gallons of overflows. A pipeline broke in Miramar, Florida, sending sewage spilling across a parkway as contractors hunted for the rupture. And operators of a Miami-area wastewater treatment plant blamed a power outage for 6 million gallons of sewage released into Biscayne Bay.
Late Tuesday, there was no visible sewage or garbage in the Biscayne Bay water along Brickell, Florida, but in nearby Bayfront Park, the air was heavy with a foul odor.
As wastewater treatment lagged, utilities across the state warned residents to boil water before drinking it. The U.S. Environmental Protection Agency said it has deployed specialists to Florida to help get wastewater systems back online.
Estimated releases of untreated and poorly treated wastewater tied to both Irma and Harvey are expected to continue climbing. Even Hurricanes Hermine and Matthew — modest by comparison to this season's double whammy — forced the release of some 250 million gallons of wastewater without full treatment between Aug. 31 and Oct. 15, 2016, according to a report by the Florida Department of Environmental Protection.
Read more: How Science Links Climate Change to Irma's Wallop
After Hurricane Sandy ravaged the northeast U.S. in 2012, damaged treatment plants and pumping stations caused untreated sewage to flow into local waterways for weeks. All told, facilities in the eight states hardest hit by the super storm released 11 billion gallons of untreated and partially treated sewage, according to one assessment.
Wastewater treatment facilities are especially vulnerable to flooding because they are traditionally built in low-lying areas, near whatever river or waterway they discharge into.  That approach works in normal conditions, but coastal treatment plants increasingly are outmatched during intense downpours and fierce storms, especially amid rising sea levels.
"Any time there is a large event — any kind of flood — they get overwhelmed and you have these raw sewage discharges," said Ken Kopocis, who served as the top official in the EPA's water office under President Barack Obama.
That influx can overcome treatment facilities as well as the sewer systems designed to ferry water to them. In Middleburg, Florida, on Tuesday, a pretreatment system overflowed amid rising floodwaters, with a reported 250,000 gallons of untreated liquid released. Workers blocked off culverts to try and contain the spill and set up pump stations to pull water from ditches so it could be treated.
Normal flood stage at the site near Black Creek is 24 to 25 feet, but water was set to climb three feet higher. "We've never seen flooding like this," said Dennis Martin of the Clay County Utility Authority.
A $150 Billion Misfire: How Disaster Models Got Irma Wrong
Sewage discharges carry both health and economic risks, as officials may order the closing of affected beaches and rivers for swimming and boating long after storm clouds have passed. When untreated water or raw sewage is spilled, it can deliver toxic chemicals from roads, E. coli from human waste and other pathogens that have the potential to cause viruses, parasitic infections, rashes and other health conditions.
"We focus on the water and the flooding and the impacts to homes and everything else, which is super important," said Danielle Droitsch, a program director with the Natural Resources Defense Council. "But understanding environmental contamination issues is more complicated. We don't necessarily see the pollution, sometimes you can't smell it and yet it's there."
Treatment plants are designed to remove most pollutants from wastewater before it is discharged — frequently into the same rivers used to supply drinking water to communities downstream. Initial treatment is focused on removing solid waste, pulling out heavier sludge after it settles in massive tanks and skimming off floating grease, plastics and other materials. A secondary, microbial treatment is meant to remove dissolved organic compounds, with hungry bacteria chewing through lingering contaminants.
During rainy storms and floods, inundated utilities generally focus on treating as much wastewater as possible, sometimes bypassing the secondary, microbial cleaning process when they near max capacity.
'Protect those bugs'
"The secondary treatment process is a very finely tuned group of organisms and bacteria, and if you get too much flow through this secondary process, it kills all your bugs," Gardner-Andrews said. "So what you're trying to do as a treatment plant operator during these extreme events is protect those bugs at all cost so once the rain goes away and the waters get back to normal you're back online immediately."
Many parts of Florida and Texas face infrastructure challenges even when they aren't deluged by rain because of rapid population growth. Some of the nation's fastest-growing counties are in the hurricane zone, according to U.S. Census data compiled by Bloomberg. 
Four of the 10 fastest-growing coastal counties in the eastern U.S. are in Florida. The Miami-Fort Lauderdale-West Palm Beach metropolitan area grew by 9 percent, adding about 500,000 people from 2010 to 2016. And St. Johns County, south of Jacksonville, grew by almost 24 percent during the same time frame, adding roughly 45,000 people.
Aging infrastructure may not be able to keep up with the demands of a surging southern population. In many cases, such as in south Florida, elements of the sewer system range from 60 to 70 years old, with pipelines that are even older, said Kelly Cox, a staff attorney and program director for the environmental group Miami Waterkeeper.
"You throw a hurricane on top of that, and you are starting to see a lot more problems," she said.
To become more resilient, utilities need to assess their risks and take action such as building berms, constructing dikes or adding elevation, Kopocis said, but "this stuff isn't necessarily cheap."
Some solutions may lie well beyond the treatment plants themselves. Cities constructed of impermeable concrete and pavement can encourage more ecologically sustainable development — everything from green roofs to more porous materials.
Local government officials and utilities also are lobbying Congress to pack wastewater spending into a broad infrastructure package, reminding lawmakers that already aging plants are going to be taxed by more frequent, more intense storms.
"If these outlier events are now going to become the norm, then we really need to be looking significantly at how do we make these utilities more resilient." Gardner-Andrews said. "These weather events are a perfect example of why water in general needs to be a critical part of any infrastructure package."