Citigroup Inc. plans to purchase or produce all of its energy from renewable sources by 2020, the company said during Climate Week New York, an annual affair of energy- and climate-related events timed to correspond with the United Nations General Assembly.
Many companies have pledged to soon use only clean energy, but Citigroup's promise to make the transition within three years is speedier than most. Along with Estee Lauder Cos., Kellogg Co., DBS Bank Ltd., Clif Bar & Co., and Morgan Stanley, Citigroup said this week it will be joining RE100, an initiative that records such pledges to become renewable-reliant. At least 110 companies have already signed on, including Apple Inc., BMW Group, Diageo Plc and Wal-Mart Stores Inc. (Bloomberg LP, the parent of Bloomberg News, is also a member.) Citigroup said that, as part of its renewable push, it will follow the lead of others by cutting energy waste while using on-site generation, long-term power-purchasing contracts and clean energy credits
At a Climate Week event on Tuesday, Michael Eckhart, Citigroup's head of environmental finance, discussed the New York-based bank's goal. His statement, and the growing chorus of companies making similar promises, reflects a reality as seen from the corporate suite: With or without a White House climate policy, much of the U.S. and the rest of the world is already committed to a clean energy system, one that's fast becoming less expensive than the generators and engines that powered the last century's growth.
Bloomberg New Energy Finance's 2017 New Energy Outlook projects an energy economy in 2040 that looks very different from today: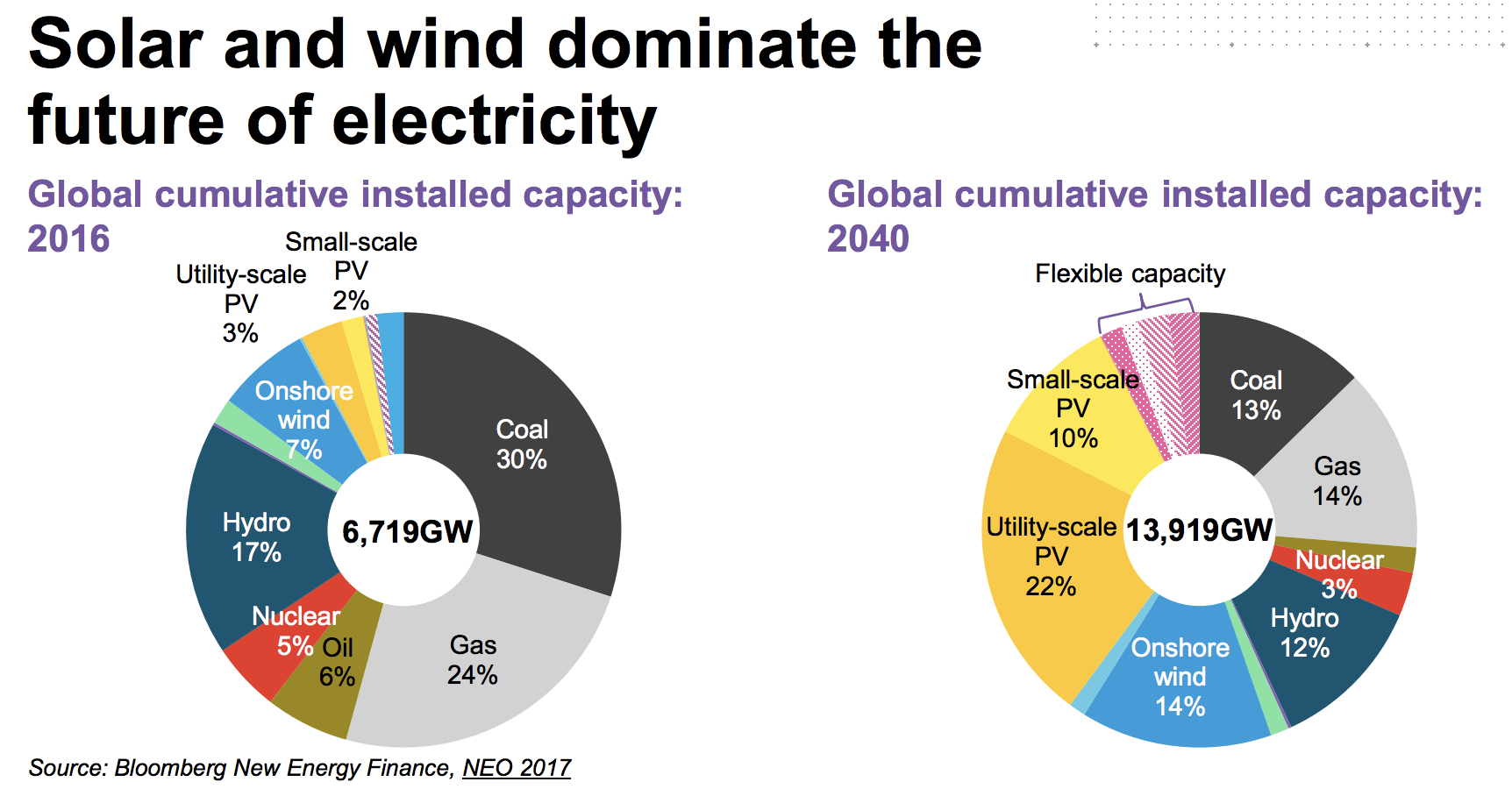 Climate Week is a production of Climate Group, a U.K.-based nonprofit that choreographs the week of institutional commitments and debates. This year's theme takes its cue from U.S. President Donald Trump's public repudiation of the almost universally supported 2015 Paris Agreement. Under that accord, all but two other nations (Syria and Nicaragua) agreed to take on self-defined reductions of greenhouse gas pollution. The focus of the New York meeting, consequently, is on city, state and corporate climate policy.
The Paris agreement, though, is insufficient to avert dangerous change over the next century or two, according to multiple analyses of national commitments. In the U.S., federal policies initiated by former President Barack Obama with Paris in mind, according to projections, would have fallen short of his goals. A report released this week by Climate Group and NewClimate Institute suggests that corporate, city and state policies are critical to the deal and would be responsible for achieving half the Paris Agreement goals. The accord envisions a global reduction, by 2025, of up to 28 percent of the pollution that was emitted in 2005.
While Trump aides and European officials in recent days have made conflicting statements about the Republican administration's decision to exit the accord, the newest companies to commit to renewable energy show how Wall Street and corporate chieftains have largely moved on. To an increasing number of them, the debate is over, and the war on warming is on.