Coal emerged as the surprise winner from two weeks of international climate talks in Germany, with leaders of the host country and neighboring Poland joining Donald Trump in support of the dirtiest fossil fuel.
While more than 20 nations, led by Britain and Canada, pledged to stop burning coal, German Chancellor Angela Merkel defended her country's use of the fuel and the need to preserve jobs in the industry. Meanwhile Poland's continued and extensive use of coal raised concerns that the next meeting, to be held in the nation's mining heartland of Katowice, could thwart progress.
"People don't have total confidence that Poland wants to increase ambition, to put it plainly," said Alden Meyer, director of strategy at the Union of Concerned Scientists, an advocacy group. "They're 80 percent dependent on coal, they've been pushing back against European Union proposals to increase ambition."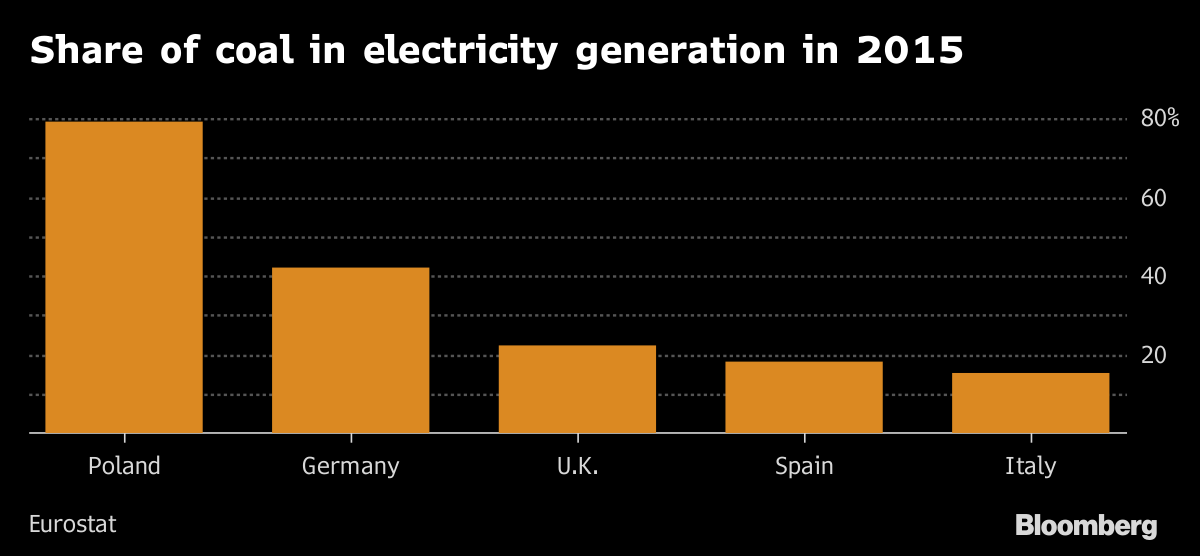 A growing group of countries are promising to end coal use altogether, saying its economic appeal is diminishing as carbon taxes push up costs while solar is increasingly competitive. Merkel herself led the world in installing renewable energy in recent years, but the pressures of forming a new government have seen her waver. Her change of tone at the Bonn talks, which were already clouded by Trump's vow to take the U.S. out of the landmark Paris accord, fueled concern over the deal's future as delegates look nervously to Katowice.
"The host of a meeting is a pretty important group," said Jake Schmidt, a director at the U.S. Natural Resources Defense Council. "We fully expect to see Poland selling us on how awesome their coal is."
Poland, hosting the talks in December next year, has said coal will be key to its energy security for decades. That worries those pushing for tougher pollution limits, who say the country's stance — together with Trump's pledge — could derail efforts agreed on in Paris two years ago to keep global warming since pre-industrial times to "well below" 2 degrees Celsius.
"If we can't persuade Poland to make the transition, then we're not going to succeed with Paris" targets, said Bob Ward, policy and communications director at the Grantham Research Institute on Climate Change and the Environment at the London School of Economics.
Miss Target
The promises that countries made in Paris aren't enough to meet the temperature target they set. Faltering political will and rising emissions mean the world is on track for an increase of 3.4 degrees Celsius by the end of the century, according to the United Nations.
While the country holding the rotating presidency of the annual UN talks doesn't have a direct role in the content of the discussions, its participation is seen as crucial in driving the agenda forward, particularly when nations disagree on a particular issue. The failure of the 2009 Copenhagen talks was in part blamed on weak leadership shown by the Danish government. Since then, hosting nations have gone out of their way to ensure they have a clear, strong plan in place to deliver success while they're in charge.
Poland's presidency, which the country will start preparing for now, follows this summit's Fiji presidency. In the final text from the Bonn talks — known formally as the Conference of the Parties — Fiji committed to press for greater ambitions to tackle climate change, even after its presidency ends.
"We have been fighting so much during this COP to make sure Fiji gets a good handle on this," said Yamide Dagnet, senior associate at the Washington-based World Resources Institute. Fiji must be positioned "to lead that process with Poland, and not just leave Poland to deal with the ambition game, because otherwise we really have lower expectations."