Daimler Trucks is trying to gain a foothold in the nascent electric-truck market with short-range haulers that can make New York City's clogged streets cleaner and quieter.
At an event in Manhattan's fashionable Soho neighborhood, the Daimler AG unit unveiled its new Fuso eCanter, an electric light-duty truck produced under the Mitsubishi Fuso brand. The hauler has a range of 60 to 80 miles (97 to 129 kilometers) between charges, depending on body, load and usage, Marc Llistosella, chief executive officer of Mitsubishi Fuso Truck and Bus Corp., said Thursday.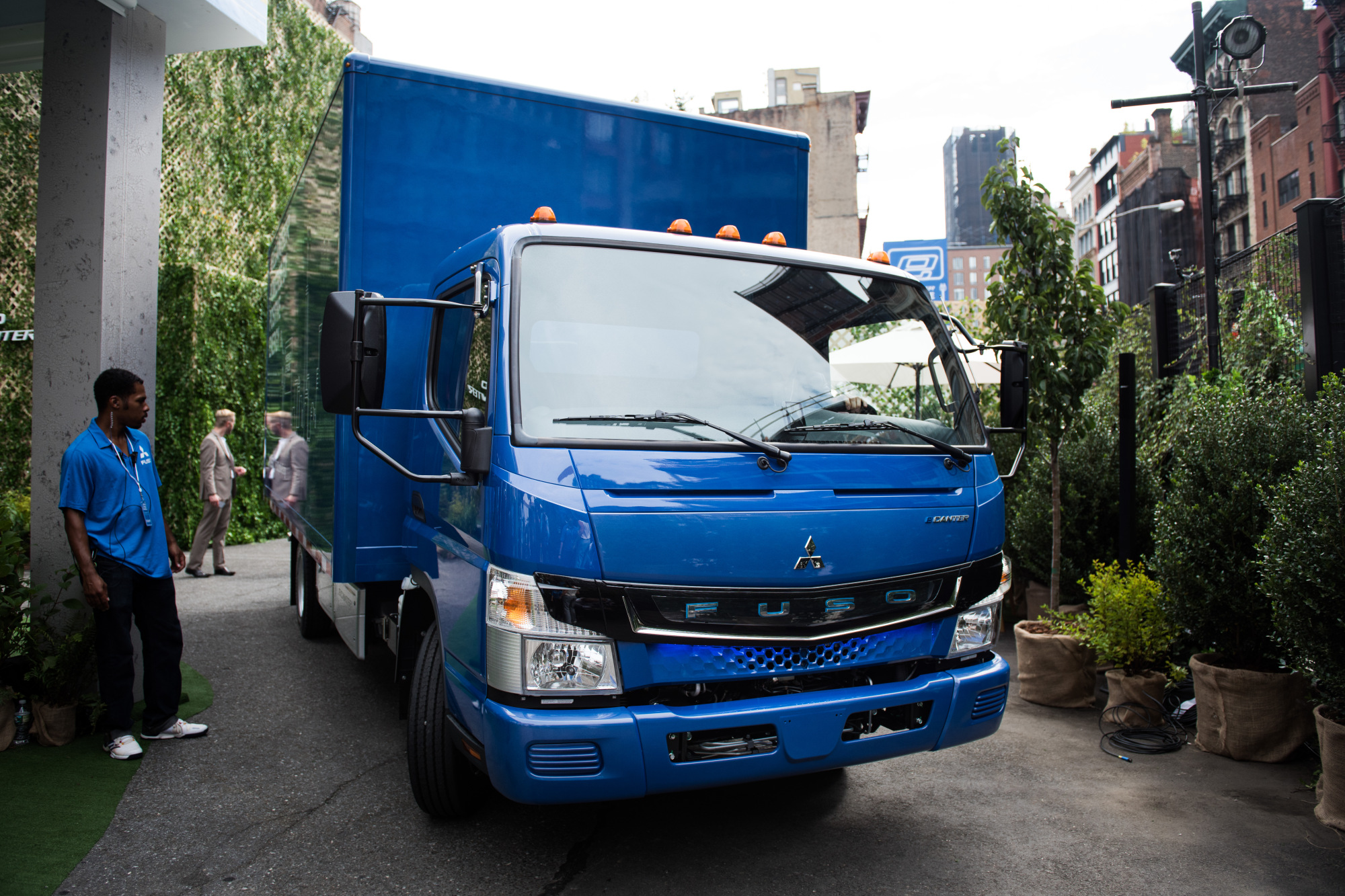 Daimler is supplying a fleet to several New York City non-profits and United Parcel Service Inc. has signed on as the first commercial customer in the U.S., according to a company statement. Llistosella said the trucks will contribute to Mayor Bill de Blasio's lofty goals to curb citywide emissions.
"If you want to change some paradigms, you need more than yourself — you need stakeholders, you need support," Llistosella said before the truck was unveiled amid recordings of chirping birds and a machine blowing soap bubbles. "Electrification of trucks is important to our society."
Truck Crowd
Daimler is joining a growing crowd. Diesel-engine maker Cummins Inc. beat Tesla Inc. to the punch last month with a fully electric "urban hauler" concept, which has a projected range of about 100 miles. Tesla plans to unveil an electric-powered semi next month and has met with states about testing out autonomous-driving features. Paccar Inc. and Navistar International Corp. are working on alternative-fuel strategies and driver-assistance systems to push trucking technology forward.
Llistosella said Daimler is ahead of the competition because the Fuso eCanter is the first electric truck to be mass-produced. Fuso will deliver 500 trucks within the next two years, then make more than 10,000 in 2019, he said. UPS agreed to lease three trucks and municipalities in Portugal and Japan are also customers.
Daimler is offering two-year leases for about $1,000 a month, a price Llistosella said has dropped 65 percent from the first prototype of the truck built in 2014. The company is choosing to lease rather than sell so that it can offer customers upgrades as battery costs drop.
Diesel Difference
The eCanter is more expensive than a diesel truck and offers about 10 percent less maximum payload, Llistosella said. Drivers can offset the premium in about two and a half to three years thanks to lower maintenance and fuel costs.
Light-duty trucks make sense in urban environments for garbage routes and deliveries because the range needed rarely exceeds 100 miles and trucks return to charge in the same place every night, said Lee Klaskow, a transportation analyst with Bloomberg Intelligence.
"The reality is the technology isn't there to support anything else," he said.
Daimler, which is working on autonomous-driving technology for its trucks, will introduce its own long-haul semi concept at the Tokyo Motor Show in October, Llistosella said.
"Right now, it's not technically possible, but it will be in only a couple of years," he said. "It's not a question of if, it's just a question of when."