Written by Anna Hirtenstein. This article first appeared in Bloomberg Markets.
Egypt's fledgling solar industry attracted $1.8 billion of investment, largely from the European Bank of Reconstruction and Development and the World Bank's International Finance Corp.
The EBRD is backing 16 photovoltaic projects, and the IFC is financing 13 in the sunny North African nation with a combined capacity of 1.4 gigawatts. They are writing loans for $380 million and $203 million, respectively, and have mobilized the rest from co-investors.
"These are the first private renewable energy projects in Egypt, and it's not an easy macroeconomic or geopolitical situation," Harry Boyd-Carpenter, head of power and energy utilities at the London-based development bank, said in a phone interview. "Yet because it's got the right regulatory framework in place, Egypt has been able to attract all of these different investors and should comfortably get more than a gigawatt of capacity financed this year."
Egypt is targeting to generate 20 percent of its electricity from clean sources by 2022. It currently gets more than 90 percent of its power from oil and gas, according to data from Bloomberg New Energy Finance.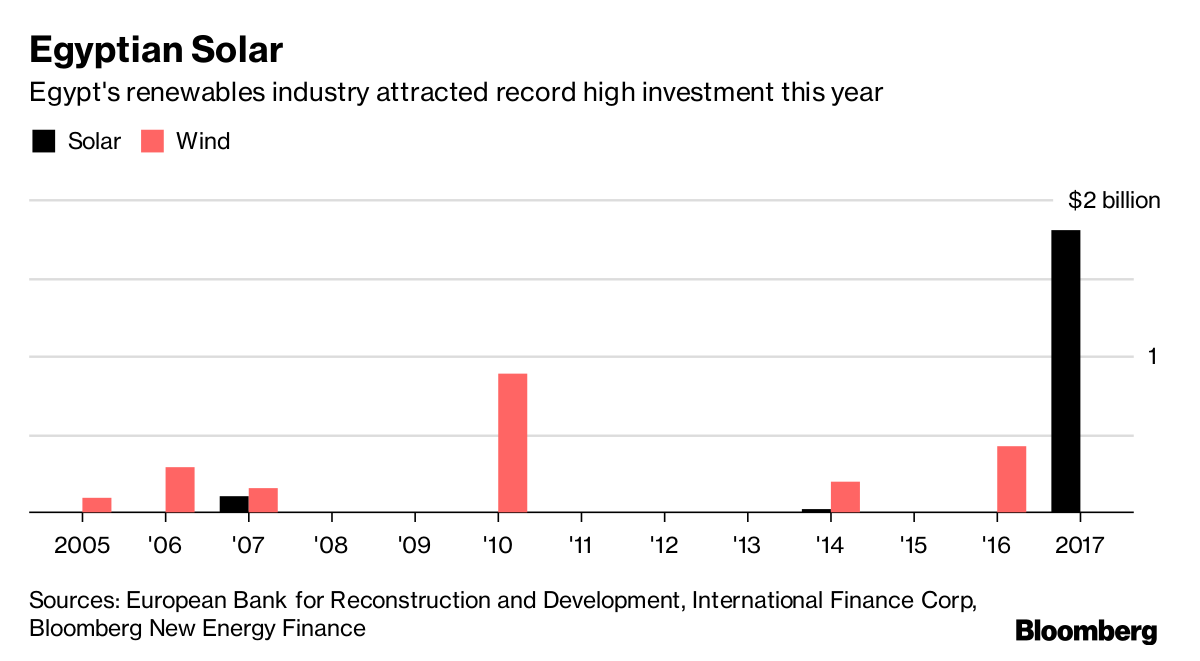 The solar projects that got funding are being developed in the Benban solar park in Egypt's Aswan province in the southeast. The site is expected to have a capacity of 1.8 gigawatts and cost $2.8 billion by the time it's complete in the first half of 2019.
They are being built by international developers such as Scatec Solar ASA of Norway, Saudi Arabia-based ACWA Power and Al Fanar Co., French firms EDF Energies Nouvelles SA and Eren Renewable Energy SA and Access Power MEA in Dubai.
The loans are part of a program that the EBRD began in 2015 to invest as much as $500 million in solar in Egypt. The plan was delayed due to the devaluation of the Egyptian pound and the fact that the government initially didn't allow international arbitration for renewable energy contracts. A $12 billion aid package from the International Monetary Fund last November alleviated some of those concerns.
The EBRD is co-investing with Proparco, the Islamic Development Bank and the Green Climate Fund, according to Boyd-Carpenter. The IFC is working with the African Development Bank, Finnfund, China's Asian Infrastructure Investment Bank, among others, spokeswoman Riham Mustafa said by email. The Washington-based bank has lined up loan deals for all of its projects except two, which is expects to sign this week, she said.
"Local Egyptian banks have problems financing these projects because the tariff is paid in Egyptian pounds but the debt is raised in dollars so that creates issues for that," Boyd-Carpenter said, referring to the volatility of the local currency.
Egypt currently has a feed-in tariff program, locking in long-term prices for the electricity generated by the solar projects. Authorities are likely to switch to a competitive auction system next year, according to the EBRD, which is advising the Ministry of Energy.