By David Stringer
Observations by Tesla Inc.'s Elon Musk on the key role nickel plays in the electric vehicle boom helped inspire the world's top miner BHP Billiton Ltd. to invest in new capacity to target rising demand.
Amid efforts to improve performance at its nickel operations in Australia, Eduard Haegel, asset president of BHP's Nickel West unit, said he "stumbled across" a video of Musk's comments in 2016 highlighting that EV batteries typically contain higher quantities of the metal than lithium.
"As we delved in to understand more about the lithium-ion battery market, it became clear that demand from EVs was accelerating," Haegel said Wednesday in an interview. "It also became clear that we had competitive advantages."
As a result, BHP approved a $43 million project to begin production at its refinery from April 2019 of nickel sulfate, a product needed for lithium-ion batteries. The move will make BHP the top exporter of the material, Haegel said in Kalgoorlie, Western Australia.
Global nickel demand could more than double by 2050, fueled in part by rising electric-vehicle sales, Bloomberg Intelligence analyst Eily Ong wrote in a June report. Demand for nickel from lithium-ion batteries may rise to more than 190,000 metric tons a year by 2030 from about 5,200 tons in 2016, Bloomberg New Energy Finance analyst Julia Attwood forecast in April.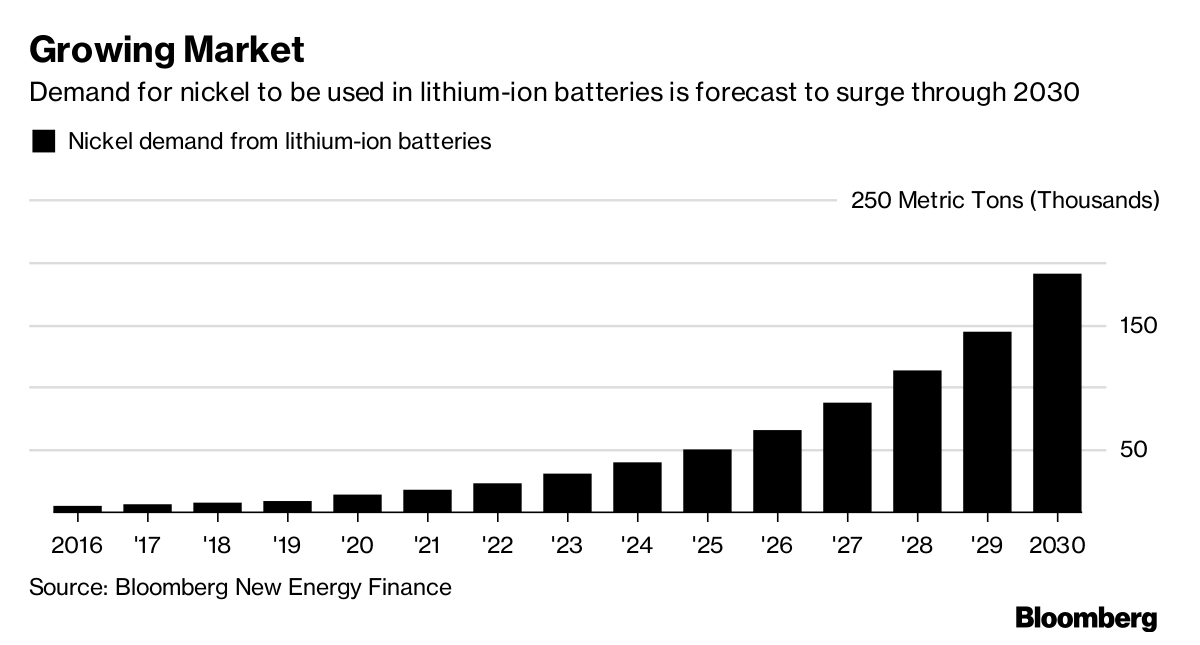 Melbourne-based BHP is holding talks with prospective customers across Asia and is seeking to open discussions with battery makers. The producer will tour Japan, South Korea and China to discuss its plans next month, Haegel said in the interview.
"We have visited a swathe of different manufacturers," Haegel said. "The next time round we are going to talk to battery manufacturing folk. As people become more aware of the limitations of supply, then those up and down the supply chain want to make sure that they've got security of supply."
Targeting growth in the battery market may change the outlook for Nickel West. The business, with nickel mines to processing facilities, was excluded from the spin-off of smaller assets into South32 Ltd. and an attempted sale was halted in 2014 after failing to attract a suitable offer. The company has taken $2.6 billion in pretax writedowns on the operation since 2012, according to filings.
Nickel usage in automotive batteries could quadruple if the share of electric vehicles in the global market reaches 10 percent, Glencore Plc CEO Ivan Glasenberg said in December. Rising demand from the battery sector will "have a disruptive impact" over the next 10 years on nickel, copper and cobalt markets, Independence Group NL CEO Peter Bradford said Tuesday in an interview with Bloomberg Television.
At present, batteries account for only about 3 percent of demand, with the stainless steel industry accounting for about two-thirds of consumption, according to the International Nickel Study Group.
Perth-based nickel producer Western Areas Ltd. has had visits from four groups in the past month seeking to secure future supply for lithium-ion batteries, CEO Dan Lougher said Wednesday in an interview. "That frequency tell us how the market is looking at this," Lougher said. "The next stage will be people wanting to get into assets, and wanting to share in projects and provide capital."
BHP will study a potential expansion to double the size of nickel sulfate output to 200,000 metric tons and consider adding production of battery cathode precursors — intermediate materials used in the production of batteries, Haegel said in a presentation to the Diggers and Dealers mining forum in Kalgoorlie.