Europe's wind power industry may attract 351 billion euros ($417 billion) of investment by 2030 if countries adopt reforms and targets for their energy systems in the next year, trade association WindEurope said.
The European Union may create 716,000 jobs with a target for member states to produce 35 percent of their energy from renewables within 12 years, the Brussels-based group said in a biannual report setting out scenarios for the industry.
Wind power currently supplies about 10 percent of Europe's electricity, and falling costs of technology are making it an increasingly viable alternative to fossil fuels, the group said. Even offshore wind, once the most expensive form of mainstream renewables, saw zero-subsidy contracts awarded in Germany this year.
"It is a realistic goal but it depends on how fast energy reform takes place," Ivor Catto, chief executive officer of RES Group and chairman of WindEurope, said before the report was released on Tuesday. "The technology is moving apace."
EU members and the European Parliament are set to adopt a new "Clean Energy for All Europeans" package by 2018, which will include new energy targets for after 2020, according to WindEurope. The industry says uncertainty over government support for the next decade is stalling investments. Where the bloc once led the world in the installation of wind turbines, the market is slowing and China pulling ahead.
WindEurope's central scenario sees the EU meeting its current 27 percent renewable energy target for 2030. In that, wind power capacity would more than double to 323 gigawatts. That's higher than the commonly used forecasts of the International Energy Agency and European Commission and would require 239 billion euros, the group said.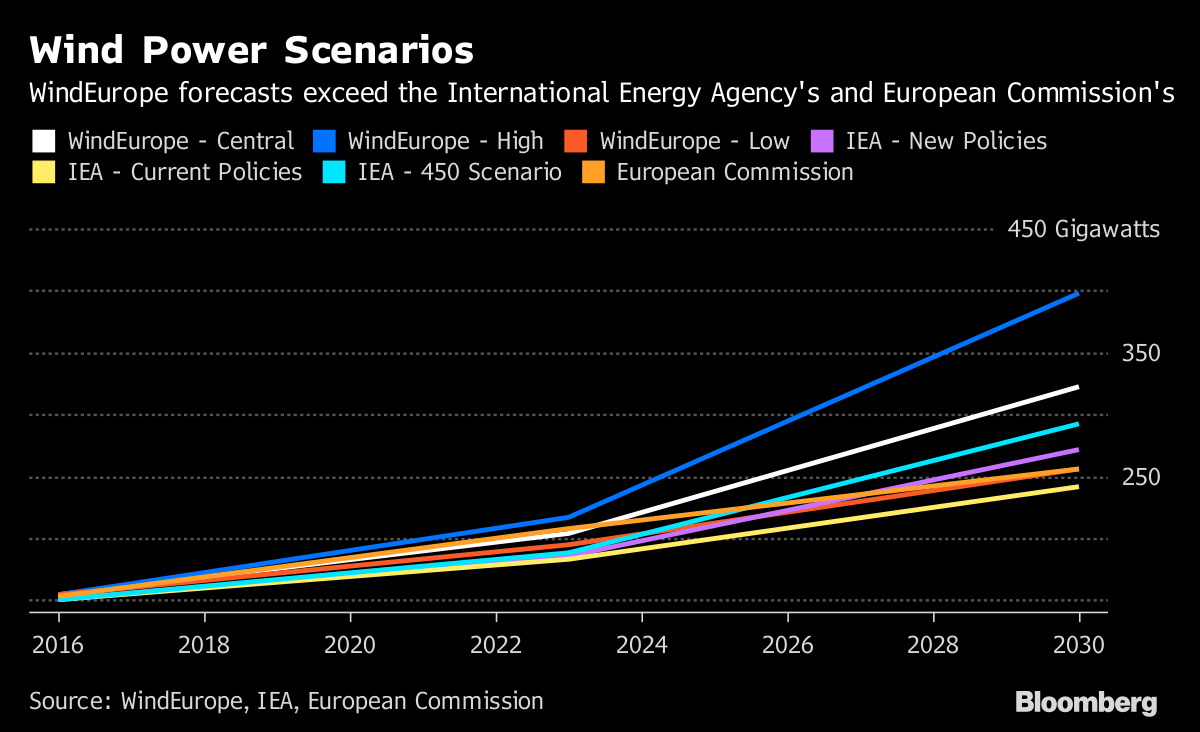 But if the EU agrees to increase its 2030 targets in the forthcoming package, capacity would rise to almost 400 gigawatts, the group said. It also asked leaders to maintain priority dispatch for existing wind power plants and end capacity payments to polluting power plants. It wants an Emissions Performance Standard of 550 grams of carbon dioxide per kilowatt-hour of power generated.