The governments of Germany, Denmark and Belgium backed a pledge to install 60 gigawatts of new offshore wind power next decade, more than fivefold existing capacity.
Energy ministers from the three countries joined chief executives from 25 companies including Dong Energy A/S, the world's biggest offshore wind developer, to issue a statement pledging to work together to increase investment and reduce costs.
The statement, signed Tuesday in London, builds on an agreement by 10 northern European countries last year to work together to cut the cost of installing wind turbines at sea. Trade body WindEurope said it will ask the seven countries absent from today's signing to also support the statement. Some countries, like the U.K., need to wait until after their general elections are held, the industry group said.
There were about 13.8 gigawatts of offshore wind globally last year, according to Bloomberg New Energy Finance. Prices for offshore wind in Europe have fallen dramatically in the last half decade and plunged 22 percent in 2016 alone, according to the London-based researcher. In April, the industry crossed a new thresholds in German government auctions, where contracts were awarded that will see subsidy-free offshore wind power developed at market prices by 2025.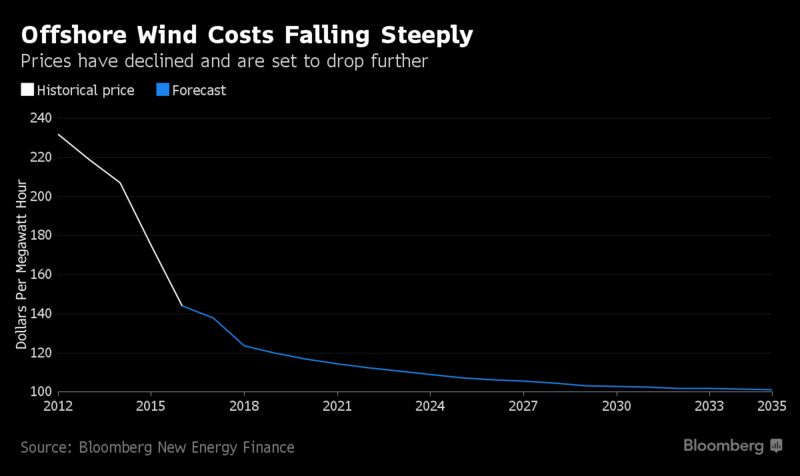 "With this Joint Statement, leading businesses and governments are taking the next step by committing to cooperate on the deployment of big volumes for offshore wind energy," said Giles Dickson, chief executive officer at WindEurope, in an email. "Today's statement is a clear recognition of the strategic importance of offshore wind as a clean, competitive and reliable energy source for Europe."
The countries and companies said they aim to boost efforts to deploy "significant volumes" of offshore wind, and recognize an industry-only pledge to deliver 60 gigawatts of new capacity between 2020 and 2030.
They supported the promotion of a European approach to renewable energy, particularly in developing grid infrastructure that can help countries flexibly manage intermittent wind power to help cut costs.