Home energy use is finally exciting to people. Unfortunately for the traditional utilities, it's not because of them.
A combination of new technology and a push toward low-carbon energy has caused customers at Europe's largest and most-established utilities to flee. The average annual rate of leavers is nearly 12 percent, more than double the rate a decade ago, according to analysis by Bloomberg New Energy Finance published Tuesday. The largest six utilities in the U.K. alone lost more than 2 million customers since 2010.
It's not for lack of trying. Companies such as Centrica Plc and EON SE have offered everything from rooftop solar panels to connected home devices to satisfy their customers. But new companies are promising lower prices, better customer service and a resolute commitment to renewables. They may have started a movement away from traditional utilities that will be impossible to reverse.
"In the face of growing competition, incumbents have struggled to retain their customer numbers," said Meredith Annex, an analyst in London at BNEF. "So far, we've seen mixed success in making them stickier through new services."
At the same time, the number of overall utility customers in the U.K. expanded by almost 1.5 million by last year from 2010.
To read a story about technology disruption in the utility sector, click here
The exodus is underpinned by the liberalization of Europe's utility markets, which started in the 1990s and was cemented in 2007 with the European Union's Third Energy Package. That freed customers to shop around for deals and switch utility providers.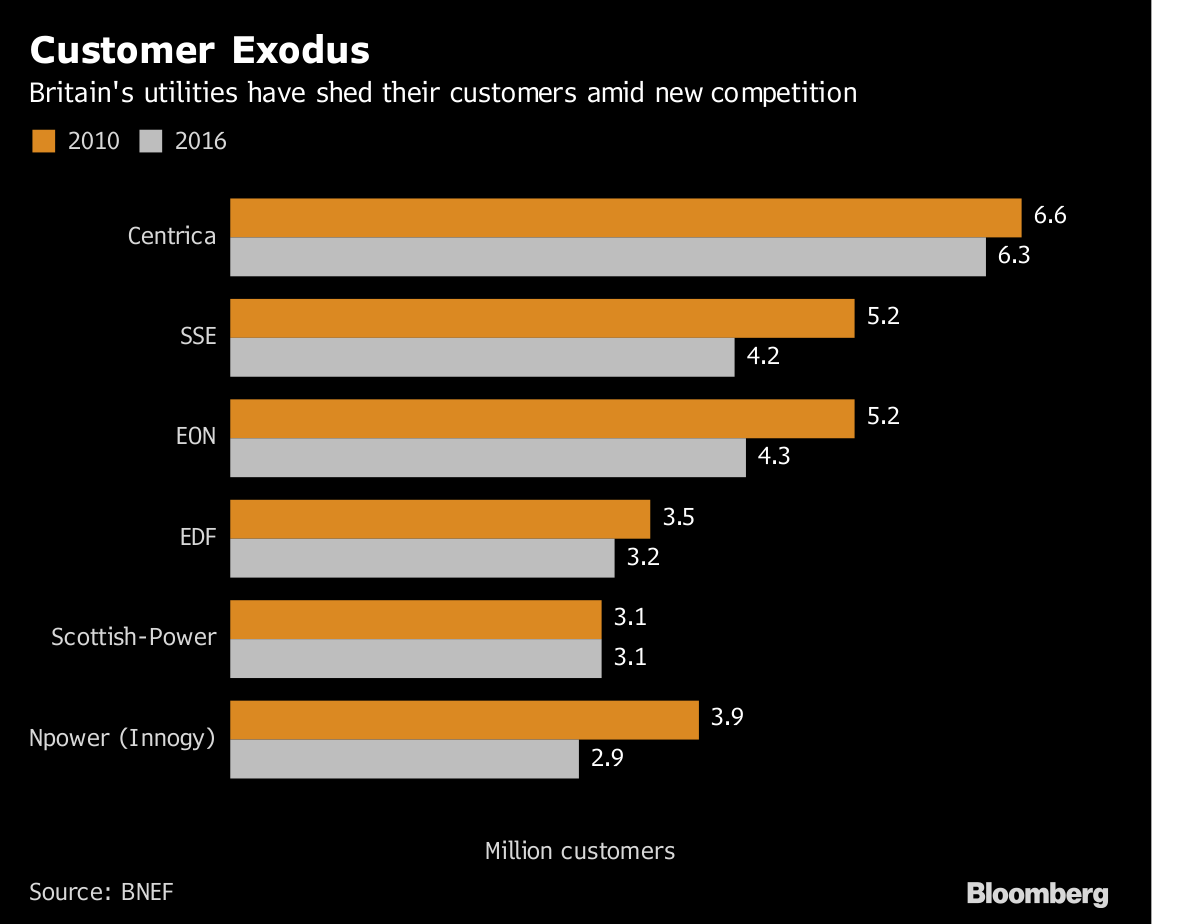 According to data from the U.K.'s Office of Gas and Electricity Markets, the regulator, half of British customers who abandoned a so-called "Big Six company" last year switched to a startup offering lower prices or new billing methods. For example, a company called Utility Warehouse Ltd. bundles power with broadband and mobile phone services, while London's Octopus Energy Ltd. lets its customers pay the wholesale electricity price for the moment they are using the energy, plus a fixed monthly amount. 
And about half of electricity customers at the largest six utilities are unhappy with the customer service provided, possibly leading to more switching, according to Ofgem.
That's been a boon for U.K. startups. When added together, independent power retailers have become the fourth largest provider of household electricity in Britain, the BNEF report showed. Less than a decade ago, hardly any of the companies existed.
Stephen Walker, a press officer with utility lobby group Energy U.K., didn't respond to a request for comment on the BNEF report. Centrica didn't respond to inquiries.
Smart Devices
Partly in response to the customer flight, every major utility in Europe now offers a "smart" device, which usually allows users to control heat and power on their phones or through voice commands. Nearly all also offer charging points for electric vehicles and rooftop solar panels. Most offer so-called green tariffs, which mean the provider matches the amount of electricity bought by their customers with equal renewable energy purchases on their behalf.
The German unit of Sweden's Vattenfall AB, which lost 1.6 percent of its residential customers in 2016 compared with 2010, is also offering peer-to-peer trading platforms where customers can buy and sell electricity with each other. Two other companies, Helsinki's Fortum OYJ and Essen, Germany-based Innogy SE, are experimenting with or providing their own form of peer-to-peer trading.
Despite customer departures, the 30-member Stoxx Europe 600 Utilities Index gained 8.5 percent this year, outperforming the main Stoxx Europe 600 Index, which rose 3.7 percent.