Evidence is mounting that bonds that finance environmental projects perform better than conventional ones, HSBC Holdings Plc said in a report.
The U.K.'s largest bank said green bonds are trading closer to benchmarks than regular debt issued by the same entity, particularly in developed markets. This may be due to demand for the securities pushing investors to pay steeper prices for green bonds in the secondary market.
The bonds used for environmentally friendly projects are still being priced similarly to ordinary ones when they first sell, HSBC said. Investors that buy the instruments at issuance may sell them at a profit.
"Our analysis suggests there is value in green bonds for bond investors," wrote Michael Ridley, a green bonds and corporate credit analyst at HSBC who co-authored the report. This may dissipate in the future if there's a sharp rise in supply, he said.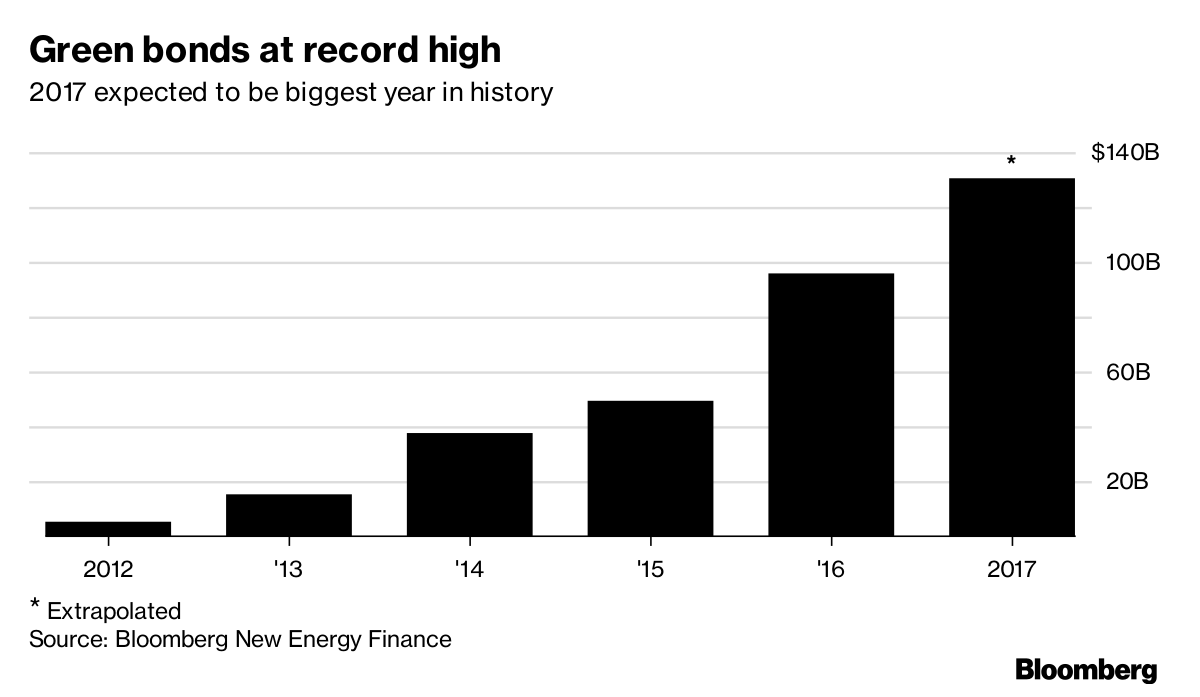 The findings are likely to deliver a boost to advocates of responsible investing, who argue that one can both put capital to use for good and earn a healthy return. What was once a niche has become more mainstream.
Green bonds make up a tiny corner of the trillion-dollar debt market, yet their issuance has grown from a few hundred million to $95 billion last year. Bloomberg New Energy Finance raised its prediction for 2017 to $130 billion from $123 billion, after the first half of the year smashed records.
Today, investors controlling $60 trillion have signed on to the Principles for Responsible Investment, pledging to incorporate environmental, social and governance factors, known as ESG, into their investment decisions. This has pushed demand higher for green bonds, with some institutional investors setting up dedicated funds.
HSBC's report also said that green bonds are less volatile than their ordinary counterparts while transaction costs were slightly higher.