With a multibillion-dollar nuclear project in South Carolina dead, the fate of America's nuclear renaissance now rests on one utility: Southern Co.
Scana Corp. dropped its plans for two reactors Monday, turning the two that Southern is building at the Vogtle plant in Georgia into the only ones under construction in the U.S. And even they are under threat: The utility had to take over management of the project from its bankrupt contractor Westinghouse Electric Co., and the plant is still years behind schedule and billions over budget. Now it must decide whether to finish them.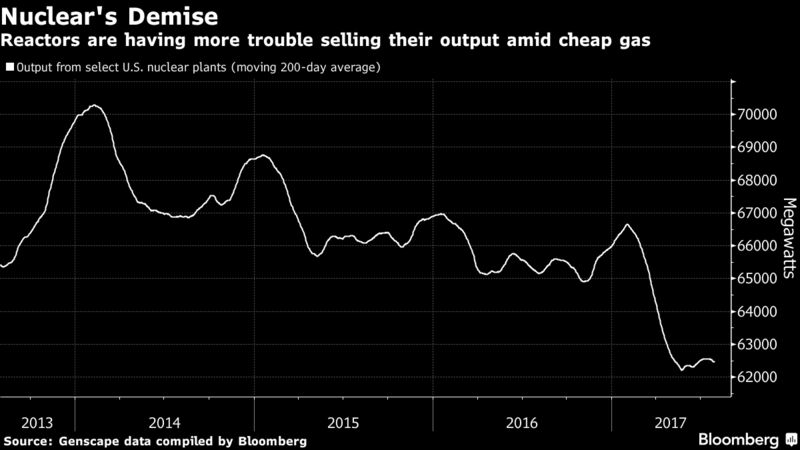 Southern calling it quits could prove to be the final nail in the coffin for the long-awaited U.S. nuclear renaissance that has failed to materialize in the aftermath of Japan's Fukushima nuclear accident. In 2012, Southern and Scana became the first companies to gain approval to build U.S. reactors in more than 30 years — only to find themselves in troubling times for the industry.
On top of construction setbacks and ballooning costs, nuclear plants are reeling under intense competition from cheap natural gas and renewables that have spurred states led by New York to go as far as offering subsidies for existing reactors to keep them open.
"I've thought all along that Southern would walk away," Kit Konolige, a New York-based analyst for Bloomberg Intelligence, said by phone on Monday. The abandonment of the South Carolina project increases the chances of that happening since "it doesn't make a whole lot of sense to keep going," he said.
Without the new reactors, Scana may need to add generation after 2019, Chief Executive Officer Kevin B. Marsh said Monday on a conference call with analysts. "Based on what we know today, we believe that would be gas-fired generation," he said.
Although Southern faces many of the same challenges that led Scana and Santee Cooper, the state power authority with a 45 percent stake in the project, to shelve their reactors, the company was quick to put some distance between the two.
"The V.C. Summer and Vogtle projects are unique and different in many ways," Jacob Hawkins, a spokesman for Southern's Georgia Power unit, said by email Monday, given a new service agreement has been finalized that allows the utility to take over management of the reactors. For the time being, work continues on Vogtle and a cost analysis is underway that will be finished next month, he said.
In scrapping the South Carolina project, Santee Cooper said an analysis showed the plant would not get finished until 2024, four years after the most recent completion date provided by Westinghouse, and would end up costing its customers a total of $11.4 billion.
"I have a feeling we're going to get a similar story from Southern," Charles Fishman, a Chicago-based analyst for Morningstar Inc., said by phone Monday. "The four-year extension of the schedule estimated by Santee Cooper, that was the eye-opening number to me. I suspect we're looking at that kind of a delay for Vogtle, too, and if that's the case, the overhead is just huge."
Meanwhile, Georgia's utility regulator is keeping up the pressure on Southern to make a final decision on whether to go forward with the reactors by the end of the year. Stan Wise, the chairman of the Georgia Public Service Commission, said Vogtle may be in a better position to proceed than the Scana project.
For one, Southern secured a $3.7 billion payment guarantee from Westinghouse's parent, Toshiba Corp., dwarfing the $2.2 billion guarantee for Scana's project, he said in a statement on Monday. Southern also has more co-owners on the project, and the rate impact is spread across a bigger customer base.