Written by Jesper Starn. This article first appeared in Bloomberg News. 
Finland will have to add another five months to the decade-long wait to start production at a nuclear reactor once billed as the world's biggest.
Olkiluoto-3, able to power about 3 million homes, will be delayed until May 2019 from its previously expected to start at the end of next year, according to Teollisuuden Voima Oyj, the Helsinki-based utility that will operate the unit. Areva SA, the supplier, said it needed more time to adjust the production schedule.
Plagued by cost overruns and legal tangles, the delay is the latest setback for the 1,600-megawatt reactor meant to provide cheap power to companies from Finnish papermakers UPM-Kymmene Oyj and Stora Enso Oyj to a Google Inc. server farm. The nation last year had to import a quarter of its electricity in the wholesale market, where prices for delivery to Finland are about 21 percent higher than the Nordic-region average.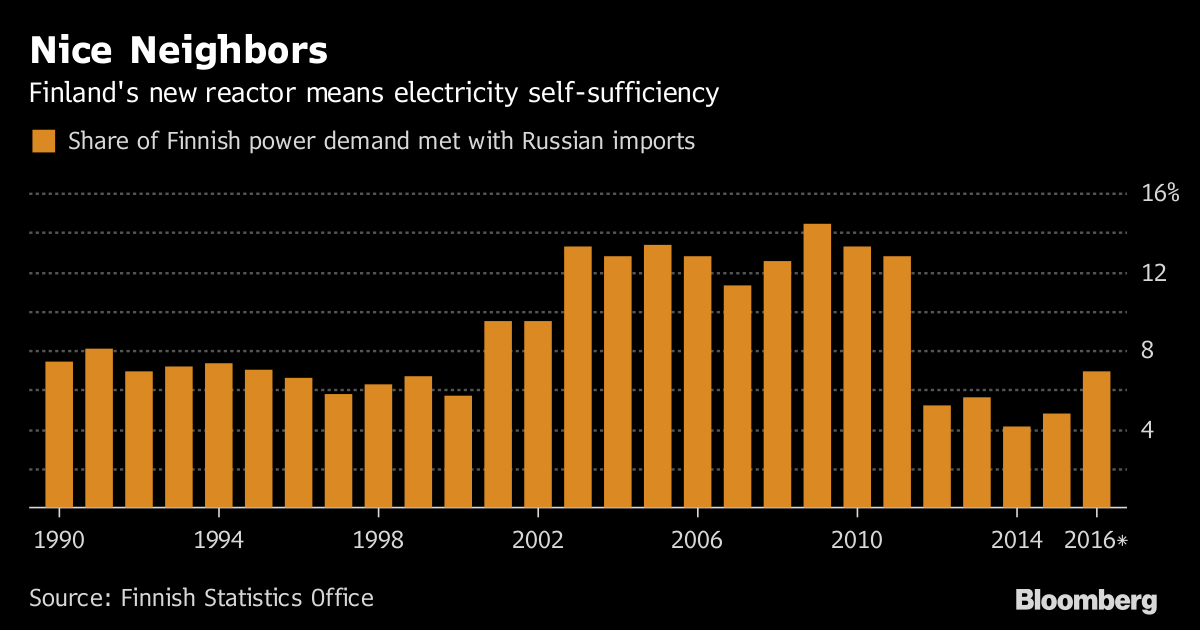 "We are very disappointed by this additional delay," Jouni Silvennoinen, TVO's senior vice president for the Olkiluoto-3 project, said in a statement. "There is still substantial work to be accomplished."
Finland is seeking to reduce reliance on its neighbors for power and the vulnerability of being too dependent on other nations. More than 10 percent of Finland's power demand was met with Russian imports until 2011 when its eastern neighbor unexpectedly put a tariff on exports at times of peak demand, which cut flows by more than half.
"Since it has been delayed for so long, it's hard to tell when market participants priced in its start," said John Brottemsmo, a senior market analyst at Kinect Energy Group in Bergen, Norway. "There's still two years left until the start, so there may be further delays that would have a bigger impact on prices."
Olkiluoto-3 was billed by Areva and Siemens AG as a showcase for next-generation EPR-reactor technology when construction started in 2005. The project's initial 3 billion-euro ($3.5 billion) cost has swelled to more than 8 billion euros.
The latest delay is for adjustments based on information from a similar reactor being built in China, as well as a more cautious assessment of how quickly the unit will reach full production, an Areva spokesman said by phone. Fuel loading is scheduled for August 2018 and the first connection to the grid is in the following December.
The new reactor technology is proving tricky even in state-owned Areva's home market. The cost of an EPR at Flamanville in France has tripled since construction started in 2007 in a project that's six years behind schedule.
When construction began, Olkiluoto-3 was to be the world's biggest reactor and the first with EPR technology. That mantle may now go to China, which plans to start two 1,660-megawatt EPR-reactors in Taishan within the next 18 months.
The Finnish project's parties are suing each other over the delays. TVO won part of its case against Areva-Siemens in July at the International Chamber of Commerce in Paris. A final arbitration decision is expected early next year.
Areva has been delisted from the stock exchange by the French state, which injected 2 billion euros in the entity in July to help it complete the Olkiluoto project and pay back some loans. Areva is also due to sell a majority stake in its reactor business to Electricite de France SA by the end of the year to raise further funds.
The Finnish project delay isn't linked to Areva's restructuring, the spokesman said.