By Chris Martin
First Solar Inc. is standing on the sidelines of a trade dispute that could give its products a significant leg up.
The U.S. International Trade Commission has scheduled a hearing Tuesday on a request by Suniva Inc. for the U.S. to impose tariffs on imported solar panels. The petition alleges China, which accounts for more than 80 percent of global solar panel production, gives manufacturers unfair government support. The commission is expected to make a decision next month, and a finding of harm could lead President Trump to impose duties as early as November.
The petition by Suniva, which filed for bankruptcy in April, has roiled the industry, which argues that it would drive up prices and result in the loss of an estimated 88,000 jobs, a third of the solar workforce. No U.S.-based solar manufacturers support it, according to the Washington-based Solar Energy Industries Association. Cheap panels have spurred a boom in U.S. rooftop installations, with small-scale solar generation almost doubling from 2014 to 2016, according to the Energy Information Administration.
Tempe, Arizona-based First Solar, a member of SEIA, stands to gain the most from import duties of as much as 40 cents per watt, said Jeffrey Osborne, an analyst at Cowen & Co. "Because the complaint specifically goes after silicon panels, thin-film technologies like First Solar's will be considerably cheaper in comparison," Osborne said.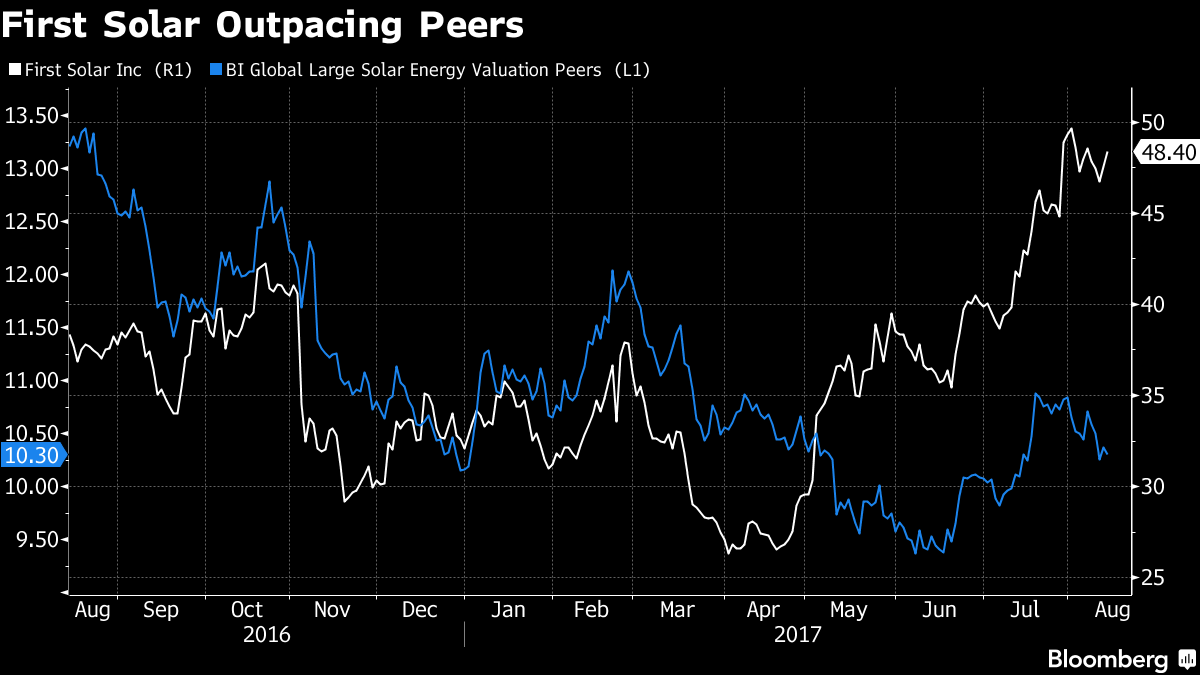 The company's share price has outperformed peers this year, rising more than 50 percent.
First Solar's chief executive officer said on July 27 that his company isn't participating in the dispute. A spokesman for the company referred to the CEO's comments when asked for a response.
"If there is a determination of injury, a modest type of remedy will not be harmful at all to the industry and I think it'll survive and more jobs will be created," CEO Mark Widmar said on a conference call. "Hopefully what it will do is enable more manufacturing in the U.S."
A group of 16 U.S. senators and 53 House members sent letters on Friday to the head of the ITC urging it to reject the petition.
Rooftop developers like Sunrun Inc. and Vivint Solar Inc., imposing an import duty could double amount they pay for panels, cutting into their already razor-thin margins and ultimately slowing demand. Large developers are betting that a tariff will be imposed and have begun stockpiling inventory ahead of a decision, which has temporarily reversed the decline in prices, according to Joseph Osha, an analyst at Jmp Securities LLC.
Module prices in the U.S. increased to about 43 cents a watt, up from about 33 cents before the trade case was filed, Osborne said. For now, that's helping improve margins for the world's biggest manufacturers, mainly in China, which include JA Solar Holdings Co., JinkoSolar Holding Co. and Trina Solar Ltd.
'Significant Disruption'
But once a tariff is imposed, Asian and European manufacturers will have a significant disadvantage in U.S. markets and their options to get around it are limited, Osborne said. They could build some cell and module manufacturing in the U.S., but there's little infrastructure to support their operations and the duties may only be in place while Trump is in the White House.
A tariff would also hurt San Jose, California-based SunPower Corp., the second-biggest U.S. panel maker, because the bulk of its polysilicon panels are assembled in Asia. SunPower faces a double whammy because it develops big solar farms that would cost more to build.
"It's a significant disruption," Tom Werner, SunPower's CEO, said in an interview.
A small tariff may not be as bad as the developers are making it out to be, said Osha.
"The solar installers are warning of dire consequences but another 10 cents on the panel price isn't going to be terrible," Osha said. "The market will adjust."