By Naureen S. Malik
A worldwide glut of natural gas has buyers of the fuel driving hard bargains and pushing for shorter supply contracts. The only problem with that, according to their sellers: The market's about to turn against them.
Gas buyers have become too focused on the short-term, turning away from long-term contracts, said Greg Vesey, chief executive officer of Liquefied Natural Gas Ltd., an Australian developer of terminals that liquefy and export gas. If they keep it up and don't lock in enough contracts next year to encourage the construction of more export terminals, the market could end up short supplies as soon as 2021, he said.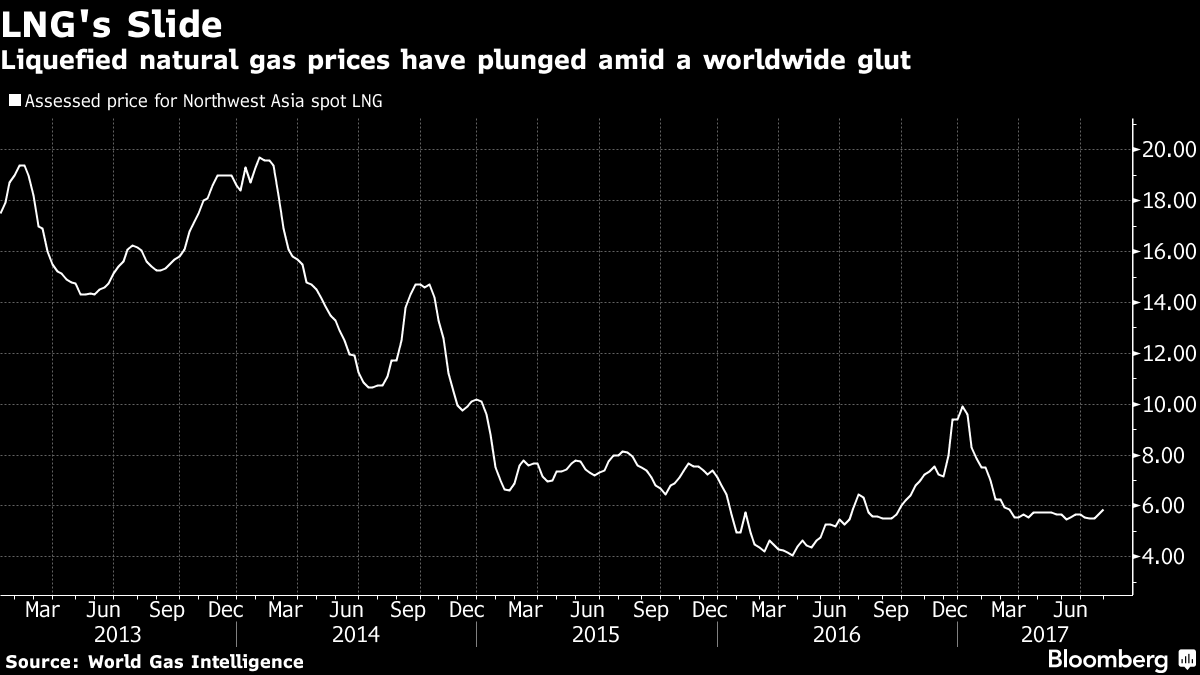 "Things come to a head in late 2018," Vesey said in an interview at Bloomberg's headquarters in New York Tuesday. "By the end of 2018, people will realize they have to make a decision."
The global glut of LNG supplies and an ensuing plunge in prices have already killed plans for export terminals around the world. Just last month, Malaysia's Petroliam Nasional Bhd. decided to scrap a $27 billion export complex in Canada, citing low prices. And more could follow as buyers take advantage of excess supplies to renegotiate contracts.
"The reality is that a new facility needs to be backed by a 20-year contract," Kathleen Eisbrenner, chief executive officer of export terminal developer NextDecade Corp., said in an interview late Tuesday. "There is starting to be a realization that, if those contracts aren't signed soon, we will go into a shortage."
For Bloomberg New Energy Finance's forecasts for LNG supply and demand, read this report.
There is an appetite among some buyers, such as large Asian utilities, for 20-year contracts, with one counter-party interested in a 25-year deal, she said.
And yet Anatol Feygin, chief commercial officer of Cheniere Energy Inc., the U.S. shale gas exporter searching for long-term contracts to back an export terminal in Texas, noted a "good appetite" among buyers to lock in supplies for three to seven years rather than 20. He said in a call with investors Tuesday that "market conditions continue to be challenging for long-term deals."
Spot LNG in Northeast Asia, the biggest LNG-buying region, tumbled about 70 percent from its peak in February 2014, according to industry publication World Gas Intelligence.
Cut-Rate Prices
Increasing volumes of gas from Australia to America's shale gas formations have hit the water in recent years, inundating the market with so much supply that analysts say demand may not catch up until the next decade. Raymond James said last month that export projects will probably continue to be shelved.
That has escalated the competition among LNG suppliers to score the long-term contracts they need to expand capacity, and some sellers are trying to entice buyers with cut-rate prices, Vesey said.
They are putting "ridiculously low prices out there" with the hopes of raising them in future contracts, he said. Liquefied Natural Gas is developing an export project in Louisiana that has already gained regulatory approval but needs supply agreements.
"There is a disruptive nature to what's happening," Vesey said.