Glencore Plc is doubling down on coal, even as rivals BHP Billiton Ltd. and Rio Tinto Group move away from the world's dirtiest fossil fuel.
The company, run by former coal trader Ivan Glasenberg, made a surprise eleventh-hour $3.5 billion bid for a huge patch of thermal coal-rich ground on Australia's east coast controlled by Rio Tinto Group and Japan's Mitsubishi Corp. Rio's board will meet later this week to consider the proposal, which trumps an agreement made with a unit of China's Yanzhou Coal Mining Co., according to a person familiar with the situation.
The move puts Glencore at odds with most peers as coal loses ground to renewable sources in the global energy mix. The Swiss commodity trader and biggest exporter of thermal coal, used mainly for power stations, has consistently said coal is essential to the needs of the developing world in the long term, thanks to growing demand in Asia.
"The fact that they are obviously choosing to grow that business while everyone else is running in the opposite direction — either they are geniuses or they are buying into stranded assets for the longer term, which will incur hefty costs," Ben Davis, a mining analyst at Liberum Capital Ltd. in London, said by phone.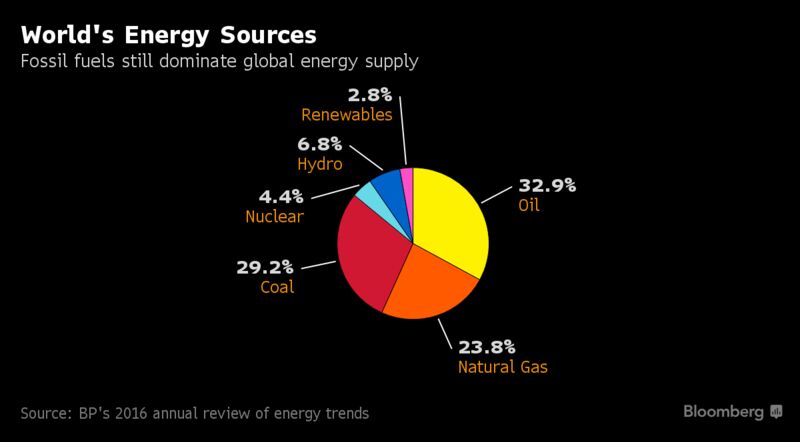 In recent years, shareholders have pushed miners like Glencore for more disclosure on future costs related to fossil-fuel assets as the world moves to limit global warming and tackle the goals of the Paris climate agreement of 2015.
The concept of "stranded assets" has gained traction with some investors who are concerned that owners of coal or oil assets may one day hold reserves that are unable to be extracted. Some large investors, including Norway's $950 billion sovereign wealth, France's biggest insurer and the Church of England, have sold some holdings in coal producers to reduce that risk.
The Church of England, which owns some Glencore shares, says its reviewing the company's coal bid. It filed a climate disclosure resolution at the company's annual shareholder meeting last year that passed with 98 percent support from investors.
"Fossil fuels will continue to be an important component in the global energy mix for several more decades," a spokesman for the church said in an emailed statement on Monday. "The key is that it will be a declining component and companies will need to manage that transition and we intend to play our part in encouraging and supporting companies to do so. We retain the right to disinvest if companies are unresponsive."
Rio Tinto started dismantling its energy division and selling coal mines in 2015 and BHP Billiton offloaded some coal assets as part of its South32 Ltd. spinoff the same year. Producers face a combined $10 billion risk to their earnings if carbon pricing tightens in the wake of the Paris climate accord, according to a report from U.K. non-profit organization CDP.
Still, prices for thermal coal have recovered, surging 62 percent from the start of 2016. The acquisition of Rio's coal assets would be a positive step for Glencore given the significant links with existing operations, Goldman Sachs Group Inc. analyst Eugene King wrote in a June 12 research note.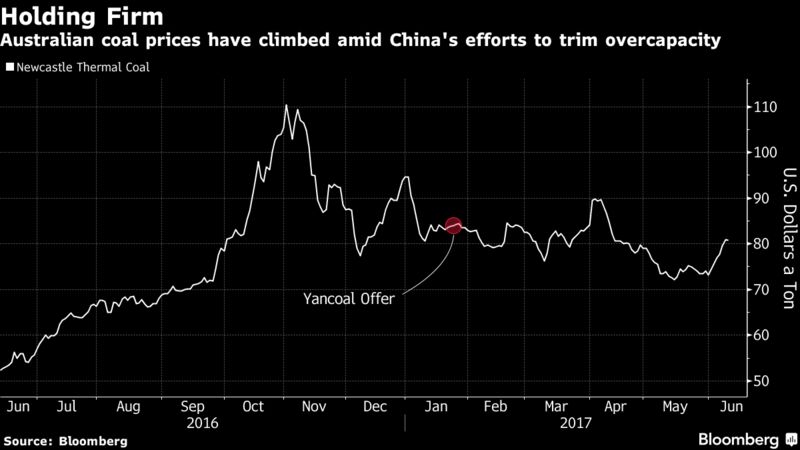 "Global energy demand will be driven by developing economies in Asia and will be largely met by fossil fuels to 2030," Glencore said in its annual sustainability report last month. "While it is clear that the relative share of renewable energy will grow, the absolute volume of fossil fuels will also grow due to overall growth of energy demand."
Glencore owns coal mines in South Africa and Colombia, plus 17 operations in Australia where it produced 93 million metric tons last year. In making its offer, Glencore cited the premium quality of coal exported from the Rio Tinto mines it's seeking to buy, which lie adjacent to its own operations in Australia's Hunter Valley region.
A successful bid would "unlock large scale mining and operating synergies" and would feed "increasing Asian demand for high efficiency, low emission coal," Glencore said June 9.
To complete a deal for Rio's Australian coal assets, the company has said it would sell at least $1.5 billion of assets, prioritizing coal operations, to help offset the cost of the deal.
"Investors are often skeptical about M&A in mining given the industry's record and concerned about coal outlook," analysts at UBS Group AG wrote in a report Monday. However, Glencore's "M&A record is decent and demand for high-quality coal is robust."
Global coal usage dropped the most on record in 2015, falling 1.8 percent, as the U.S. and other major economies started turning away from the most polluting fossil fuel, according to BP Plc's annual review of energy trends last year.
Coal demand fell most in the U.S. and China, with declines of 13 percent and 1.5 percent respectively. Consumption increased in India and Indonesia, where the fuel is still so cheap that utilities prefer it to natural gas for electricity generation.
Peter Grauer, the chairman of Bloomberg LP, is a senior independent non-executive director at Glencore.