By Perry Williams
Glencore Plc's quest for a piece of Rio Tinto Group's Australian coal business may not be over yet.
The Swiss commodity giant's planned partner to manage the assets, Yancoal Australia Ltd., faces a challenge from a minority shareholder concerned that its stake will be diluted by the $2.5 billion equity raising needed to fund the deal.
Hong Kong-based hedge fund Senrigan Capital Group said the proposed raising by Yancoal, which is majority owned by China's Yanzhou Coal Mining Co., is prejudicial to minority shareholders and would strengthen Yanzhou's voting power, according to a statement from Australia's Takeovers Panel. The panel hasn't decided whether to pursue proceedings, it said.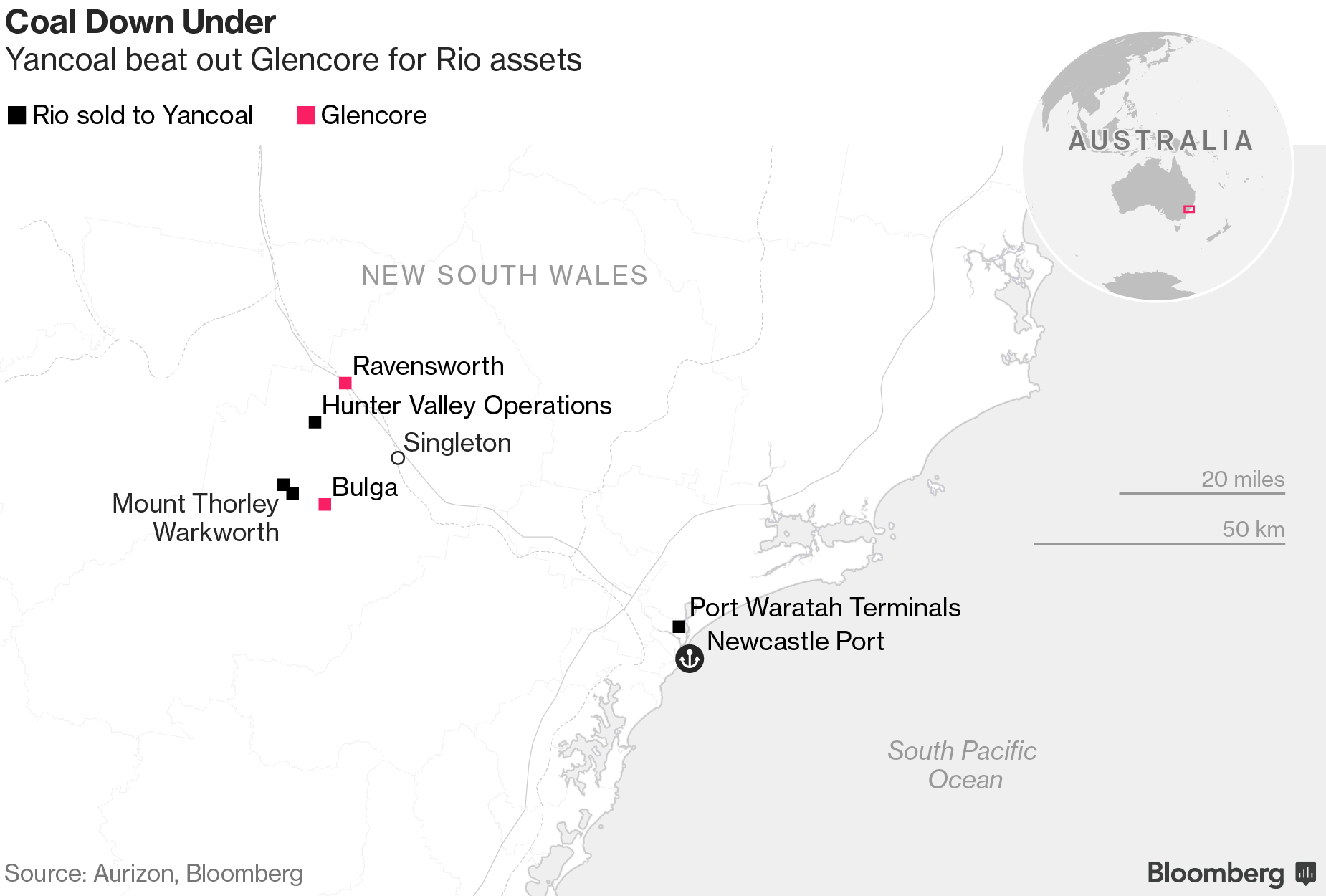 The challenge may be another setback for Glencore's ambitions to control Rio's assets in Australia's Hunter Valley, which are situated near its own operations. Glencore failed twice to outbid Yancoal, before the two companies announced a surprise $1.1 billion deal last month that would split the spoils between them. The move by Senrigan, which spoke out against the financing in June as well, has the potential to delay or even derail the deal, according to David Lennox, an analyst at Fat Prophets in Sydney.
"It brings a level of uncertainty to the table, which I'm sure Rio would rather not have to deal with," said Lennox. "Glencore will be sitting back and watching this closely. They might be getting their pencil out and doing the numbers just in case this Yancoal financing falls over. They could come back and even strike a different deal."
Yancoal and Glencore didn't immediately respond to requests for comment. Rio declined to comment.
Rio Deal
Rio agreed to sell its Australian coal mines to Yancoal for $2.69 billion in June after the protracted battle with Glencore. Rio chose Yancoal because its offer was seen as facing less regulatory scrutiny, despite some uncertainty over its financing of the deal.
Yancoal's $2.5 billion equity raising will be split between Yanzhou, which will contribute $1 billion, and two Chinese investment groups, China Cinda Asset Management Co. and Shandong Lucion Investment Holdings Group Co., which have committed a further $1 billion to the entitlement offer. Glencore will provide $300 million.
Singapore-listed commodities trader Noble Group Ltd., which owns a 13.2 percent stake in Yancoal, last week said it may also file an objection. A Noble spokesman did not immediately respond to an emailed request for comment Wednesday.
Noble and Senrigan have worked together before to oppose a restructuring by Yancoal. The miner was forced in 2014 to halt the sale of $2.3 billion in securities after the panel ruled in their favor. Senrigan has an economic interest in 5.2 percent of Yancoal shares through cash-settled equity swaps.
Yancoal Australia rose 7.7 percent to close at 14 Australian cents in Sydney, while Yanzhou Coal Mining's shares in Hong Kong rose as much as 2.3 percent on Wednesday.