Written by Kyungji Cho. This article first appeared in Bloomberg Markets.
South Korean borrowers are slowly getting on board the global expansion trend in green bond issuance after the new government pushed for environmentally-friendly policies.
Korea Electric Power Corp. will be meeting with investors in the U.S., Europe and Asia next week for a potential short- to intermediate-maturity dollar-denominated green notes, according to person familiar with the matter. Three other issuers including a U.S. unit of Korean Air Lines Co. have this year sold such debt used for projects aimed at benefiting the environment. That compares with two last year and none in 2015 and 2014.
The almost $700 million in Korean green note offerings so far in 2017 is still only a small fraction of the global total of $92.7 billion, a market that has expanded 45 percent this year. Issuance in the Asian nation will likely pick up in step with the government's eco-friendly policies and global increase in demand for such notes, according to Yoon Hee-sung, treasurer at Export-Import Bank of Korea, which sold the first green bond by a Korean issuer in 2013.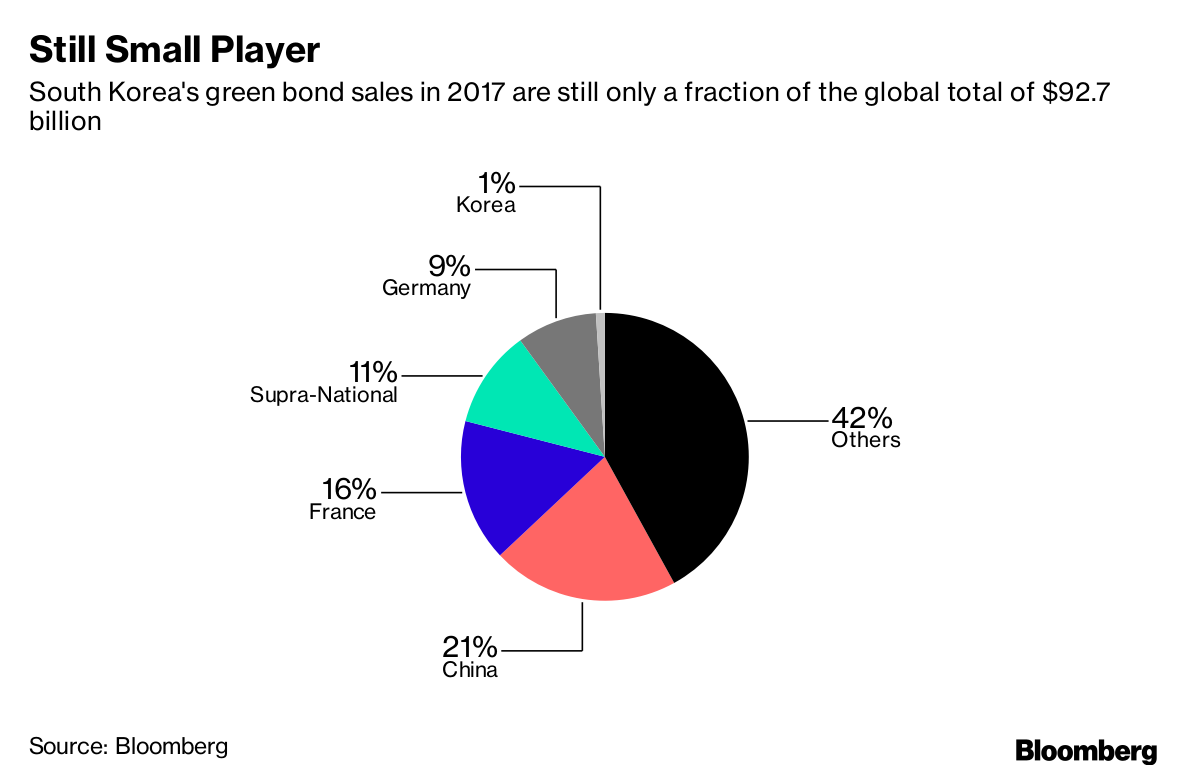 "More Korean companies are expected to consider issuing green bonds," said June Won, managing director of capital markets origination at Citigroup Global Markets Korea Securities Ltd., the top arranger of Korean offshore bonds.
President Moon Jae-in, who was elected in May, has pledged to phase out nuclear energy and increase the use of renewable energy.
Environmental issues have become an increasing source of concern for Koreans. More than half of the people in a Seoul survey said they experienced health damage due to ultra-fine dust that blows in from China, including respiratory disease and eye and skin problems, according to a statement in May by Korean Federation for Environmental Movement, a non-governmental organization.
Kepco's planned bond sale would be its first offshore since 2014, Bloomberg-compiled data show. State-owned companies' issuance decreased after they were ordered by former President Park Geun-hye to stop using debt to balance their books.
Hanjin International Corp., the Korean Air unit, sold $300 million of green notes in September guaranteed by Kexim. The proceeds will refinance costs associated with the construction of the Wilshire Grand Center in Los Angeles that was built using eco-friendly techniques and materials.
Kexim sold 6.3 billion Indian rupees ($97 million) of green bonds in July, while Korea Development Bank sold $300 million of such notes in June in its debut sale of the debt.
HSBC Holdings Plc expects global green bond sales to rise as much as 44 percent next year, making the total outstanding amount as big as $463 billion by the end of 2018, analysts led by Michael Ridley wrote in a note dated Nov. 7. Total issuance next year is seen at $140 billion to $180 billion, according to Ridley.
"With more people valuing the environment and quality of life, sustainability financing such as green finance and social bonds will likely grow further in Korea," Kexim's Yoon said.