By Brian Eckhouse, Chris Martin, and Ryan Collins
One of the worst things that can happen to a wind farm is too much wind.
Hurricane Harvey was packing top winds of 115 miles (185 kilometers) an hour on Saturday, according to a National Hurricane Center advisory. That's more than twice the 55 miles-an-hour speed that prompts many turbines to shut off. The result: The storm could knock out between 2.1 and 3.6 gigawatts of power near the Texas coast, according to Bloomberg New Energy Finance.
Wind-farm operators have been bracing for days. Avangrid Inc., the New Haven, Connecticut-based power company, evacuated all personnel from its wind farm complex on the South Texas coast, a spokesman said in an email.
"The problem with this hurricane is they don't see it trailing off in any direction so it's just going to hover," said Jeff Ferguson, the Magnolia, Texas-based senior vice president of project development at Apex Clean Energy Inc. "So it could be next week for the winds to diminish adequately so we can resume normal operations."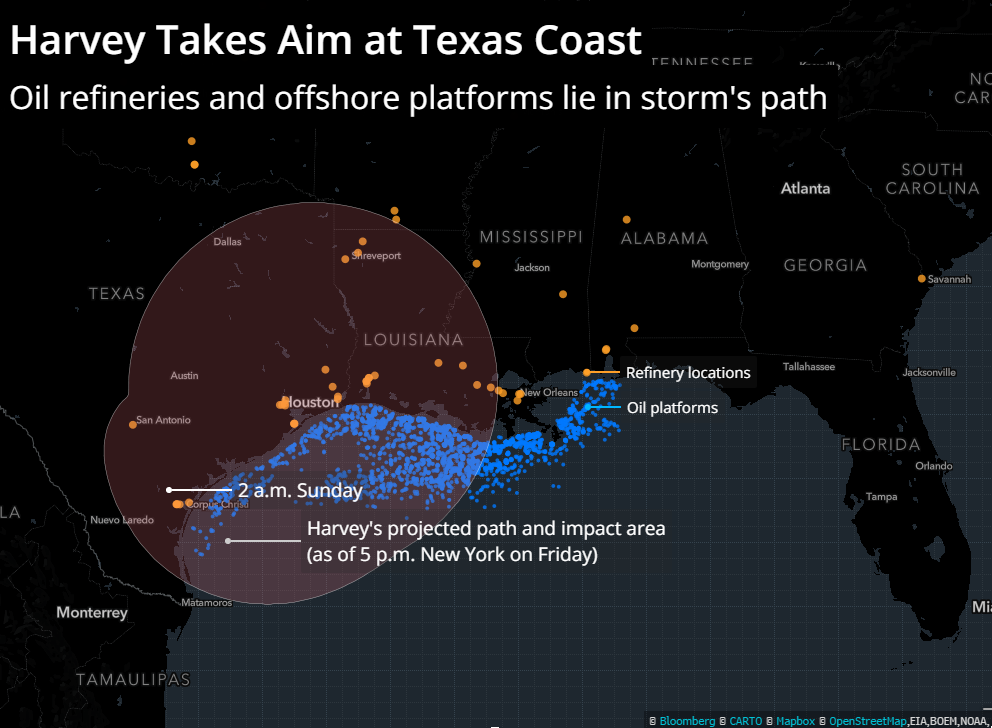 Production was set to peak in the late afternoon Friday and taper off as turbines automatically begin to shut down, according to Simon Mahan, a director at Southern Wind Energy Association. Turbines generally aren't designed for hurricane risk, said Alex Morgan, a New York-based analyst at BNEF.
"They'll pitch down and yaw into the wind, which allows them to safely pinwheel," said John Martinez, director of operation at Pattern Energy Group Inc., which owns the 283-megawatt Gulf Wind farm in Kenedy County. "This way the blades don't flex, which can be damaging. The turbines are designed to automatically do that."
Least Worrisome
Wind power may be the least of the region's power-market worries. If hundreds of thousands of people lose power as is expected, it doesn't matter whether the wind farms are running or not, because they'd have nowhere to send the electricity generated. It's the very reason why power and gas are trading down.
"With gas plentiful and load down, I suspect the lack of wind won't matter at all," Cody Moore, the Houston-based president of BioUrja Group's power trading division. "I'd be more concerned with the safety of the turbines than any need for load."
Texas easily boasts the most wind capacity among U.S. states, about 21 gigawatts, or one-quarter of national capacity, according to the American Wind Energy Association. A majority of the wind is located in western Texas, which Genscape Inc. expects won't be greatly affected by Harvey.
The 3.6 gigawatts of capacity installed in the south power zone of the Electric Reliability Council of Texas is a different matter. About 2.1 gigawatts is directly along the coast.
"As that storm starts coming onshore, there's a good chance winds will exceed 55 miles per hour," Michaella Farese, a Boston-based meteorologist and demand forecaster at Genscape, said in an interview Friday.