By Ann Koh and Laura Blewitt
Asian buyers of liquefied petroleum gas are already paying for disruptions half a world away in Texas as record rainfall halted shipments of propane and butane from ports that handle more than 90 percent of U.S. exports to the region.
Marine export terminals operated by Enterprise Products Partners LP, Targa Resources Inc. and Phillips 66, all suppliers of the fuel, are shut because of closures at the Houston Ship Channel, Port of Beaumont and Port of Freeport, according to statements Tuesday from the companies. Mont Belvieu, Texas, facilities belonging to Enterprise and Targa have also halted some fractionation operations, in which raw liquids are turned into products like propane and butane. There are no estimates yet for when the ports will reopen.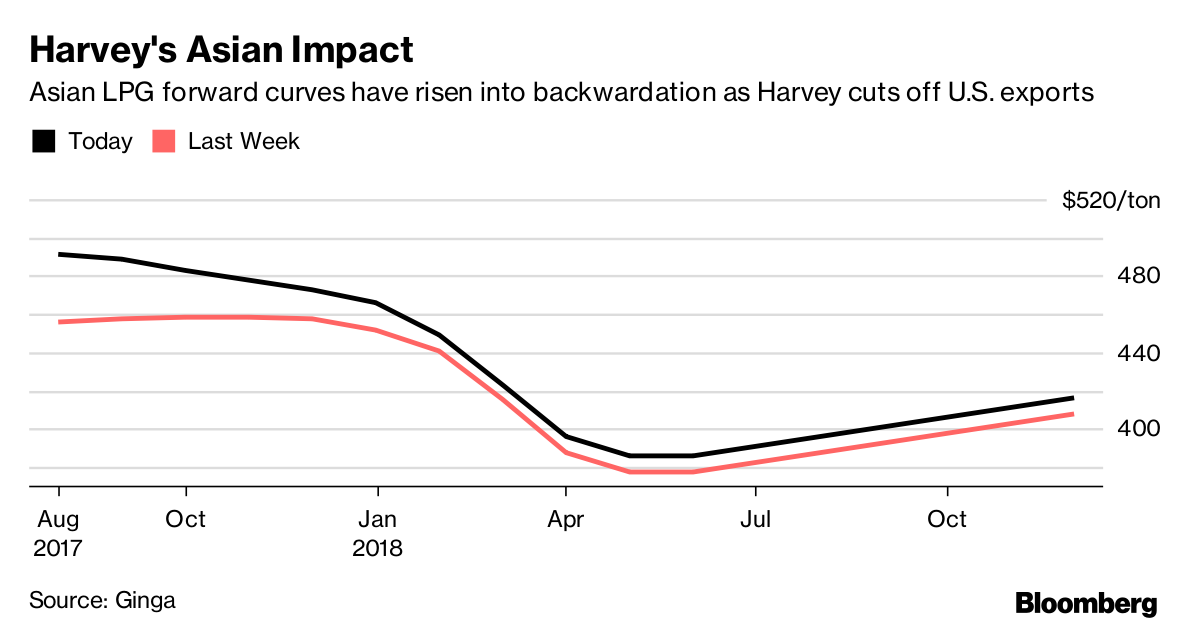 The U.S. Gulf Coast, home to the largest LPG storage caverns in the world, is a key global supplier, so events there can ricochet in markets around the world. As Hurricane Harvey made landfall near Corpus Christi, Texas, late last week, propane prices in Northeast Asia climbed. And as it approached the Louisiana coast before making a second strike Wednesday as a tropical storm, Middle Eastern producers said that they're raising prices. Asian buyers, which import the fuel for heating and petrochemical production, were caught in the middle.
"Affected buyers will seek cargoes from elsewhere," said Ong Han Wee, a consultant with FGE in Singapore. "The prices jumped last Friday in Asia, just before or when the hurricane made landfall. The Middle East contract prices are also higher now, most likely because of sentiment from Harvey."
Northeast Asia propane swaps for September traded at a premium of $8.50 a metric ton to October prices Thursday, flipping from a discount of $1 a ton on Aug. 22, data from broker Ginga showed. The unexpected drop in supplies is creating a backwardated market in which it's relatively more expensive to get prompt cargoes than later deliveries.
Middle Eastern producers Saudi Arabian Oil Co. and Kuwait Petroleum Corp. announced this week that they would increase September contract prices for propane and butane by $40 to $60 a metric ton amid bullish sentiment, traders said. The region's countries are the most likely alternative suppliers because they are nearest to Asia, Ong said.
While international LPG prices have soared since Harvey's landfall, propane traded at the Mont Belvieu Enterprise terminal hasn't kept pace, rising just 2 percent since Aug. 24, according to DTN Energy data. The lack of dramatic price action stateside will expand arbitrage opportunities to Asia once the exporters can finally use the Gulf Coast ports, said Peter Fasullo, co-founder at LPG consultancy En*Vantage Inc.
The U.S. is expected to export 28 million tons of propane and butane this year, half of which will go to Asian buyers in Japan, South Korea and China, according to FGE.
But the U.S. hasn't sent a single LPG tanker from the Gulf Coast since Aug. 25, according to Bloomberg market specialist Bert Gilbert. The Ports of Houston and Freeport have said they're still uncertain when they'll be able to reopen to vessel traffic.
Historic Rains
And supply concerns extend beyond the shutdown of the ports.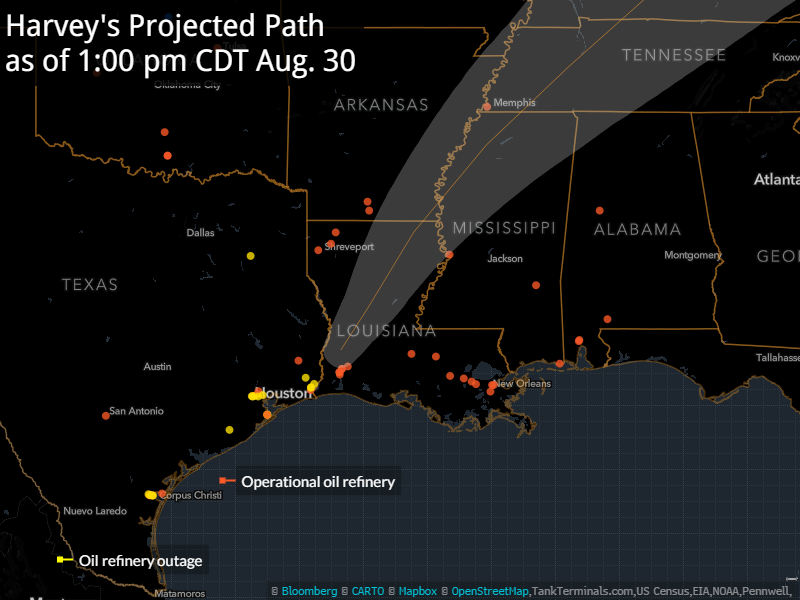 Cedar Bayou, a body of water just outside of the fractionation and storage hub in Mont Belvieu, recorded 51.88 inches (132 centimeters) of rain this week, setting a new record for the continental U.S., according to the National Weather Service.
That much water could signal weeks of trouble for the storage facilities there, Fasullo said. Underground storage of LPG uses brine ponds to pump highly salinated fluids into caverns. If heavy rains dilute the salty ponds, contamination and containment issues that make it hard to get the fuel out of storage may occur.
Enterprise's "storage assets have remained operational," said Rick Rainey, a company spokesman in Houston. "We continue to manage our brine supplies."
But Targa's capacity to receive raw products was "negatively impacted" by flooding, according to a company statement.
"I don't think there's going to be any relief for many days, and if those many days turn into weeks, it could be a one- to three-week period" before normal exports resume, Fasullo said by telephone from Houston. "Propane prices could go off to the races because I think you're going to get strong storage draws when we will be able to get those export terminals up."