When Bob Dylan went electric, jamming Maggie's Farm on his sunburst Fender Stratocaster at Rhode Island's 1965 Newport Folk Festival, he changed the world and gave a jolt to a field (and a town) known mostly for being staid and traditional. Now Newport is the scene of another electrification, one that may have a similarly seismic effect.
On Thursday at the 47th Newport International Boat Show, Hinckley Co., the almost 90-year-old yacht builder, based in Portsmouth, R.I., introduced the Dasher, a 28.5-foot fully electric vessel, taking its moniker from the company's first "picnic-style" boat.
"This isn't just an existing design, where we dropped a couple of electric motors in," says Scott Bryant, Hinckley's director of new product development. "The boat has been designed, ground up, for electric propulsion."
At 6,500 pounds, the Dasher is the lightest boat Hinckley has ever built; the similarly dimensioned Center Console 29 runabout tips the scales at roughly 8,000 lbs. This weight savings was achieved through liberal use of carbon fiber, both in the carbon-epoxy hull, conceived by noted boat designer Michael Peters, and in the carbon-fiber stringers, which lend it structure and rigidity.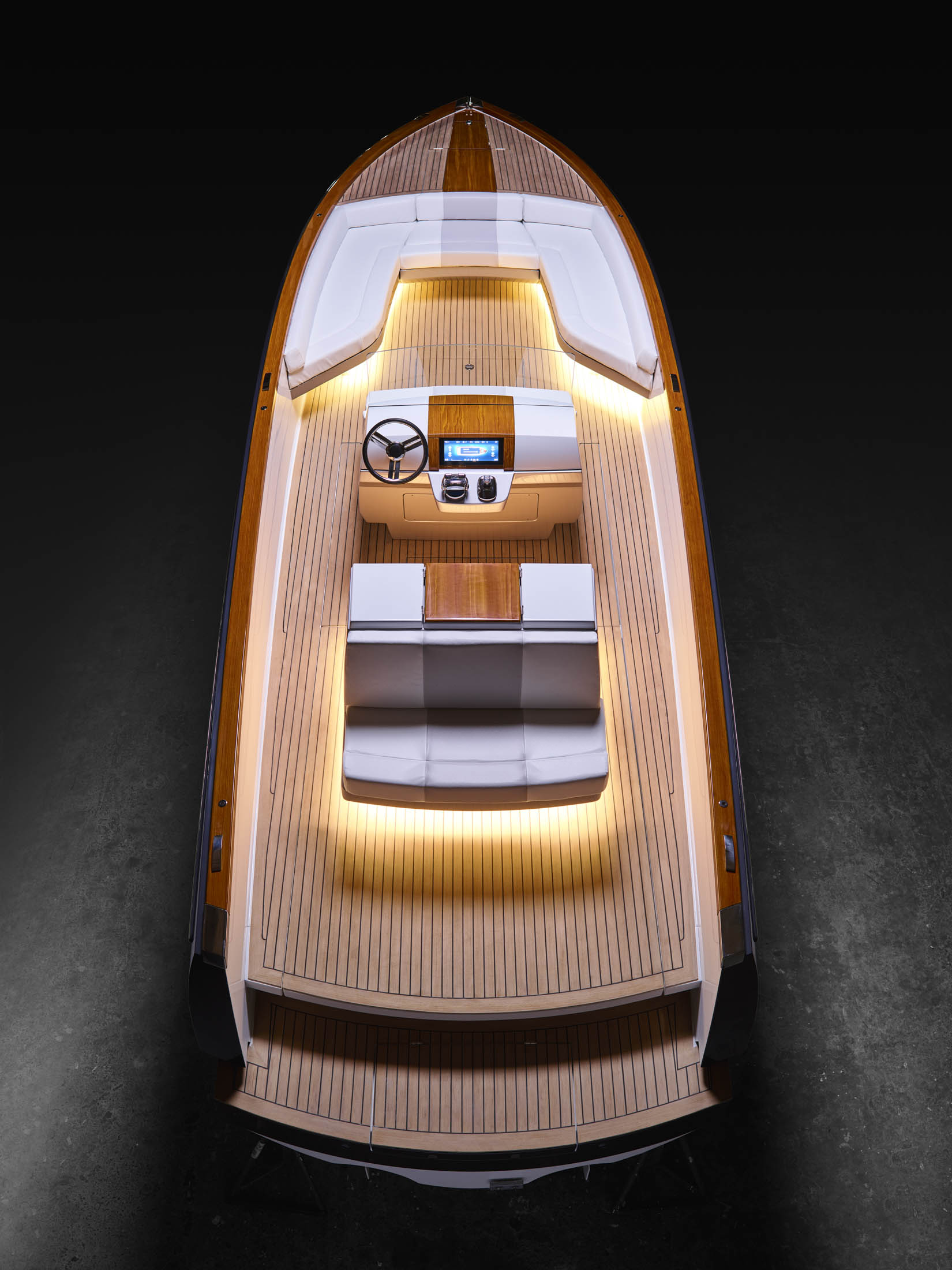 Varnished teak, a dense hardwood that's integral to Hinckley's luxury aesthetic, has been replaced with Artisanal Teak, the company's trademarked name for a molded composite structure hand-painted with wood grain to look "literally indistinguishable from real teak," Bryant says. Pioneering use of lightweight materials is actually baked deep into the Hinckley heritage. It was among the first commercial boat builders to integrate fiberglass in its production in the 1950s.
While much about the Dasher is new, electric boats have been around for quite a while. Before the 1930s you were more likely to see an electric-powered boat than one driven by an internal combustion motor. Today, the electric boats you're most likely to see are designed for casual, calm-water cruising, such as the Duffy 18 Snug Harbor, which has a top speed of 6 miles per hour. High-speed electric boats tend toward the experimental and promotional: The Swedish Candela Speedboat concept features hydrofoils to reduce drag and, thus, energy consumption, while the one-off 38-foot Cigarette AMG Electric Drive was powered by a dozen Mercedes-Benz SLS AMG Electric Drive motors.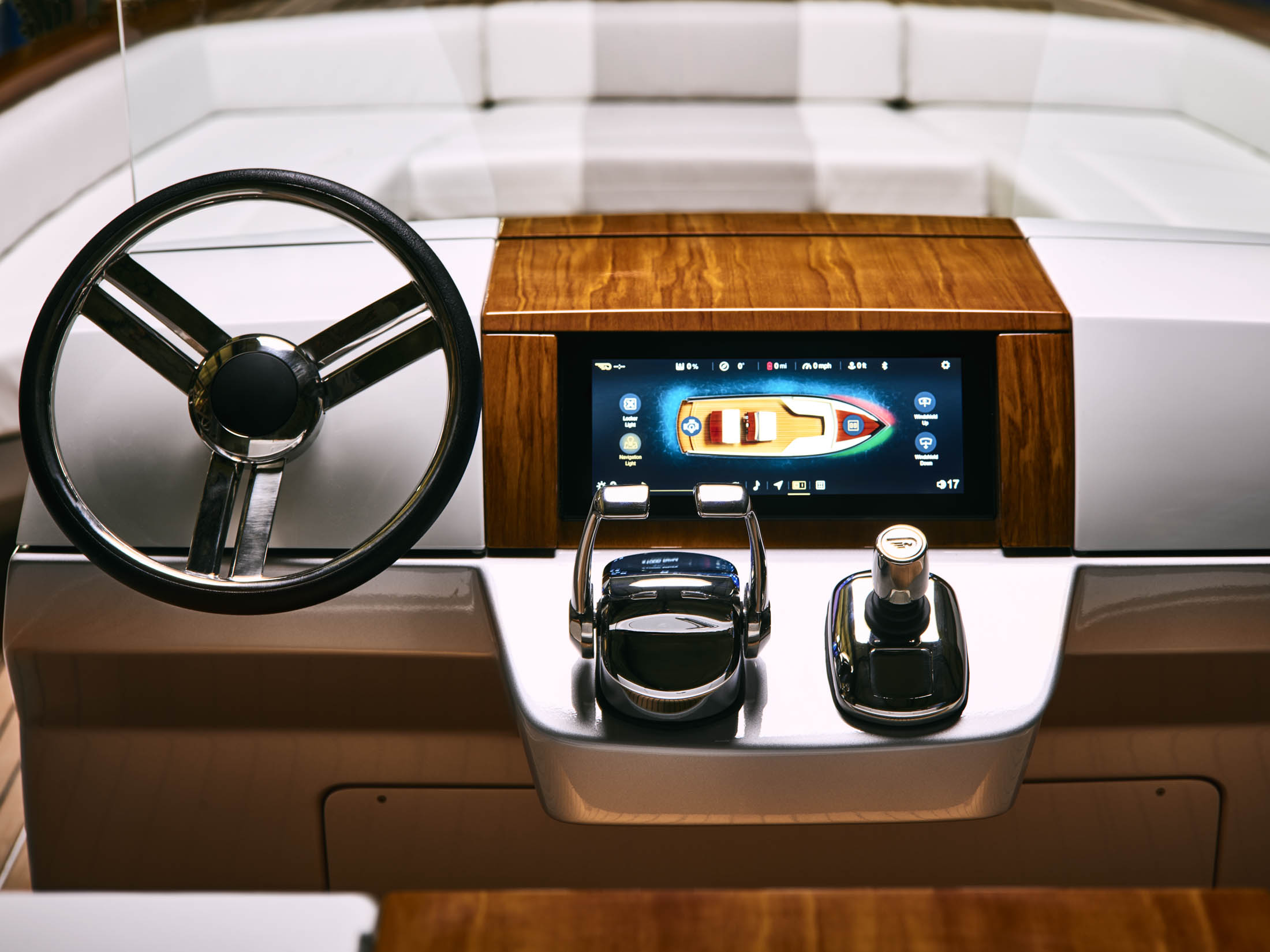 Whether they're fast or slow, you're still more likely to see them in Europe—where, says Bryant, "there are several lakes where you're not allowed to have a petrol-based platform. You can row your boat, or sail your boat, or you have electric propulsion. In the U.S. it's a little bit less prominent, but we believe that's going to be coming sooner than later."
The Dasher will be propelled by twin 80-horsepower Deep Blue 80i 1800 motors from German company Torqeedo, each powered by a 40-kilowatt-hour BMW i3 lithium ion battery. That combination will produce a range of about 40 miles (35 nautical miles) at a cruising speed of 10 mph, or 8.6 knots, and up to 25 miles (22 NM) at speeds of 18 to 27 mph (15.6 to 23.5 knots). As a rough comparison, a similar-size boat, such as a Boston Whaler 285 Conquest Pilothouse with twin Mercury 225 Verado engines on the back, will burn 9.5 gallons of fuel per hour while traveling at roughly 10 mph.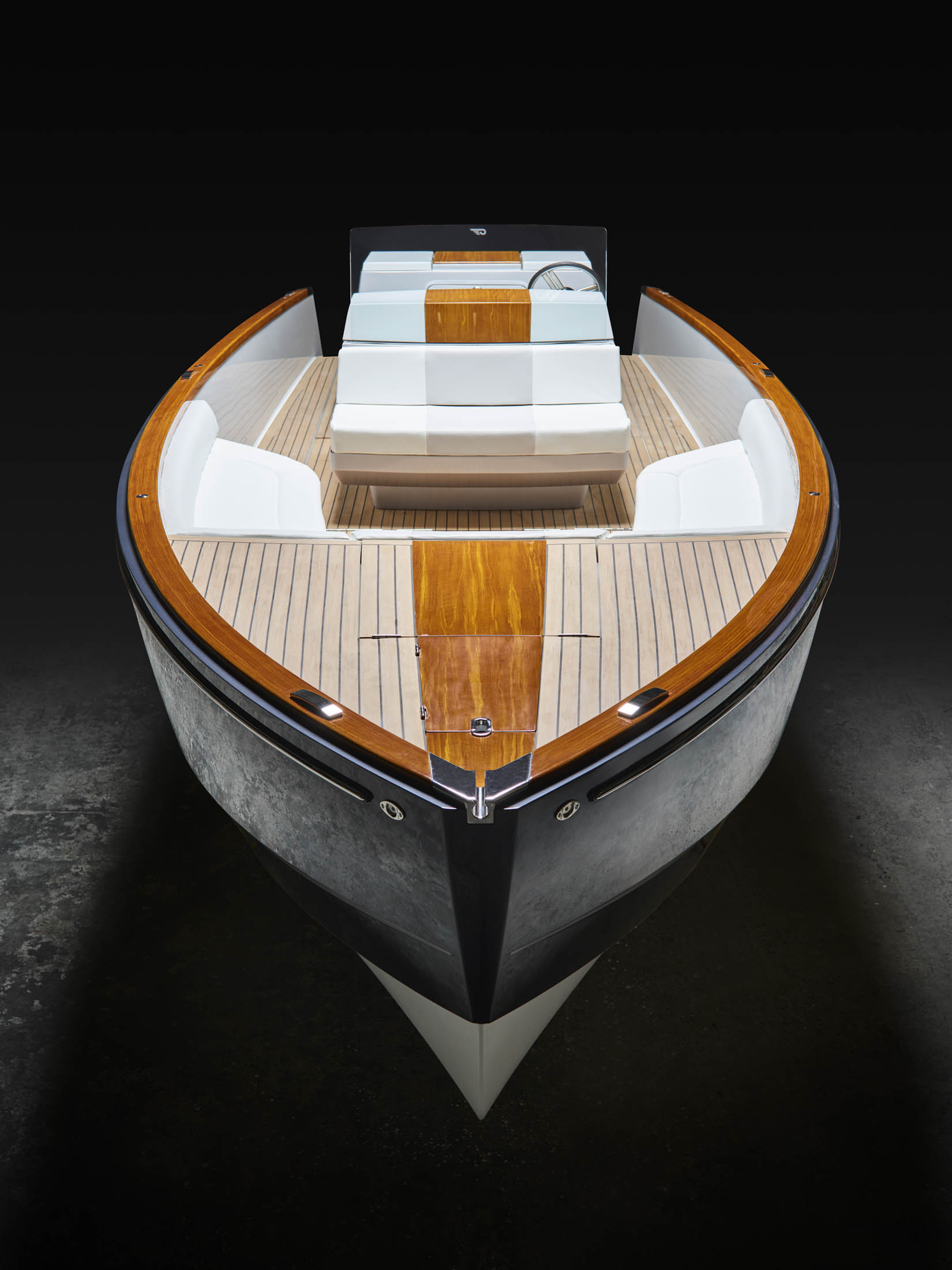 To assuage any so-called range anxiety, the single touchscreen console of the Dasher will include a GPS display of the boat's location, surrounded by a circle that grows or shrinks in size, indicating your remaining range at any given time, depending on how fast you're going and how far you've gone. Also on the console will be a retractable windshield and Jet Stick joystick, which makes delicate docking maneuvers Pac-Man simple, by allowing fine control of motors and a subaquatic thruster.
One advantage Hinckley—and the nascent electric boat market in general—has over electric cars is that marinas already provide a well-established charging infrastructure thanks to ubiquitous dockside power sources. When connected to a pair of standard 50-amp lines, the Dasher can gain a full charge in four hours—about the time it takes for a leisurely lunch at the marina and a swim at the beach.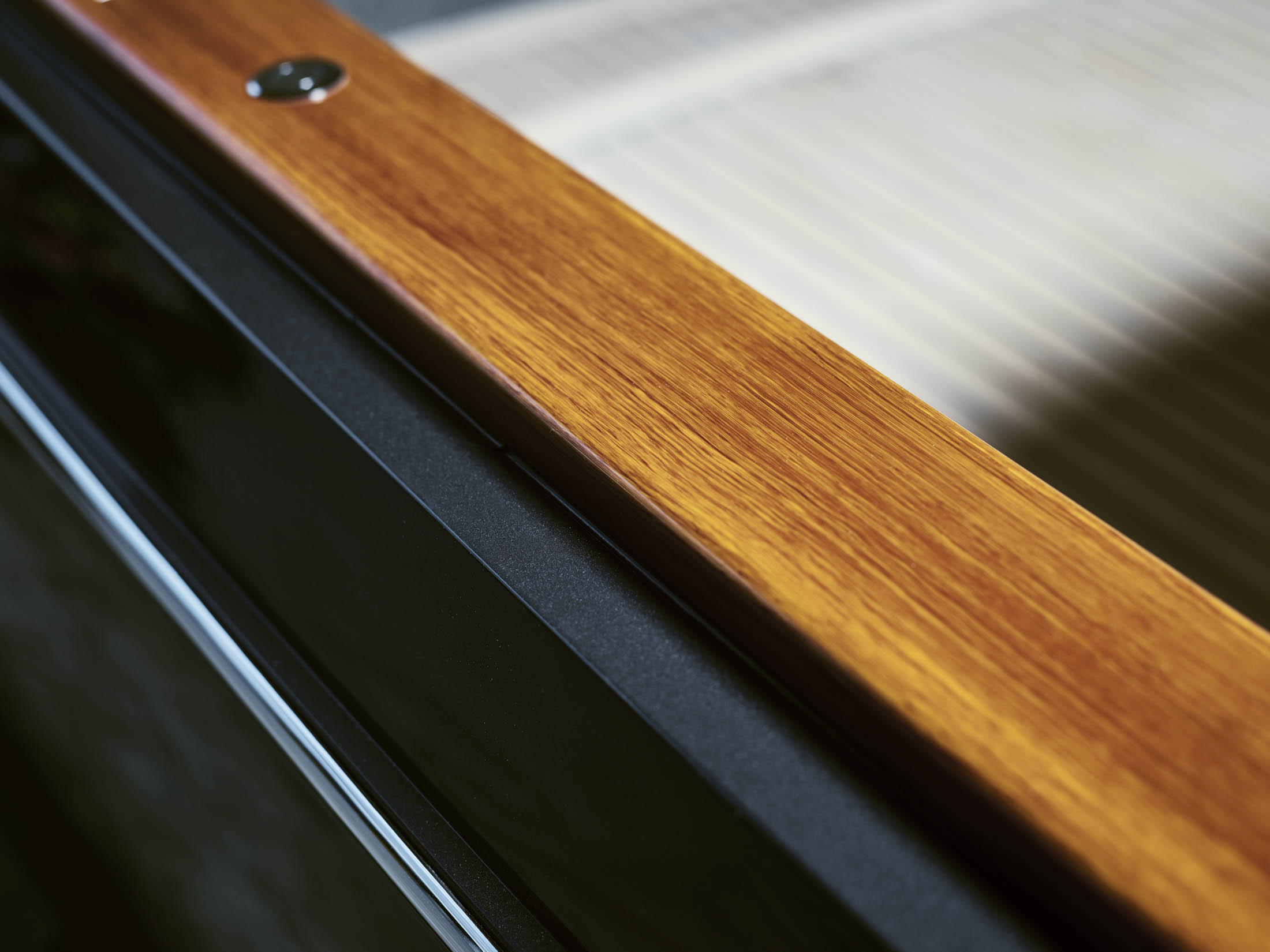 More likely, the Dasher will be "all about having a 'point A to point A' experience, which is very different from cars, where most people don't go out just to go driving," Bryant says. "It's synonymous to going out for a ride on your motorcycle."
Pricing will be on a par with Hinckley's other vessels of its size, such as the 29-foot runabouts—upwards of half a million dollars, according to a company spokesperson. There will not be a price premium. The first test rides aboard the prototype won't happen until later this month (so speed, handling abilities, and energy consumption ratings are based on Hinckley's statements), while the first deliveries are anticipated for the summer of 2018.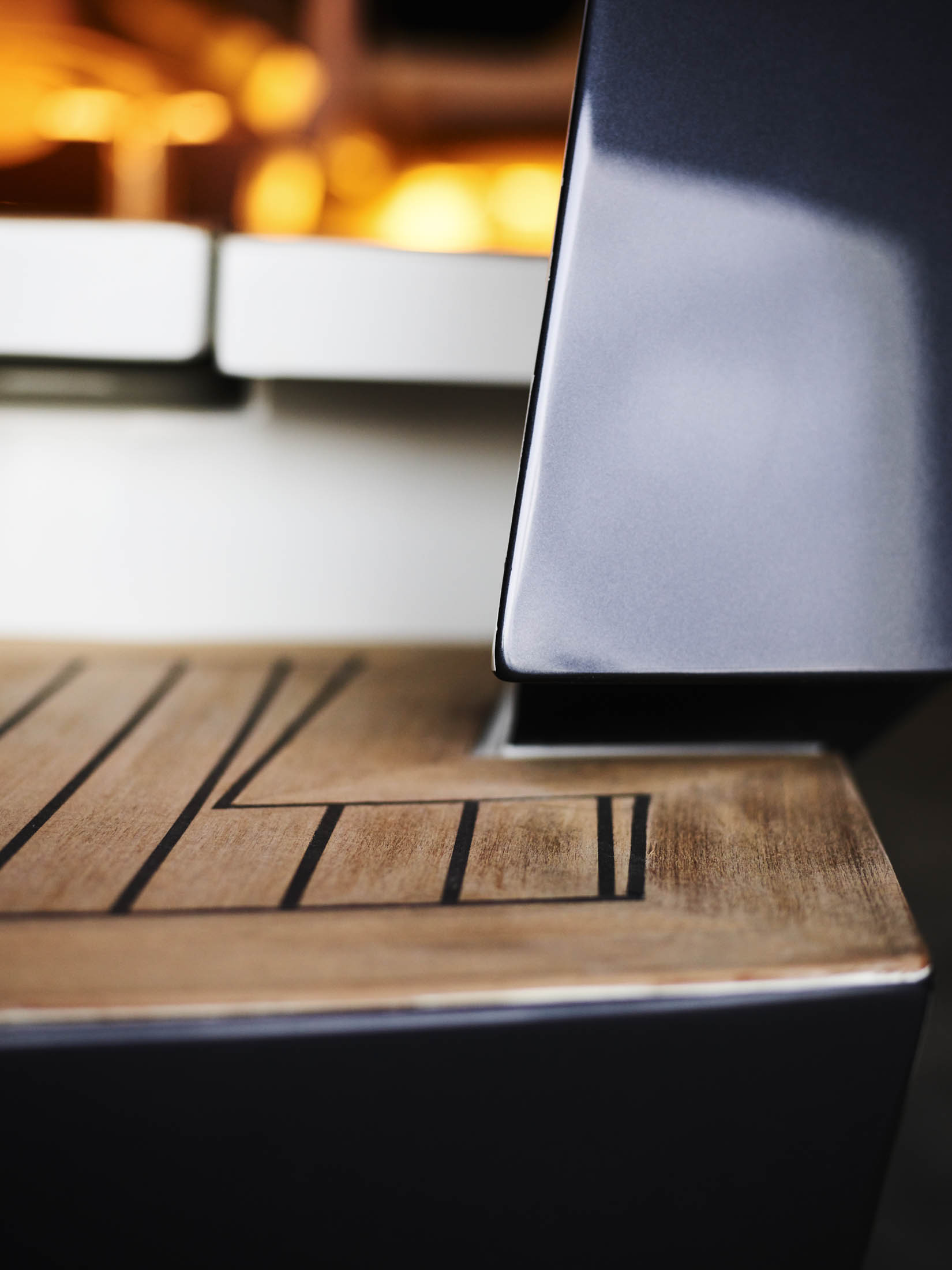 By then, Bryant expects the Dasher to exceed its current range. "When we started this project [a little more than two years ago], our test boat actually used a totally different battery, similar in weight to the existing i3 batteries that we have in there now. But it had about about 30 percent less power density, which translated to 30 percent less range," he says. "So, really, we are riding a development wave in ways that's pretty significant right now in the marketplace."
Like Tesla's original Roadster, the Dasher is a market-ready vision of what post-petrol transportation could look like—fully functional, but with one foot still in the world of proof of concept. Already, Hinckley is looking ahead.
"I don't believe that Dasher will be our only electric-propulsion product," says Bryant. "I think what we're looking to do is to incorporate a bunch of the features that we're introducing on Dasher into our other products. There's so much going on in the automotive space, and just in the energy-storage space right now, that to not be a part of it is just silly."
Even in the staid world of classic yacht design—as the man said, the times they are a-changin'.